What My Van Can Teach You About Workplace Conflict
July 27, 2021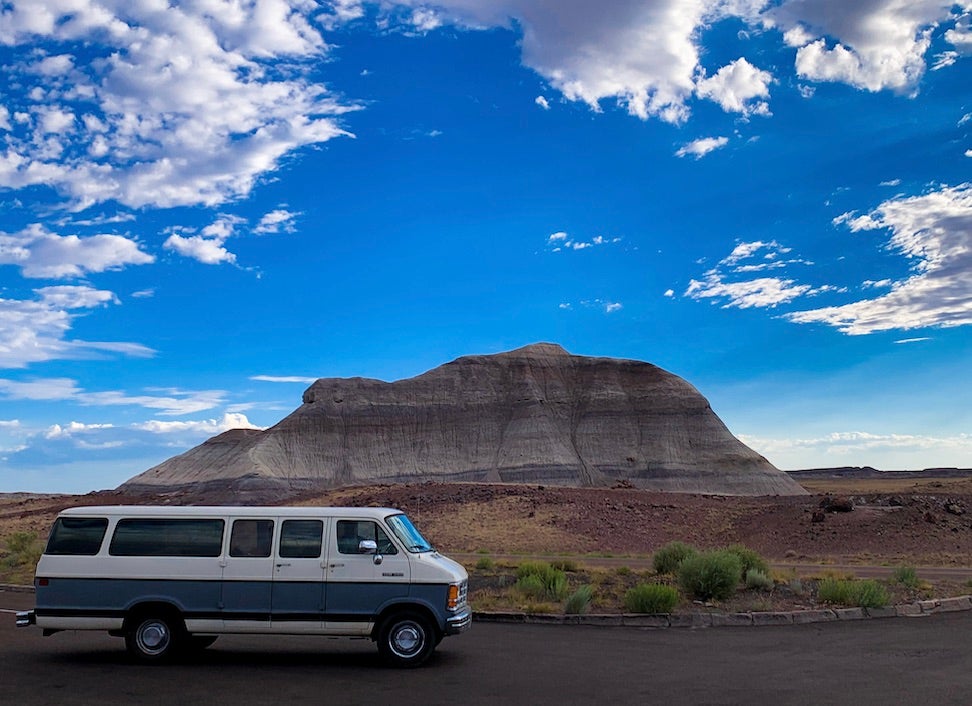 MATT MILLIGAN, JD | INSTITUTE FOR CONFLICT MANAGEMENT
Recently, our family went on a "great American road trip" out West to explore and experience essential national parks, including Yellowstone, Grand Teton, Zion, and the Grand Canyon.  We are a family of five, and the thought of sixteen days and 5,200 miles in a minivan was, even as the most Clark-Griswoldian dad, unpleasant.  Therefore, my wife and I decided to make an "investment" in a 1992 Dodge B350 van.  Since you are unfamiliar with the B350, let me explain our reasoning: A 15-passenger van would afford each of our children their own row seat to lounge in, enjoying panoramic views from the oversize windows. I removed the extended fifth row and built a two-tiered cargo carrier.  After a few trial runs and some help from my favorite local mechanic, our "family truckster" was ready for the journey. Or so we thought.
As Vinnie, we named him for Vincent VanGogh (Van-Go!), strained on the long hills, steep mountains, and dirt roads, previously unseen weak points in the engine began to break under continued pressure.  I'll spare you all the details, but at one point in rural Idaho, I simply took out a pocket knife, cut the belt to the air pump, said a brief prayer, and continued down the road, encouraging Vinnie each time we encountered an incline.  We were beset at times by delays, unexpected and unwanted pit stops, and found ourselves at the mercy of a few mechanics along the way.
Reflecting on our trip, I am reminded of how the stresses of our lives affect our ability to perform.  The pandemic has exposed and exacerbated several unseen weaknesses in the workplace.  According to a recent collaboration between Mental Health America and Flexjobs.com, "75% of employees have experienced burnout at work, and 40% specifically during the pandemic."1  The World Health Organization defines burnout as "workplace stress that has not been successfully managed."2  It leads to feelings of "depletion or exhaustion," "increased mental distance from one's job," and "reduced professional efficacy." Perhaps you and your team, like Vinnie, are finding yourselves struggling under the increased uncertainty and demands after this long uphill climb. Perhaps a few parts of your team are making unwanted noises or have been removed altogether.  If so, please know that you and your team can become efficient, energized, and metaphorically roadworthy again.
Fortunately, thanks to the work of conflict management ("CM") scholars, we possess the solutions to restore our efficacy and endurance.  A 2016 study by Afzalur Rahim, which sat on my at-home desk for several months, spoke prescient truth before the burnout began.3  In it, Rahim describes the following five conflict management styles:
 
Integrative:  Shows a high concern for self and others and involves collaboration.

Obliging:  Characterized by a low concern for self and a high concern for others.

Dominating:  Indicates high concern for self and a low concern for others.

Avoiding:  Denotes a low concern for self and others. Associated with withdrawal.

Compromising:  A style involving moderate concern for self and others.
It has long been known that "Integrative" and "Obliging" styles are likely to promote positive organizational outcomes, while "Dominating" and "Avoiding" result in rising conflict and lowered organizational efficacy.4 
The most-interesting outcome from Rahim's study is that those subordinates in an organization who are able to employ appropriate conflict management styles had reduced job burnout, thereby leading to positive gains for their organization.  Further, these improved outcomes can be "trained" into employees through a mixture of exercises, education, and feedback.  Rahim encourages both management and non-management to seek proper training.  
If your team is mired in conflict, distanced from the work and one another, and less-effective than it ought to be, things can improve.  Top-to-bottom, bottom-to-top, your team can build itself around the practices that will help its members re-integrate, rejuvenate, and rediscover a passion for its work. 
Learn more about the Institute for Conflict Management
---
1https://www.flexjobs.com/blog/post/flexjobs-mha-mental-health-workplace-pandemic/
2https://www.who.int/news/item/28-05-2019-burn-out-an-occupational-phenomenon-international-classification-of-diseases
3Rahim, Afzalur. Current Topics in Management, Vol. 18, 2016, pp. 201-212.
4Rahim, 2016, citing to Korbanik, Baril, & Watson, 1993; Rahim, Antonioni, & Psenicka, 2001; Johnson 1989.
---
CLPS News
---