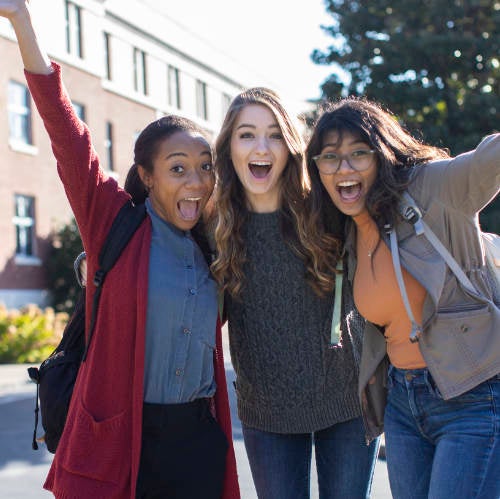 Admitted Students
Welcome to the Bison Herd!
Congratulations! You are now part of the Lipscomb community. We can't wait to have you on campus. Let's make it official.
To reserve your place in Lipscomb's incoming class, pay your enrollment fee today (you will need the email address and password you used to view your Lipscomb admission decision). Once you've secured your spot, you can register for housing and orientation.
Need help logging in? Contact your admissions counselor.
Get connected with other new Lipscomb students.
Get Ready for Life at Lipscomb
Get Oriented
During Advance, you'll learn about student life and campus layout, meet with your academic advisor, register for classes and connect with your new peers. Quest Week will give you a wonderful first taste of Lipscomb as we engage you academically, socially and spiritually.
Plan Your Experience
We're ready to help you choose your housing, get involved and make a difference during your time as a Bison. Some of your best memories will be those made while living on campus or even while studying abroad.
Serve Others
We have taken pride in our commitment to spiritual growth ever since our earliest days — and that commitment hasn't changed. Join your peers, faculty and staff in service opportunities that will tangibly bless the lives of those in your community and throughout the world.
Engage the campus community
Events for Admitted Students
Presidential Weekend
Presidential Weekend is an invitation-only event for admitted students with outstanding scores on the ACT, SAT or CLT. Be our guest at a formal dinner in downtown Nashville, get to know our students, and interview for a chance at a full-tuition scholarship.
Admitted Student Events
Purple & Gold Weekend
Purple & Gold Weekends are open to all admitted students and are designed to give you the full picture of both campus and academic life at Lipscomb.
Admitted Student Events