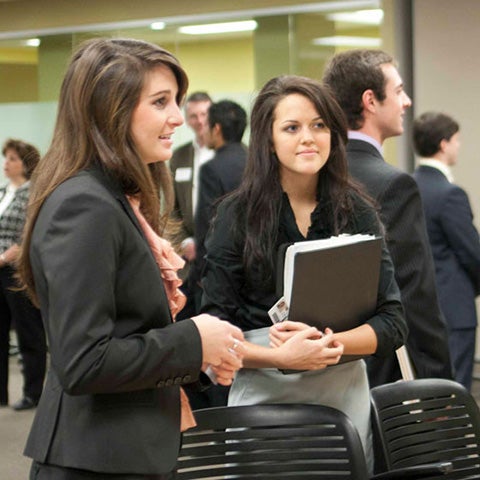 Overview
You know that in today's thriving business world, you need more than just an academically rigorous degree. You need the skills, network and right perspective to launch you to your next chapter. At Lipscomb, we're connected and ready to help you embark on the pathway to your desired industry, from day one. Gain access and credibility into Nashville's broad-based business community and enhance your global mindset through study abroad programs, Maymester courses and other global learning opportunities. Our supportive Christian environment, one-on-one mentorships and personal development opportunities will provide you with the skills and business principles needed to affect change in global business communities. Nationally recognized by Bloomberg Businessweek and a leader in faith-based education, we will prepare you to excel in your vocational calling as a servant leader.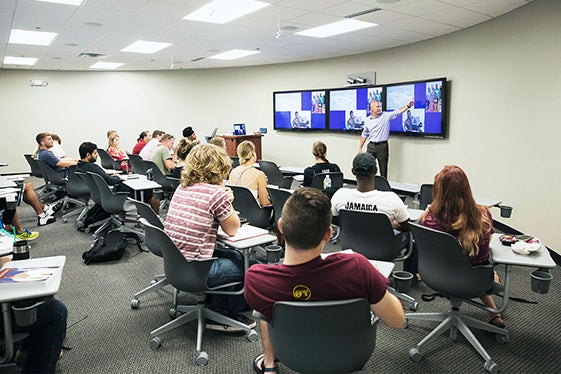 Undergraduate Programs
In today's competitive market, businesses seek well-rounded leaders who stand out. Lipscomb develops these leaders.
View Undergraduate Programs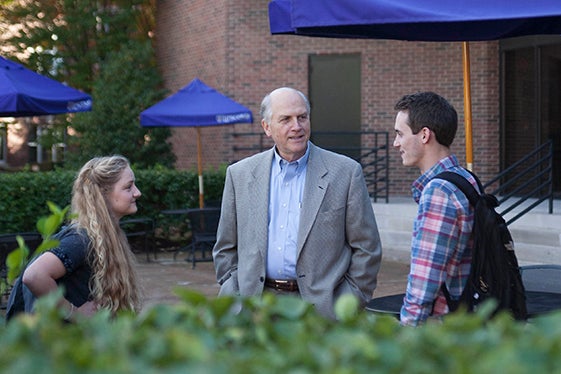 Graduate Programs
With high-ranking graduate business programs such as our Top 50 Bloomberg Businessweek part-time MBA program, we can help take you to the next level and help you achieve your professional goals.
View Graduate Programs
#1
Business program in TN in Bloomberg Businessweek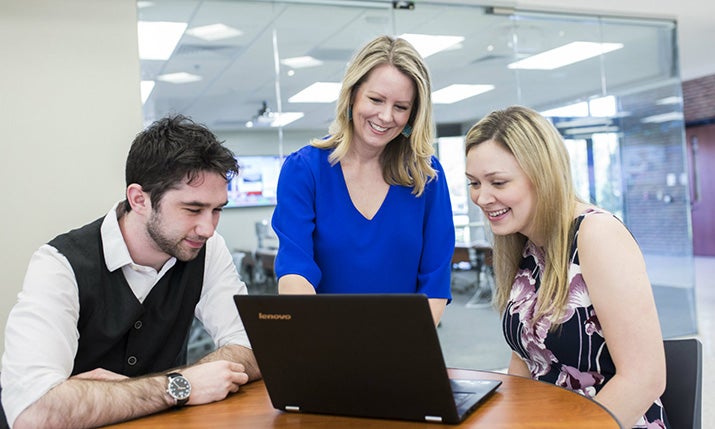 Embracing Business as Mission
At Lipscomb, we believe in "business as mission." Here, you can engage in local and global outreach opportunities, and fully integrate your faith into your daily business endeavors. Learn how to effectively live at the intersection of faith, career, culture and entrepreneurial thinking.
About Business as Mission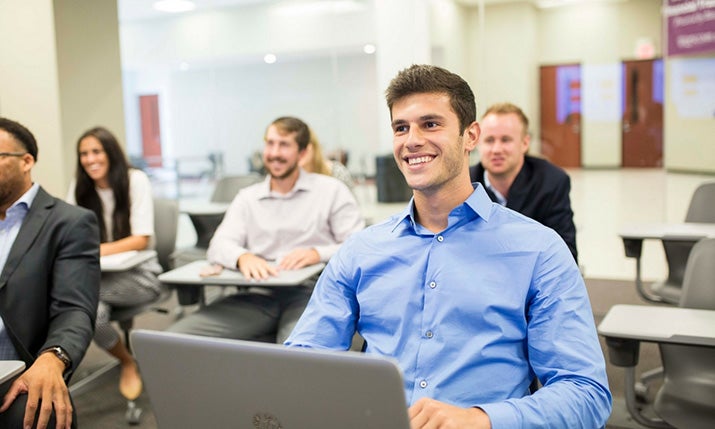 Aspire Fellows
Start investing in your long-term career goals now. Aspire Fellows is a year-long, selective cohort program for undergraduate students who want to gain work experience before graduating college. Integrate required coursework, real-world experience and professional development through a 10-month paid internship, focused class sessions, mentoring, and a multi-country global trip to meet with executives. If you aspire to success in your future, we'll help you get there.
About Aspire Fellows
Top 25
college of business for veterans
#2
Part-time MBA in Tennessee
People
Meet the key people that make up the College of Business.
Ray Eldridge

Dean, College of Business

A leadership practitioner and educator. Previous experience in academia includes Senior Associate Dean and Chair of the Department of Management at Lipscomb University, Dean of the Freed-Hardeman University School of...

Learn More

Jacob Arthur

Assistant Professor of Information Technology

Jacob Arthur is an Assistant Professor of Information Security & Analytics in the College of Business and is the partner over security & technology services for Formos Consulting.  Arthur has significant...

Learn More

Joseph Bamber

Clinical Professor of Marketing

Joseph Bamber serves as the visiting professor of marketing at Lipscomb University. Bamber first came to Nashville to attend Vanderbilt University. After finishing his MBA at MIT Sloan, he co-founded...

Learn More

Marcy Binkley

Instructor in Accounting

Marcy Binkley, CPA is an Instructor of Accounting at Lipscomb University. As an Instructor of Accounting, Marcy teaches principles courses including Financial and Managerial Accounting at the undergraduate level. She...

Learn More

Andy Borchers

Associate Dean

Andy Borchers, DBA, CLTD, CPIM is a Professor of Management and Associate Dean in the College of Business. Before moving to Lipscomb in 2011, Borchers spent 20 years in the...

Learn More

Han-Sheng Chen

Associate Professor of Finance

Han-Sheng Chen is an Associate Professor of Finance at Lipscomb University. He teaches several economics and finance courses, including Macroeconomics, Financial Markets and Institutions, Investments and International Finance and Economics. A...

Learn More

Jeff Cohu

Associate Professor of Management

Jeff Cohu is an experienced management consultant, entrepreneur, and educator. In addition to his ongoing consulting practice, he currently serves as an Associate Professor of Management and Executive Director of...

Learn More

John Crawford

Adjunct Faculty

Crawford earned his BA, MBA, and Ph.D. at the University of Alabama. He has been associated with Lipscomb University since 1981 and has served in the College of Business as...

Learn More

Lindsay Dillingham

Assistant Professor of Marketing

Dr. Lindsay Dillingham is an Assistant Professor of Marketing, teaching courses in marketing strategy and marketing research for both undergraduate and graduate students. She has also served as the Aspire Fellows...

Learn More

Allison Duke

Senior Associate Dean

Dr. Allison Duke is a Senior Associate Dean and a Professor of Management at Lipscomb University. As Senior Associate Dean, Dr. Duke leads the development of strategic initiatives and innovative...

Learn More

Rick Holaway

Director of Graduate Programs

Rick Holaway serves as a Chair for Management, Entrepreneurship and Marketing, Director of Graduate Programs and as an Assistant Professor of Marketing, teaching marketing and management courses. Prior to becoming...

Learn More

Joe Ivey

Clinical Professor

Joe Ivey serves as a Professor of Management. Prior to becoming a member of the full-time faculty, he served five years as the university's senior vice president for advancement. He...

Learn More

Jeff Jewell

Professor

Jeff Jewell, professor of finance, teaches courses in corporate finance, investing, and portfolio management. He has earned a B.A. from Harding University, an MBA from the University of Alabama, and...

Learn More

Natasha Johnson

Instructor in Management

Natasha Johnson is a full-time Instructor of Management in the College of Business. With more than 10 years of direct and progressive HR and business experience spanning across the healthcare,...

Learn More

Bart Liddle

Assistant Professor of Management

Liddle, director of graduate business and assistant professor of management, comes to Lipscomb with two decades of industry experience. He began his career at KPMG and then spent almost 15 years...

Learn More

Brian Masterson

Director of the Master of Accountancy Program

Brian Masterson is the Director of the Master of Accountancy ("MAcc") program and the Chair of the undergraduate Accounting, Finance and Economics Department. He teaches graduate tax courses in the...

Learn More

Perry Moore

Director, Graduate Business Programs

Perry Moore is the Charles E. Frasier Professor of Accountancy and Director of Academic Operations. He is a CPA, a Certified Internal Auditor, a Chartered Global Management Accountant and is...

Learn More

Nina Morel

Professor

Nina Morel, Ed.D., is Executive Director of Leadership Development and Coaching and former Dean of Professional Studies at Lipscomb University. She has developed and led innovative coaching programs as well...

Learn More

Alisa Peters

Assistant Professor of Accounting

Alisa Peters is an Assistant Professor in the Accounting, Finance and Economics Department in the College of Business.  Prior to joining the Lipscomb faculty, Peters practiced in the areas of commercial...

Learn More

Lauren Pinkston

Assistant Professor of BAM

Dr. Lauren Pinkston is an Assistant Professor of Business as Mission. She came to Lipscomb University via Southeast Asia, where she lived from 2014-2019 combining community development philosophies with organic...

Learn More

Leanne Smith

Associate Professor of Management

Leanne Smith is a writer and associate professor of management recognized for teaching excellence, student engagement, university service and community involvement. She has been recognized with two Outstanding Teacher awards...

Learn More

Rob Touchstone

Director of Business as Mission

Rob Touchstone learned to be an entrepreneur while finding and selling golfballs as a kid growing up near a golf course in Marietta, Ga. He has a passion for the...

Learn More

Michael Winegeart

Executive Director of Spark

Mike Winegeart was born and raised in Germany and is bilingual. His business career has been in Europe in senior management and business development capacities for Fortune 100 companies in...

Learn More
Undergraduate Programs
---
Here, you will receive real-world experience that fosters personal and professional development. Acquire your academic credentials, build your personal brand and expand your global mindset through our well-rounded business degrees. With programs in accounting, finance, management and marketing, we will ensure you are equipped with the skill set needed for whatever lies ahead.
Graduate Programs
---
Whether you want to develop your personal brand, grow your business acumen or step into a higher position within your company, Lipscomb's graduate business programs will set you up for success. Our flexible evening and weekend programs are designed to fit your busy schedule. Select from our group of impactful and high-demand specialty areas and we'll help you break down the barriers standing in your way to continuing your education.