Check out the many events the College of Business offers to students!
Students can stay up to date on all upcoming events by subscribing to our bi-weekly College of Business newsletter here.
Employers can sign up to receive event communications here.
COB Career Fair
The Spring College of Business Career Fair is the largest event of the year. It is publicized to undergraduate business majors and graduate students who are seeking internships and full-time positions or who wish to build their network to pursue future opportunities.
Learn More
Meet the Firm
Meet the Firm is an annual, fall semester event connecting accounting and finance students with firms and companies that offer internships and full-time roles.
Learn More
Meet the Firm Lite
Meet the Firm Lite is an annual, spring semester event for sophomore and junior accounting students to learn more about summer leadership opportunities, which are one-to-three day programs offered by accounting firms to engage with students.
Learn More
Learn Days
Learn Days are an immersive experience for students that consist of multiple site visits at chosen companies. These can be part of a global learning trip or a professional development opportunity open to interested students.
Networking Night
Each Fall, we host an informal networking event for management and marketing majors, no resume books or formal resume review process and the dress is business casual. Limited to 10-12 companies.
Company Connect
Company Connect is an opportunity for one company to set up a table in our lobby and interact with business majors as they exit College of Business Chapel.

Some of our recent company participants include Tractor Supply Company and the Tennessee Titans.
Etiquette Dinner
Etiquette dinners are hosted each semester led by a Certified Corporate Etiquette and Protocol Consultant. This is a fun way for our undergraduate and graduate students to ensure they are comfortable in professional dining situations.
Workshops
The Career Connection team hosts a variety of workshops throughout the year in areas such as strengthening your resume, developing a LinkedIn presence, acing interviews, writing cover letters, how to start your job search, and more.
Virtual Career Fairs
Our first virtual career fair was in the Fall of 2020, and we have hosted a variety since then through the Handshake platform. While we anticipate most of our larger career fairs will be in person going forward, we plan on continuing to host virtual career and internship fairs periodically.
Learn More
Information Sessions
Companies can schedule information sessions on campus where students have the opportunity to network with recruiters and learn more about the organization, culture and available job or internship opportunities.
Alumni Access
The Alumni Access program was launched in the Fall of 2020 and gives students opportunities to connect with alumni virtually or on campus to learn more about their chosen career fields and hear their advice for students as they are preparing for work after college.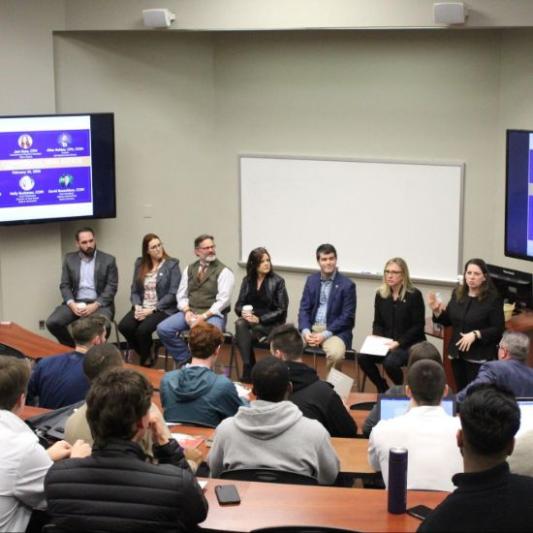 Panel Discussions
Panel discussions on specific topics or fields are opportunities for students to hear advice from industry professionals. In the past, we have hosted panels (virtual and in-person) on career paths in health care administration, commercial real estate, marketing, project management, sales, and more.
Interview Days
Interview Days are a component of the Directed Work Experience (DWE). Interview Day is an opportunity for students and employers to connect in a speed-interviewing format as part of the placement process for the program.

Additionally, in partnership with the Business Communication course, we facilitate mock interviews each semester for undergraduate students.
Learn more about the DWE