Spotlight Awards
A program dedicated to honoring the educational endeavors of high school theatres in Tennessee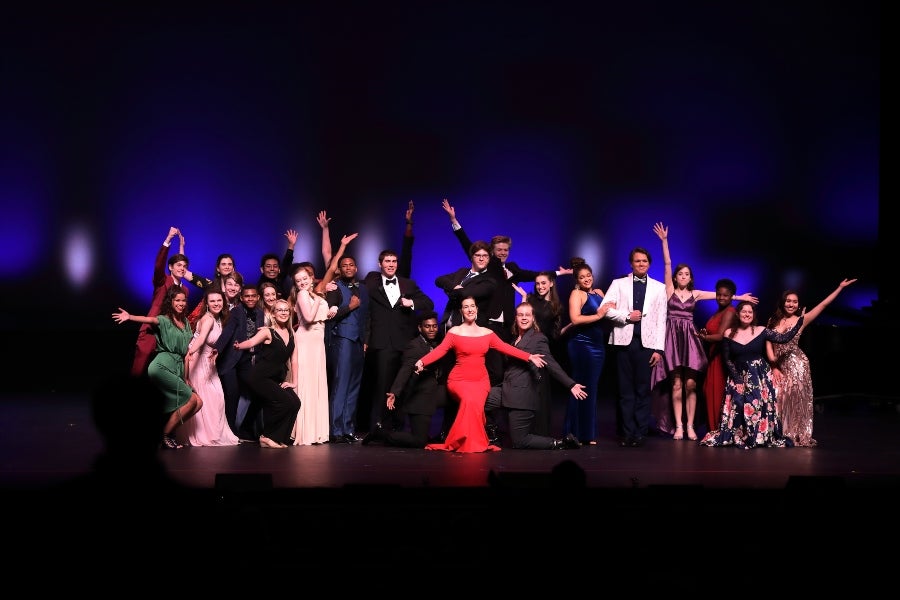 The Nashville High School Musical Theatre Awards, or the "Spotlight Awards," has been a huge success since its inception in 2013. The mission of this program is to unite high school musical theatre programs in Nashville and its surrounding counties, offering adjudication, special workshops, and an exceptional awards ceremony. In 2016, Lipscomb University's Department of Theatre and the Tennessee Performing Arts Center (TPAC) collaborated to develop and host the event together, securing one of the most unique partnerships in Nashville. Thousands of high school students have participated in the exciting program, and in May 2017, the awards ceremony moved to TPAC's Jackson Hall, the largest performance stage in Tennessee. Thanks to TPAC's membership in the Broadway League, the Spotlight Awards can send the qualifying outstanding lead actor and outstanding lead actress to the National High School Musical Theatre Awards or the "Jimmy Awards." This is a fun-filled and challenging ten day event each June featuring the most talented high school actors from all over the country working with the best of Broadway.
---
How does the program work?
Option 1: Adjudication Participation Level. Area high schools within two hours of driving distance from TPAC are invited to submit one musical per school year. Once we receive your completed registration, we will coordinate a team of adjudicators to view one of your performances. All adjudicators receive special training hosted by TPAC to ensure as equitable and balanced a process as possible. They will each have a rubric that will be the scoring for the show. Their completed rubric will be sent to individual school directors after the performance. At the end of the school year, TPAC compiles the critiques and scores from each show to determine the awards, holds an intensive lead actor/actress audition, and hosts a grand ceremony in the biggest performance hall in Tennessee. We will have a variety of workshops and master classes presented throughout the year, including in-person and virtual options. This registration also includes up to 35 free seats to the awards ceremony at TPAC. Fee: $300/school. Adjudication window: February 3-April 17, 2022.

Option 2: Community Participation Level. Participants at this level have access to all master classes and workshops only without the adjudication/awards process. Schools also receive a discount for ceremony tickets at TPAC, and there is no distance limit for eligibility. Fee: $150/school.
---
Events Calendar
November 1-15, 2021: Registration window.
December, 2021: School Orientation (virtual). This is a required orientation for all schools.
January 27, 2022: Kickoff Event (virtual). We are planning a fun event that will take place virtually after school. All participating schools are asked to have their theatre students stay after school for this interactive event. Plans for this event are still evolving, but there will be gift boxes mailed to all schools ahead of time, and during the event we plan to have performances, videos, guests, games and prizes involved.
February 3-April 17, 2022: Adjudication window.
April 22, 2022: Nominees announcement.
May 7-8, 2022: Outstanding Lead Actor/Actress Auditions. Every school will have 1-3 lead nominees based on adjudication scores, with up to 50 nominees total overall in the program. All will attend the auditions/callbacks to determine the finalists that will perform solos at the awards ceremony and the two moving on to New York City's Jimmy Awards.
May 14, 2022: Awards Ceremony in TPAC's Jackson Hall.
June 2022: Jimmy Awards in New York City (date TBA).
---
Award Categories
School Awards: Outstanding Vocals, Outstanding Ensemble, Outstanding Costume Design, Outstanding Hair and Makeup Design, Outstanding Lighting Design, Outstanding Set Design, Outstanding Orchestra, Outstanding Sound Design, Outstanding Technical Execution, Outstanding Design Concept, Outstanding Choreography, Outstanding Music Direction, Outstanding Direction, Outstanding Musical
Individual Awards: Outstanding Male Dancer, Outstanding Female Dancer, Outstanding Male Soloist, Outstanding Female Soloist, Outstanding Ensemble Actor, Outstanding Ensemble Actress, Outstanding Supporting Actor, Outstanding Supporting Actress, Outstanding Comedic Actor, Outstanding Comedic Actress, Outstanding Dramatic Actor, Outstanding Dramatic Actress, Outstanding Technical Achievement, Outstanding Lead Actor, Outstanding Lead Actress, All-Star Cast, All-Star Crew
---
Entering
To enter, please complete the online registration and payment (link opens November 1). This is the preferred registration, but if you wish to send a check for payment, please first fill out the registration form online, and then mail a check made out to the following address:
Lipscomb University Department of Theatre
c/o Beki Baker
One University Park Dr., Nashville, TN 37204