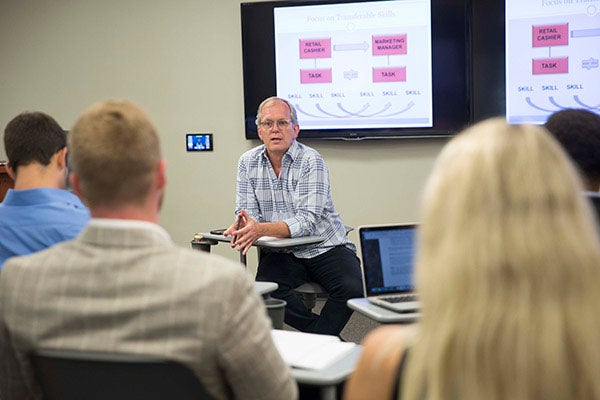 Program Overview
Program Overview
Be more than a manager — equip yourself to lead. As a management major, you'll have unfettered access to our dedicated faculty. No matter what concentration you choose, you'll learn from those who know business best — and you'll enjoy our small class sizes. 

We'll walk with you as you learn to be purposeful, bold, credible, creative and servant-hearted in your work. You'll also have the opportunity to join the distinguished Aspire or Business as Mission Fellow programs. When you graduate, you'll have a plethora of professional opportunities and the option for graduate school. And with the services of our College of Business Center, you can be confident you'll make the right choice.
#1
Undergraduate business program in TN
Internship
Become more competitive in the job market with an internship related to your interests. You'll gain experience and boost your exposure. An internship will also help you learn whether you've chosen a career you'll enjoy.
Study Abroad
See the world — whether it's Italy, Austria, Costa Rica, England or another country. Career opportunities will open for you as you sharpen your foreign language skills. Gain the international experience and cross-cultural communication skills you'll need in our global economy.
Expert faculty, small class sizes
Learn from award-winning, experienced faculty who actually care about you. Our small class sizes allow us to get to know you personally. We lead an approachable community within our respective programs. Our faculty connections are the experts on their subject matter, too.
Ray Eldridge

Dean, College of Business

A leadership practitioner and educator. Previous experience in academia includes Senior Associate Dean and Chair of the Department of Management at Lipscomb University, Dean of the Freed-Hardeman University School of...

Learn More

Andy Borchers

Associate Dean

Andy Borchers, DBA, CLTD, CPIM is a Professor of Management and Associate Dean in the College of Business. Before moving to Lipscomb in 2011, Borchers spent 20 years in the...

Learn More

Jeff Cohu

Associate Professor of Management

Jeff Cohu is an experienced management consultant, entrepreneur, and educator. In addition to his ongoing consulting practice, he currently serves as an Associate Professor of Management and Executive Director of...

Learn More

Allison Duke

Senior Associate Dean

Dr. Allison Duke is a Senior Associate Dean and a Professor of Management at Lipscomb University. As Senior Associate Dean, Dr. Duke leads the development of strategic initiatives and innovative...

Learn More

Joe Ivey

Clinical Professor

Joe Ivey serves as a Professor of Management. Prior to becoming a member of the full-time faculty, he served five years as the university's senior vice president for advancement. He...

Learn More

Natasha Johnson

Instructor in Management

Natasha Johnson is a full-time Instructor of Management in the College of Business. With more than 10 years of direct and progressive HR and business experience spanning across the healthcare,...

Learn More

Bart Liddle

Assistant Professor of Management

Liddle, director of graduate business and assistant professor of management, comes to Lipscomb with two decades of industry experience. He began his career at KPMG and then spent almost 15 years...

Learn More

Leanne Smith

Associate Professor of Management

Leanne Smith is a writer and associate professor of management recognized for teaching excellence, student engagement, university service and community involvement. She has been recognized with two Outstanding Teacher awards...

Learn More

Rob Touchstone

Director of Business as Mission

Rob Touchstone learned to be an entrepreneur while finding and selling golfballs as a kid growing up near a golf course in Marietta, Ga. He has a passion for the...

Learn More
Career Paths
Advertising, Promotions, and Marketing Managers
Advertising, promotions, and marketing managers plan programs to generate interest in products or services. They work with art directors, sales agents, and financial staff members.
Management Analysts
Management analysts, often called management consultants, propose ways to improve an organization's efficiency. They advise managers on how to make organizations more profitable through reduced costs and increased revenues.
Operations Research Analysts
Operations research analysts use advanced mathematical and analytical methods to help organizations investigate complex issues, identify and solve problems, and make better decisions.