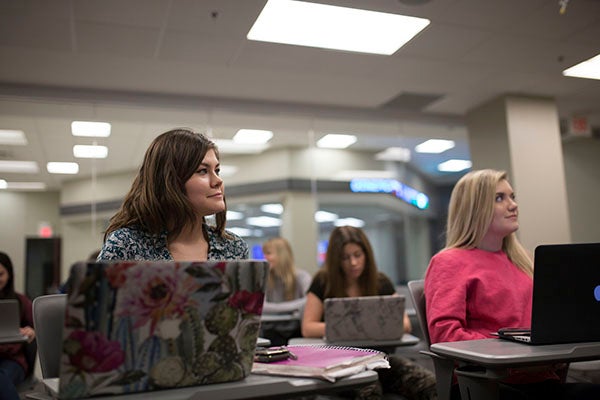 Program Overview
Program Overview
Not majoring in business but interested in understanding the basics of the field? You're in the right place. Exposure to concepts such as marketing, accounting and management can boost success in a variety of unrelated fields. Our distinguished professors will provide you with applicable skills to utilise within your specific industry. You'll boost your professional capabilities by engaging in these holistic courses. 
 
Courses
Courses
AC 2503 - Financial Accounting

EC 2413 - Principles of Microeconomics

ENT 2503 - An Introduction to Business

MG 3503 - Leading and Managing People

MK 3503 - Principles of Marketing
Internship
Become more competitive in the job market with an internship related to your interests. You'll gain experience and boost your exposure. An internship will also help you learn whether you've chosen a career you'll enjoy.
Service learning
We provide you the opportunity to enhance your academic understanding by applying what you've learned in class to service projects that benefit our community. Before graduation, you'll participate in at least two SALT (Serving and Learning Together) projects.
Expert faculty, small class sizes
Learn from award-winning, experienced faculty who actually care about you. Our small class sizes allow us to get to know you personally. We lead an approachable community within our respective programs. Our faculty connections are the experts on their subject matter, too.
Study Abroad
See the world — whether it's Italy, Austria, Costa Rica, England or another country. Career opportunities will open for you as you sharpen your foreign language skills. Gain the international experience and cross-cultural communication skills you'll need in our global economy.
Job placement
With a top-tier university education on your resume, you'll be in high demand, whether you choose to launch your career or begin graduate school. Most of our programs have a placement rate of at least 90 percent within six months of graduation.
Career Paths
Advertising, Promotions, and Marketing Managers
Advertising, promotions, and marketing managers plan programs to generate interest in products or services. They work with art directors, sales agents, and financial staff members.
Financial Managers
Financial managers are responsible for the financial health of an organization. They produce financial reports, direct investment activities, and develop strategies and plans for the long-term financial goals of their organization.
Bookkeeping, Accounting, and Auditing Clerks
Bookkeeping, accounting, and auditing clerks produce financial records for organizations. They record financial transactions, update statements, and check financial records for accuracy.