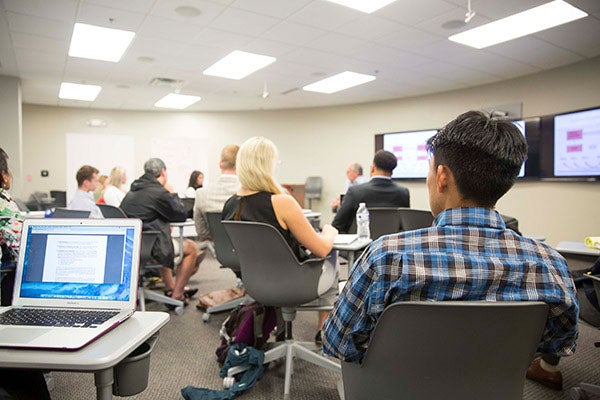 Program Overview
Program Overview
Learn the language of business with a major that has plenty of career potential. Organizations are looking for well-rounded leaders who can provide solutions, unique ideas and positive outcomes. We'll make sure you gain the outstanding academic credentials you need to sit for the CPA exam. Our program emphasizes financial reporting, financial analysis, international business and management decision-making. Learn from accounting faculty with decades of experience in firms and in-house accounting departments.
Develop your professionalism with internships in Nashville. Learn to think globally by studying abroad with your classmates. We have long-standing partnerships with some of the largest firms in the U.S. So become part of one of the most respected programs in Tennessee. With our 100 percent job placement rate, you can rest assured you'll get the job you want and need.
Courses
Courses
All majors in the B.B.A. degree must complete the following courses:
AC 2503: Financial Accounting 
AC 2513: Managerial Accounting 
BA 3403: Enterprise Systems, Reporting, and Visualization
BA 3703: Business Communication 
BA 3803: Business Values 
BA 4503: Business Strategy 
EC 2413: Principles of Microeconomics
EC 2403: Principles of Macroeconomics
ENT 2503: An Introduction to Business
FI 2503: Business Analysis, Techniques and Tools
FI 3503: Principles of Finance
MA 2183: Elementary Statistics
MG 3503: Leading and Managing People
MG 3613: Legal Aspects of Business I 
MG 4813: Data Driven Decision Making
MK 3503: Principles of Marketing
OSCM 3503: Operations and Supply Chain Management
UN 1321: Personal Finance
Select three hours (one course) from the following international courses:
BA 3603: Fundamentals of International Business 
AC 4803: Global Business, Culture, and Travel to [insert destination]
FI 4803: Global Business, Culture and Travel to [insert destination]
MG 4803: Global Business, Culture and Travel to [insert destination] or
MK 4803: Global Business, Culture and Travel to [insert destination]
EC 2413 and MA 1113 are also included in the general education requirements.
24 hours are required in addition to core requirements:
AC 3503: Intermediate Accounting 
AC 3513: Intermediate Accounting II 
AC 3573: Federal Income Taxation 
AC 4113: Principles of Auditing  
AC 390V: Internship in Accounting (1-10) 
A grade of "C" or higher is required for all upper-division accounting courses included in the major. The course must be re-taken if a grade lower than "C" is received.
Job placement
With a top-tier university education on your resume, you'll be in high demand, whether you choose to launch your career or begin graduate school. Most of our programs have a placement rate of at least 90 percent within six months of graduation.
Internship
Become more competitive in the job market with an internship related to your interests. You'll gain experience and boost your exposure. An internship will also help you learn whether you've chosen a career you'll enjoy.
Study Abroad
See the world — whether it's Italy, Austria, Costa Rica, England or another country. Career opportunities will open for you as you sharpen your foreign language skills. Gain the international experience and cross-cultural communication skills you'll need in our global economy.
Nashville
A big city. An even bigger opportunity. We consider Nashville an extension of our classroom, and as a leading city in many industries, that means you'll gain experience and insight you won't find anywhere else.
Brian Masterson

Director of the Master of Accountancy Program

Brian Masterson is the Director of the Master of Accountancy ("MAcc") program and the Chair of the undergraduate Accounting, Finance and Economics Department. He teaches graduate tax courses in the...

Learn More

Marcy Binkley

Instructor in Accounting

Marcy Binkley, CPA is an Instructor of Accounting at Lipscomb University. As an Instructor of Accounting, Marcy teaches principles courses including Financial and Managerial Accounting at the undergraduate level. She...

Learn More

Perry Moore

Director, Graduate Business Programs

Perry Moore is the Charles E. Frasier Professor of Accountancy and Director of Academic Operations. He is a CPA, a Certified Internal Auditor, a Chartered Global Management Accountant and is...

Learn More

Alisa Peters

Assistant Professor of Accounting

Alisa Peters is an Assistant Professor in the Accounting, Finance and Economics Department in the College of Business. Prior to joining the Lipscomb faculty, Peters practiced in the areas of commercial...

Learn More
Career Paths
Bookkeeping, Accounting, and Auditing Clerks
Bookkeeping, accounting, and auditing clerks produce financial records for organizations. They record financial transactions, update statements, and check financial records for accuracy.
Lawyers
Lawyers advise and represent individuals, businesses, and government agencies on legal issues and disputes.
Accountants and Auditors
Accountants and auditors prepare and examine financial records. They ensure that financial records are accurate and that taxes are paid properly and on time. Accountants and auditors assess financial operations and work to help ensure that organizations run efficiently.