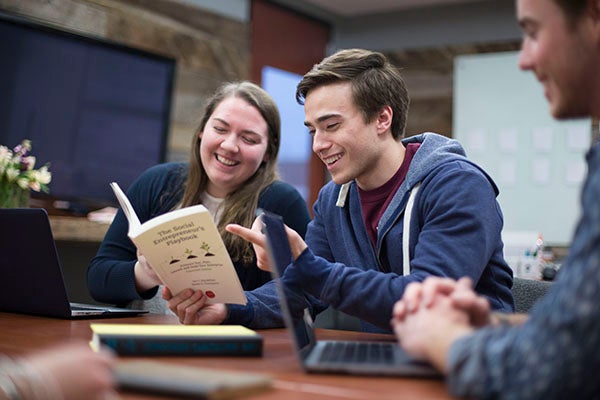 Program Overview
Program Overview
You've got the ideas and vision, but you need the tactical principles to make them come alive. Let us guide you in the design, plan, launch and execution of your entrepreneurial endeavors. Our well-versed faculty understand what it takes to succeed in the industry, so they've established comprehensive curriculum that will set you on the right path. You will learn how to develop professional relationships, plan for the financial success of your business and market at the right time and to the right people. Your ideas are innovative and valuable, and we'll work alongside you to develop them into their full potential, so that you can be an established expert in the field, too. 
 
Courses
Courses
Students can select classes to meet their interest in for-profit, social or missional entrepreneurship.


Specific courses required:
ENT 2503 - An Introduction to Business

ENT 3543 - Entrepreneur Marketing

ENT 4403 - Entrepreneur Finance

Choose two of the following eight courses:
BA 3303 - Principles of Business as Mission

ENT 3453 - Principles of Social Entrepreneurship

ENT 390V - Entrepreneur Internship

ENT 4Xn3 - Special Topics in [Insert Area]

MK 3403 - Strategic Internet Marketing

MK 3453 - Social Media Marketing

MK 3543 - Professional Relationships Marketing

 

OR

 

LUEG 3xn3 - Engagements: (selected topic)
Internship
Become more competitive in the job market with an internship related to your interests. You'll gain experience and boost your exposure. An internship will also help you learn whether you've chosen a career you'll enjoy.
Job placement
With a top-tier university education on your resume, you'll be in high demand, whether you choose to launch your career or begin graduate school. Most of our programs have a placement rate of at least 90 percent within six months of graduation.
Expert faculty, small class sizes
Learn from award-winning, experienced faculty who actually care about you. Our small class sizes allow us to get to know you personally. We lead an approachable community within our respective programs. Our faculty connections are the experts on their subject matter, too.
Service learning
We provide you the opportunity to enhance your academic understanding by applying what you've learned in class to service projects that benefit our community. Before graduation, you'll participate in at least two SALT (Serving and Learning Together) projects.
Joe Ivey

Clinical Professor

Joe Ivey serves as a Professor of Management. Prior to becoming a member of the full-time faculty, he served five years as the university's senior vice president for advancement. He...

Learn More
Career Paths
Advertising, Promotions, and Marketing Managers
Advertising, promotions, and marketing managers plan programs to generate interest in products or services. They work with art directors, sales agents, and financial staff members.
Budget Analysts
Budget analysts help public and private institutions organize their finances. They prepare budget reports and monitor institutional spending.
Cost Estimators
Cost estimators collect and analyze data in order to estimate the time, money, materials, and labor required to manufacture a product, construct a building, or provide a service. They generally specialize in a particular product or industry.