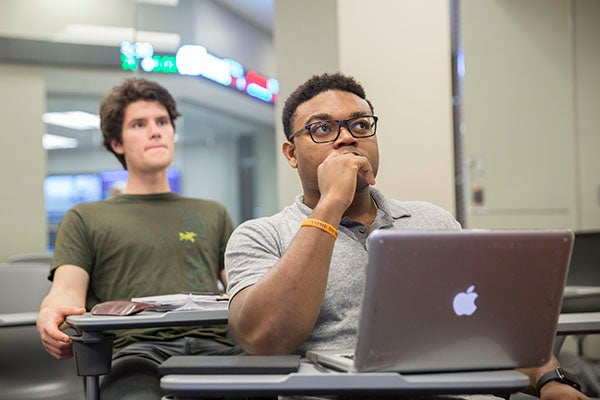 Program Overview
Program Overview
Prepare to make a difference as an effective, ethical financier. Our experienced faculty will guide and grow you. You'll have opportunities for experiential learning, including managerial finance, international economics, portfolio management. In our Financial Markets Lab, you'll learn to use Bloomberg Terminals to analyze financial data and metrics. You'll even have a keycard to access the lab at any time. 
You'll have internship and study abroad opportunities. You'll be part of the Lipscomb team that competes against other universities in the TVA Investment Challenge. You and your team will manage a portfolio of securities on TVA's behalf. Each team competing will be responsible for security selection, portfolio balancing and other fund management decisions. With rigorous and relevant curriculum, chances for hands-on learning and real-life experience, you'll have the foundation you need to thrive.
Courses
Courses
Business Core (49 hours*) and Other Required Courses for B.B.A. Degree
All majors in the B.B.A. degree must complete the following courses:
AC 2503 - Financial Accounting

AC 2513 - Managerial Accounting

BA 3403 - Enterprise Systems, Reporting and Visualization

BA 3703 - Business Communication

BA 3803 - Business Values

BA 4503 - Business Strategy

EC 2413 - Principles of Microeconomics

EC 2403 - Principles of Macroeconomics

ENT 2503 - An Introduction to Business

FI 2503 - Business Analytics

FI 3503 - Principles of Finance

MA 2183 - Elementary Statistics

MG 3503 - Leading and Managing People

MG 3613 - Legal Aspects of Business I

MG 4813 - Data Driven Decision Making

MK 3503 - Principles of Marketing

OSCM 3503 - Operations and Supply Chain Management

UN 1321 - Personal Finance
Select three hours from the following international courses:
BA 3603 - Fundamentals of International Business

AC 4803 - Global Business, Culture, and Travel to [insert destination]

FI 4803 - Global Business, Culture and Travel to [insert destination]

MG 4803 - Global Business, Culture and Travel to [insert destination] or

MK 4803 - Global Business, Culture and Travel to [insert destination]

Note:
* There are 49 hours in the business core. EC 2413 and MA 1113 are also included in the general education requirements.

Total hours required in addition to the B.B.A. requirements: 24

Specific courses required:
FI 2303 - Financial Markets & Institutions

FI 3703 - Equity Investments

FI 390V - Internship in Finance

FI 4343 - Fundamentals of Real Estate

FI 4813 - Investment Fund Management

Concentrations (pick one)

Corporate Finance
FI 3012 - Corporate Finance

FI 3603 - International Economics and Finance

FI 4032 - Investment Banking

FI 4062 - Financial Modeling

Personal Financial Planning
FI 3643 - Financial Planning

FI 4042 - Insurance Planning

FI 4052 - Retirement Planning

FI 4072 - Tax Planning for High Net Worth Individuals

Note:
At least a grade of "C" is required for all upper-division finance courses included in the major. The course must be re-taken if a grade lower than "C" is received.
Internship
Become more competitive in the job market with an internship related to your interests. You'll gain experience and boost your exposure. An internship will also help you learn whether you've chosen a career you'll enjoy.
Job placement
With a top-tier university education on your resume, you'll be in high demand, whether you choose to launch your career or begin graduate school. Most of our programs have a placement rate of at least 90 percent within six months of graduation.
Expert faculty, small class sizes
Learn from award-winning, experienced faculty who actually care about you. Our small class sizes allow us to get to know you personally. We lead an approachable community within our respective programs. Our faculty connections are the experts on their subject matter, too.
Jeff Jewell

Professor

Jeff Jewell, professor of finance, teaches courses in corporate finance, investing, and portfolio management. He has earned a B.A. from Harding University, an MBA from the University of Alabama, and...

Learn More
Career Paths
Financial Analysts
Financial analysts provide guidance to businesses and individuals making investment decisions. They assess the performance of stocks, bonds, and other types of investments.
Financial Examiners
Financial examiners ensure compliance with laws governing financial institutions and transactions. They review balance sheets, evaluate the risk level of loans, and assess bank management.
Personal Financial Advisors
Personal financial advisors provide advice on investments, insurance, mortgages, college savings, estate planning, taxes, and retirement to help individuals manage their finances.