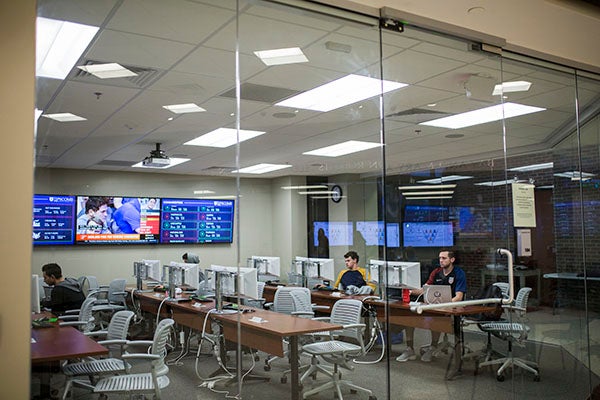 Program Overview
Program Overview
At the core of any standout organization is a successful, ethical financial planner. It's what keeps the business moving. Enhance your industry with foundational knowledge of finance. You'll have access to our established faculty and our state-of-the-art Financial Markets Lab to gain hands-on, problem-solving experiences. You'll acquire an understanding of microeconomics, macroeconomics, finance and accounting. With this additional knowledge of finance, you will be viewed as a well-equipped professional transcending all industries. 
 
Courses
Courses
Specific courses required:
AC 2503 - Financial Accounting
EC 2413 - Principles of Microeconomics
EC 2403 - Principles of Macroeconomics
FI 3503 - Principles of Finance
Electives:
3 additional hours in upper-division finance as approved by department chair
Internship
Become more competitive in the job market with an internship related to your interests. You'll gain experience and boost your exposure. An internship will also help you learn whether you've chosen a career you'll enjoy.
Expert faculty, small class sizes
Learn from award-winning, experienced faculty who actually care about you. Our small class sizes allow us to get to know you personally. We lead an approachable community within our respective programs. Our faculty connections are the experts on their subject matter, too.
Study Abroad
See the world — whether it's Italy, Austria, Costa Rica, England or another country. Career opportunities will open for you as you sharpen your foreign language skills. Gain the international experience and cross-cultural communication skills you'll need in our global economy.
Job placement
With a top-tier university education on your resume, you'll be in high demand, whether you choose to launch your career or begin graduate school. Most of our programs have a placement rate of at least 90 percent within six months of graduation.
Career Paths
Financial Analysts
Financial analysts provide guidance to businesses and individuals making investment decisions. They assess the performance of stocks, bonds, and other types of investments.
Financial Examiners
Financial examiners ensure compliance with laws governing financial institutions and transactions. They review balance sheets, evaluate the risk level of loans, and assess bank management.
Budget Analysts
Budget analysts help public and private institutions organize their finances. They prepare budget reports and monitor institutional spending.