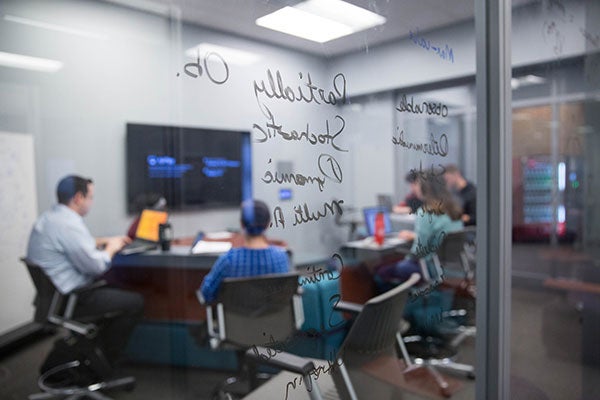 Program Overview
Program Overview
Grow your understanding of the relationship between data, technology and people. Our professionals will guide you in the foundations of data science, including logical reasoning and computer programming. And our challenging and relevant curriculum will prepare you for a competitive market. 
You'll become adept at building and refining information systems to get the knowledge you need. You'll understand why people seek information, theoretically, virtually and physically. We'll teach you how to apply your technical know-how to what interests you most. As you begin your career, you'll be an ambassador for the effective, ethical and transformative power of data.
Courses
Courses
General education hours required (38 hours)

Specific courses required:
BI 4213 - Biblical Ethics

MG 3503 - Leading and Managing People

Mathematics requirement satisfied by major

LUSS 2093 - Impact of Internet Technologies on Society

Required courses for major area (79-81 hours)
CCT 395V - Internship *

CCT 4613 - Senior Project

CS 1213 - Introduction to Computer Programming

CS 1233 - Object-Oriented System Design and Programming

CS 2223 - Mathematical Structures for Computer Science

CS 2243 - Database Management Systems

DS 1123 - Introduction to Data Science

DS 2063 - Modern Computing Applications for Data Science

DS 3123 - Information Ethics and Policy

DS 3213 - Principles of Data Science

DS 3223 - Information Structures

DS 3323 - Principles of Statistical Analysis and Decision Modeling

DS 4133 - Research Methods in Data Science

DS 4223 - Data Mining and Analysis

ENT 2503 - An Introduction to Business

IT 1213 - Graphic Design Studio

IT 2223 - Web Application Development I

IT 2233 - User Interface Design

IT 3313 - Network Principles

IT 3413 - Systems Analysis and Design

MA 1314 - Calculus I

MA 2183 - Elementary Statistics

MA 3213 - Linear Algebra

OSCM 3503 - Operations and Supply Chain Management

SEC 3113 - Fundamentals of Information Security



Concentration courses (choose one concentration area) (9 hours)






Bioinformatics:
BY 3114 - Genetics

BY 1134 - Principles of Biology: Cell and Genetics

BY 2114 - Cell Biology



Business Informatics:
MK 3403 - Strategic Internet Marketing
MK 4533 - Marketing Research and Plans
ITM 4023 - Data & Knowledge Management



Environmental Management Informatics:
ESS 4213 - Environmental Law and Policy

ESS 4223 - Fundamentals of Environmental Management and Technology



Health Care Informatics:
DS 4003 - Decision Support Systems

DS 4013 - Information Systems Management

DS 4103 - Introduction to Health Care Informatics



IT Entrepreneurship:
ENT 3543 - Entrepreneur Marketing
ENT 4503 - New Venture Creation
MK 3403 - Strategic Internet Marketing



Sustainability Performance Informatics:
ESS 2013 - Introduction to Sustainable Energy Sources

ESS 2123 - Principles of Sustainability

ESS 4223 - Fundamentals of Environmental Management and Technology



Web Development:
IT 3223 - Web Application Development II

IT 3233 - Web Server Technologies

MK 3403 - Strategic Internet Marketing
Internship
Become more competitive in the job market with an internship related to your interests. You'll gain experience and boost your exposure. An internship will also help you learn whether you've chosen a career you'll enjoy.
Job placement
With a top-tier university education on your resume, you'll be in high demand, whether you choose to launch your career or begin graduate school. Most of our programs have a placement rate of at least 90 percent within six months of graduation.
Expert faculty, small class sizes
Learn from award-winning, experienced faculty who actually care about you. Our small class sizes allow us to get to know you personally. We lead an approachable community within our respective programs. Our faculty connections are the experts on their subject matter, too.
Qingguo Wang

Associate Professor of Data Science

Qingguo Wang's research expertise is in the interdisciplinary field of Computer Science, Computational Biology, and Cancer Genomics. Before joining Lipscomb University, Wang was a Computational Engineer III at Memorial Sloan...

Learn More

Tim Wallace

Associate Professor of Computing and Technology

T. L. Wallace is Associate Professor of Computational Sciences, Computing, and Technology, and currently serves as Chair of Computational Sciences in the College. He brings over 25 years of experience...

Learn More
Career Paths
Mechanical Engineering Technicians
Mechanical engineering technicians help mechanical engineers design, develop, test, and manufacture mechanical devices, including tools, engines, and machines. They may make sketches and rough layouts, record and analyze data, make calculations and estimates, and report their findings.
Survey Researchers
Survey researchers design and conduct surveys and analyze data. Surveys are used to collect factual data, such as employment and salary information, or to ask questions in order to understand people's opinions, preferences, beliefs, or desires.
Computer Network Architects
Computer network architects design and build data communication networks, including local area networks (LANs), wide area networks (WANs), and Intranets. These networks range from small connections between two offices to next-generation networking capabilities such as a cloud infrastructure that serves multiple customers.