Current Students
The College of Business is here to help you maximize your experience as a business student.

Career Connection
Career Connection office is focused on professional development and engagement. Whether it's through hosting a workshop, informing you on the latest networking event in town or working with you to shore up your resume and interviewing skills, we want to help you get where you want to go in your studies and in your career search.
Our office, composed of Suzanne Sager, Marianne Van der Voort and Nicole Anderson and located in Swang 260, will be working to plan professional development events, schedule speakers and help connect you with organizations and professionals in the area.
We look forward to connecting you with your future.
Find a Job Schedule Career Discussion Get Involved
Post a Job or Internship
Thank you for your interest in Lipscomb students!  
We are delighted that you would like to post a position for Lipscomb students and alumni to view on the electronic job board, Bison JobTrax. Our goal is connect employers and talented Lipscomb students and graduates, and it's our desire to serve employers in the best way possible. 
Employers may post their positions on the electronic job board. You will create an account (if you have not already) and upload all the information to this site. If you have an immediate question, please contact Monica Wentworth at 615.966.6296.
We will hope to send some great candidates your way
Post a Job Internship Requirements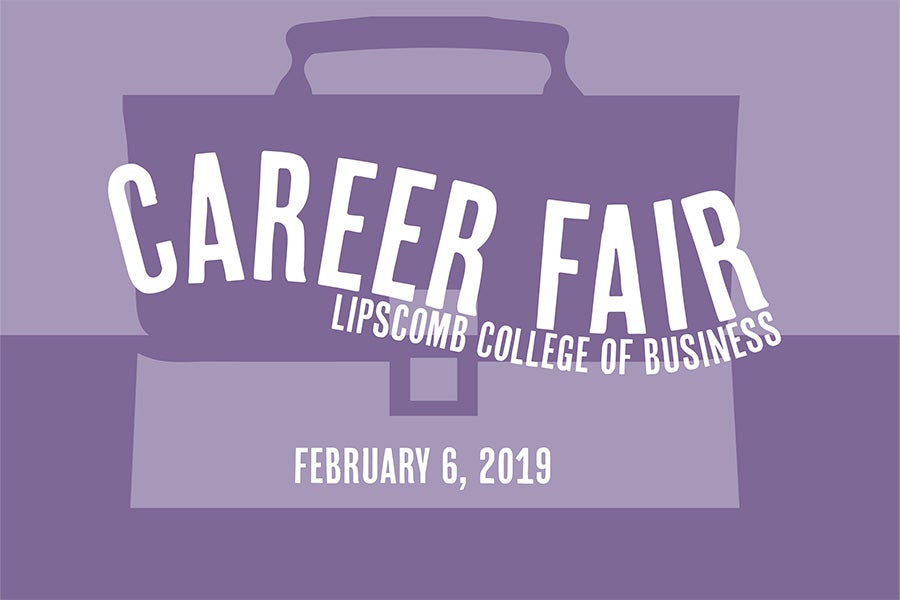 Career Fair 2019, Feb. 6, 2019
Who Should Attend?
Any business major seeking an internship or full-time opportunity 
Any business major not currently seeking an internship or full-time opportunity, but who would like to grow his or her network
Key Dates:
January 1: Registration Opens (Register Here)
January 18: Priority Resume Deadline (resumes submitted by this date will receive more time and attention than those submitted later)
February 1: Final Date to Submit Initial Resume
February 3: All Resumes Finalized
If you have any questions, please contact Suzanne Sager at suzanne.sager@lipscomb.edu or 615.966.1345. We are here to help! 
Career Fair Details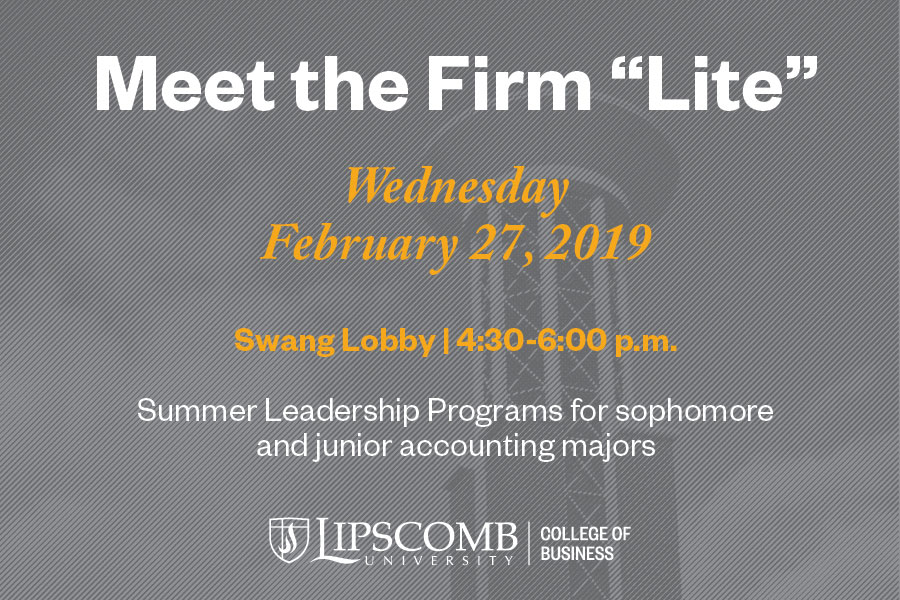 Meet the Firm Lite, Feb. 27, 2019, 4:30-6 p.m., Swang
Who Should Attend?
Sophomore and Junior Accounting majors who are interested in a Summer Leadership Program opportunity.
Accounting majors who are seeking a summer internship or part-time work (a few firms may also be offering these positions).
Key Dates:
Tuesday, January 1: Registration Opens (Register Here)
Friday, February 8: Initial Resume and Photograph Submitted
Tuesday, February 12: Prep Session (NOTE: Attendance at one prep session is mandatory if you have not previously attended a Meet the Firm event or Prep Session)
Wednesday, February 13: Prep Session (NOTE: Attendance at one prep session is mandatory if you have not previously attended a Meet the Firm event or Prep Session)
Friday, February 22: Final Resume Confirmed
Wednesday, February 27: Upload Approved Resume to Bison Job Trax for On-Campus Recruiting (see On-Campus Recruiting section below for help)