College of Business Career Fairs
The College of Business offers several Career Fair opportunities for students to meet employers. These events are a great way to build a network and search for a job or internship.
Fall 2021 College of Business Career Fairs will be announced soon. The information below is from our past events and you may use it for reference. If you have any questions about upcoming career fairs, contact Nicole Anderson.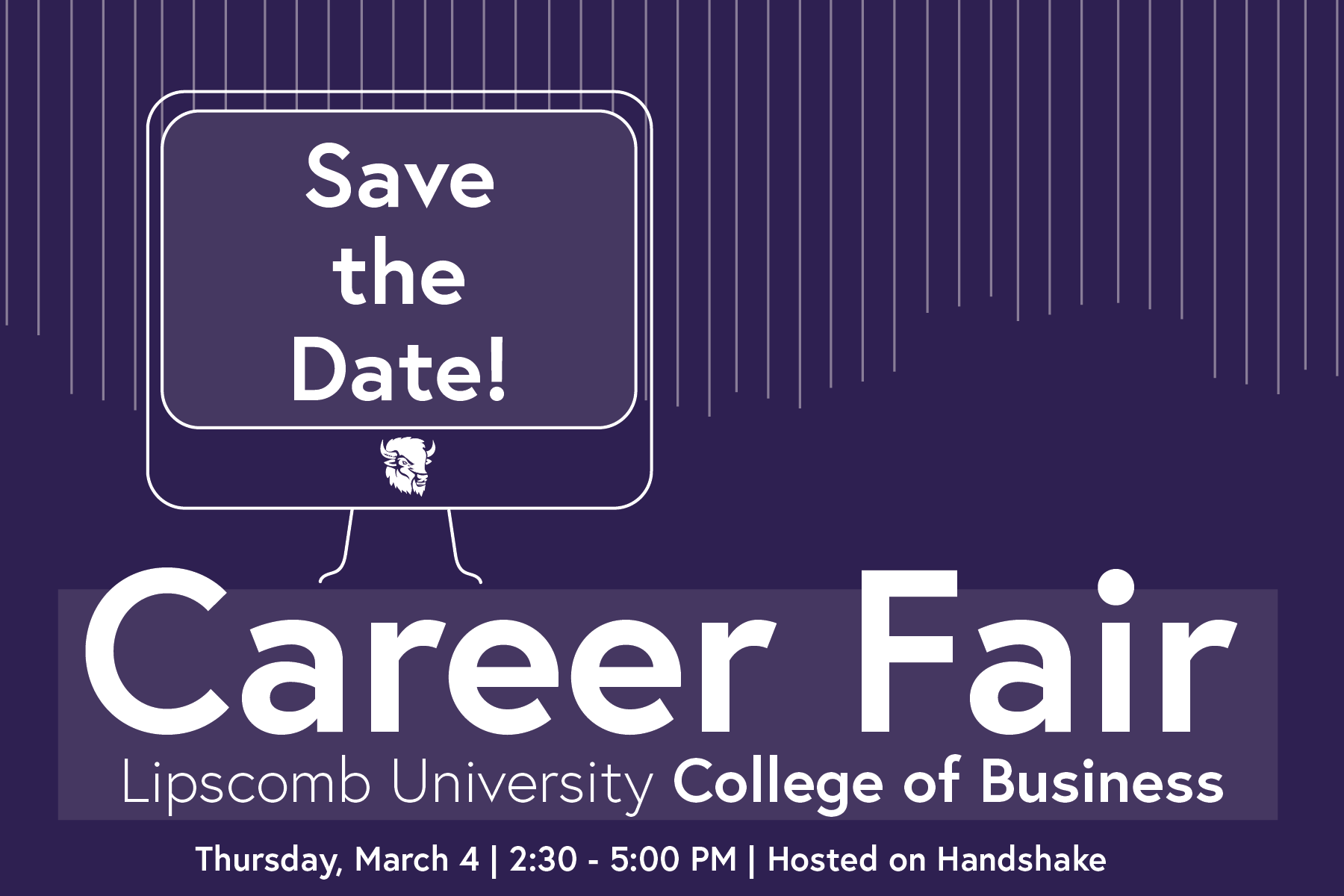 Spring 2021 Virtual Career Fair Event
For College of Business Students
This spring, we are hosting our large virtual recruiting event open to all undergraduate business majors and graduate business students on Handshake. The College of Business Career Fair will be on Thursday, March 4 from 2:30-5:00 p.m. All details about the event are below and will also be communicated to students via email. 
To participate in a virtual Career Fair event, a student must complete five steps. Should you have any questions about anything in this process, please contact Nicole Anderson at nicole.anderson@lipscomb.edu or 615.966.5314. We are here to help you!
Step One: Perfect Your Resume
NOW through March 1 at Noon: Initial Resume due 
Please see examples and resources on the event web page below
Submit a Word file saved in this format: LastName, FirstName.doc
Step Two: Platform (Handshake) Registration
NOW through March 2:  Register for the event on Handshake
Event is completely virtual and will be hosted on the Handshake platform 
Step Three: Prep Sessions
February 23 - March 2: Attend ONE mandatory Career Fair Prep Session if you did not participate in a Career Connection virtual event last fall
There will be six sessions offered - hosted on Zoom
Register for a Prep Session 
Step Four: Profile Update and Pick Your Event Schedule
Make sure your Handshake profile is complete and updated
Upload resume approved by Career Connection team
Upload a headshot
Make sure that your major and GPA are current
Select the sessions you will attend and create your own customized schedule
Step Five: Prepare by Researching Companies 
Step Six: Place - Find a Quiet One (we will reserve Swang offices if you need one)
Step Seven: Present Yourself Well
We will share tips and answer questions in the Prep Sessions
Visit the event website for additional resources
If you have any questions, please contact Suzanne Sager at suzanne.sager@lipscomb.edu or 615-966-1345 or contact Nicole Andrson at nicole.anderson@lipscomb.edu or 615-966-5314. We are here to help!