Maymester filled with travel study, missions
Students and faculty are busy during the summer terms learning and serving others through a variety of academic travel study courses and mission trips.
Kim Chaudoin |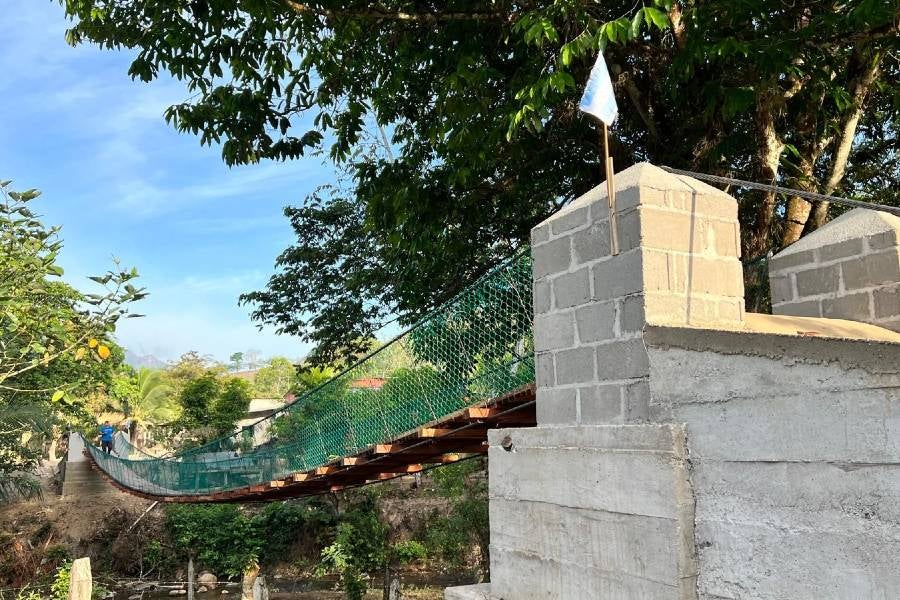 Summer mission teams
More than 100 students on 14 mission teams are serving throughout the world this summer.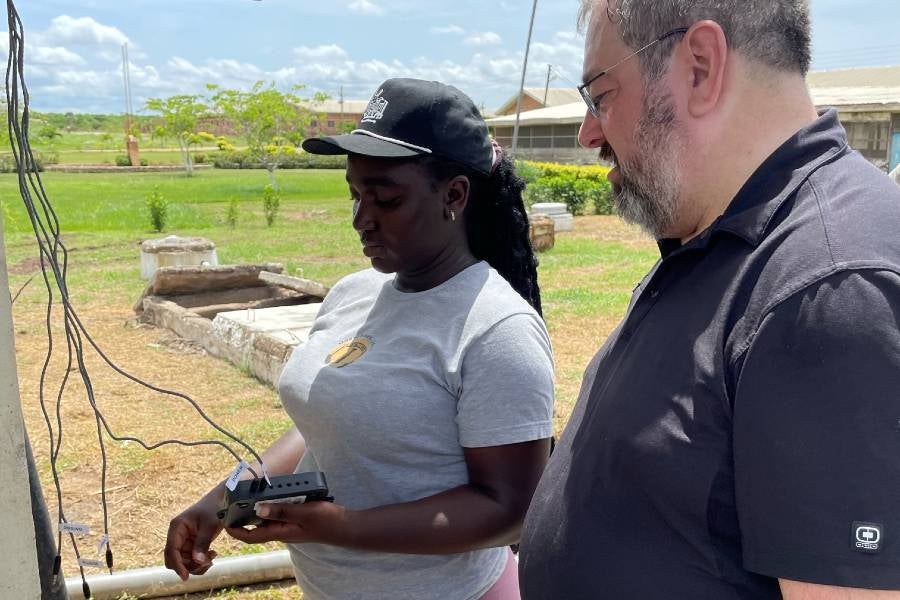 The Peugeot Center for Engineering Service in Developing Communities within the Raymond B. Jones College of Engineering sent four teams of students and faculty to three mission locations in May. The first team to serve left Nashville May 7 for Gomoa Fetteh, Ghana, where they worked to continue research and development of an existing sanitation system at Village of Hope while preparing construction of future improved iterations. The proposed system will be for students at Hope Christian College. The team is scheduled to return May 22.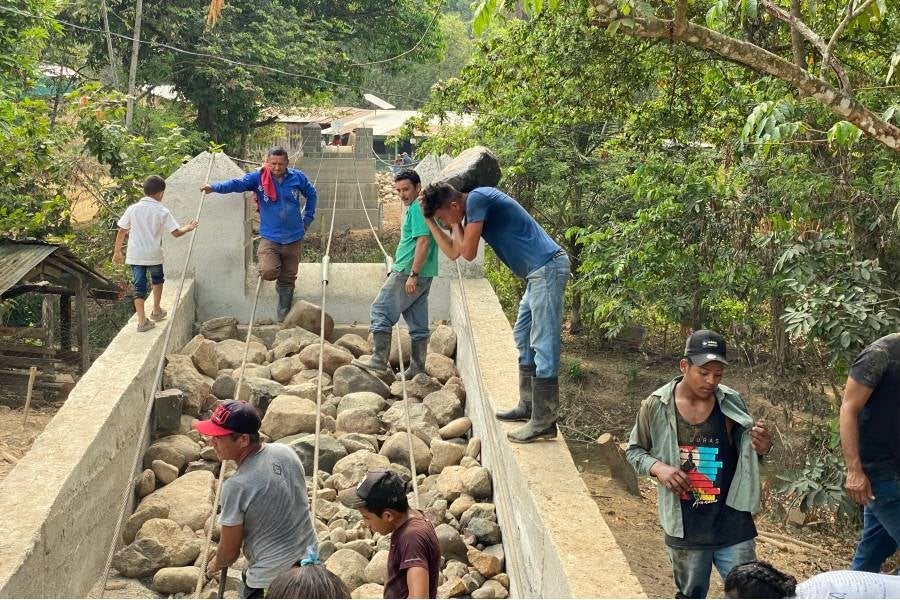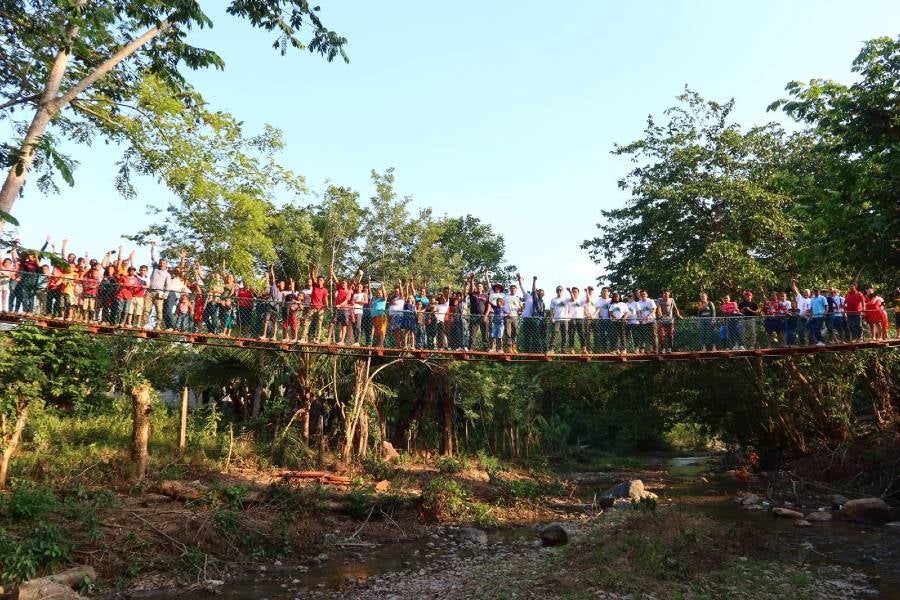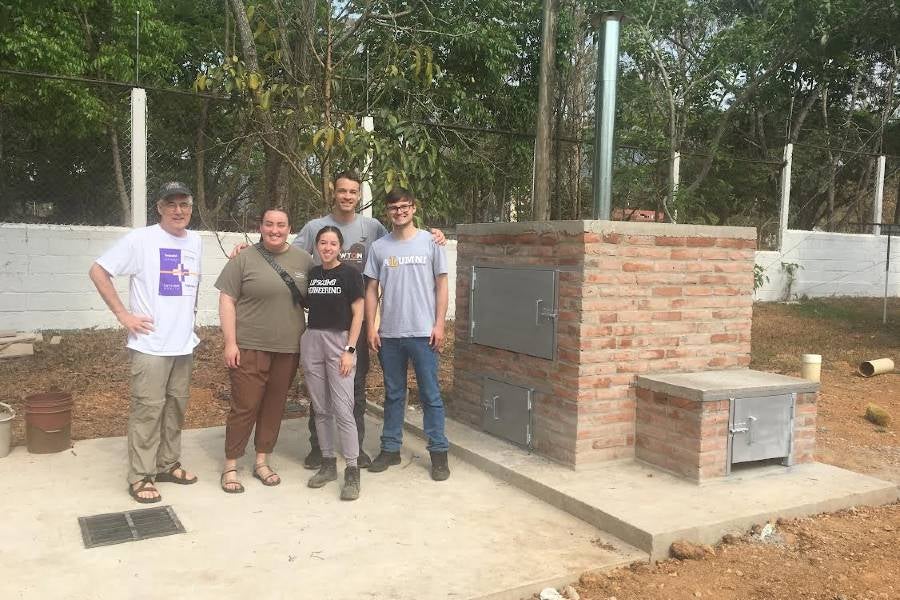 Two engineering groups traveled to Bacadilla, Honduras, on May 8, to work on two projects in partnership with Predisan. One team designed and helped construct a pedestrian bridge that will provide a community in Honduras safe access to a remote medical clinic. The group returned home on May 21. A second team, led by David Elrod, dean of the college, designed and installed a solar power system for Predisan medical clinics in remote areas of Honduras as well as performed an inspection on a constructed bio-incinerator.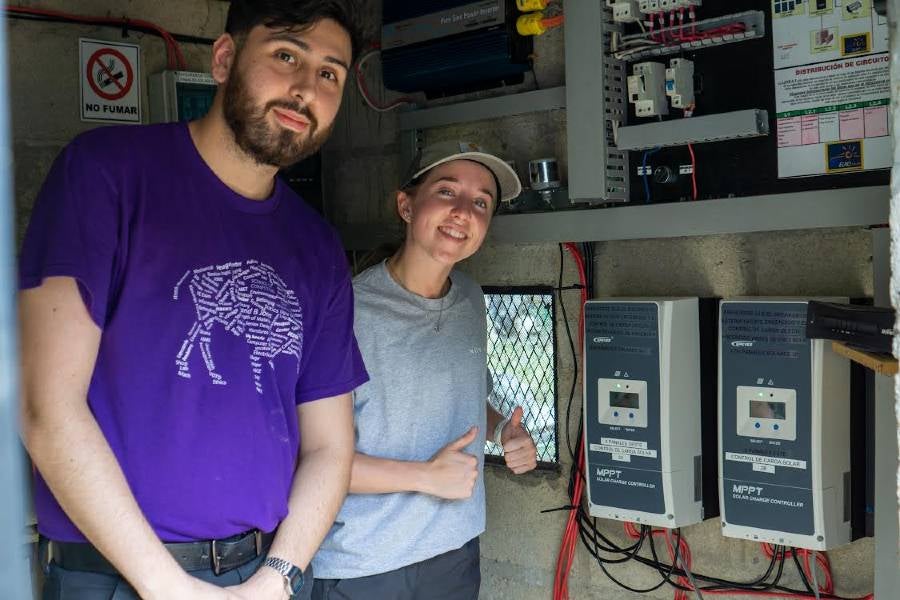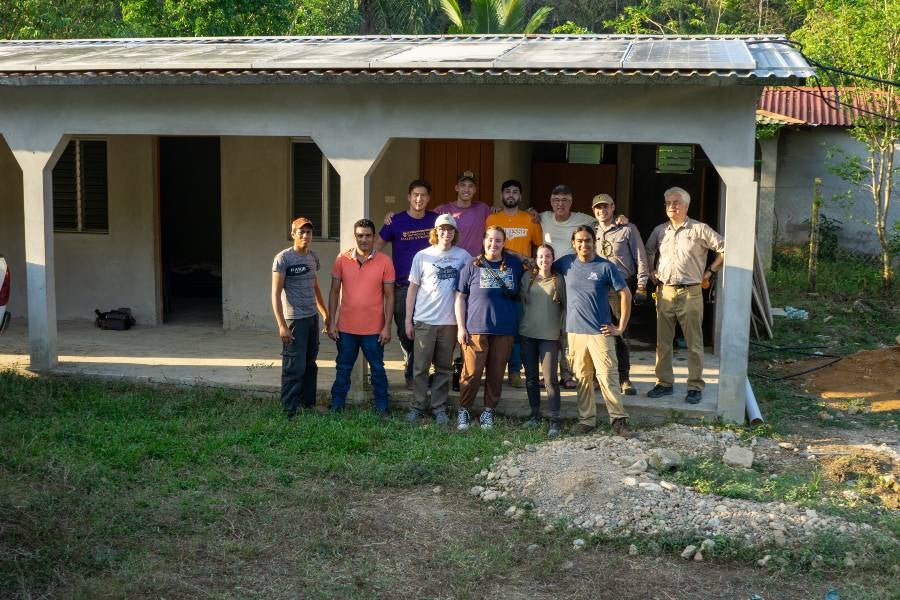 A fourth engineering team worked with partner organization Little Hands Big Hearts May 8-24 in Trujillo, Honduras. Students and faculty diagnosed and improved an existing electrical system, and installed a solar power system and performed maintenance on an existing water system. LHBH is a site that provides therapy and rehabilitation for children with disabilities.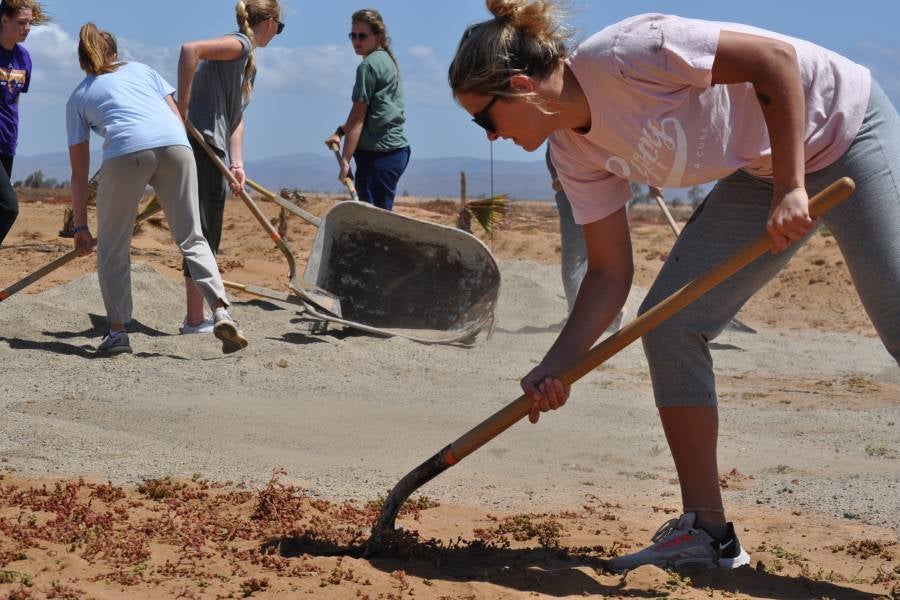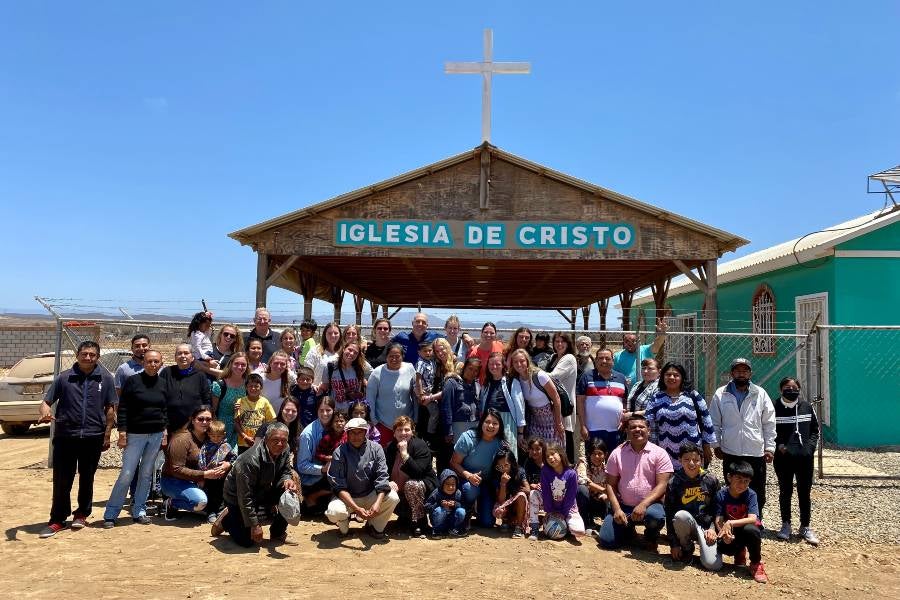 Lipscomb Athletics is sending several teams on missions this summer. The first is the volleyball team, which traveled to Baja, Mexico, May 8-15 to serve the local community through partner Baja Missions. The team worked with a local church, distributed food, made home visits and did much-needed work at Camp Baja, including painting and creating a sand volleyball court among other activities.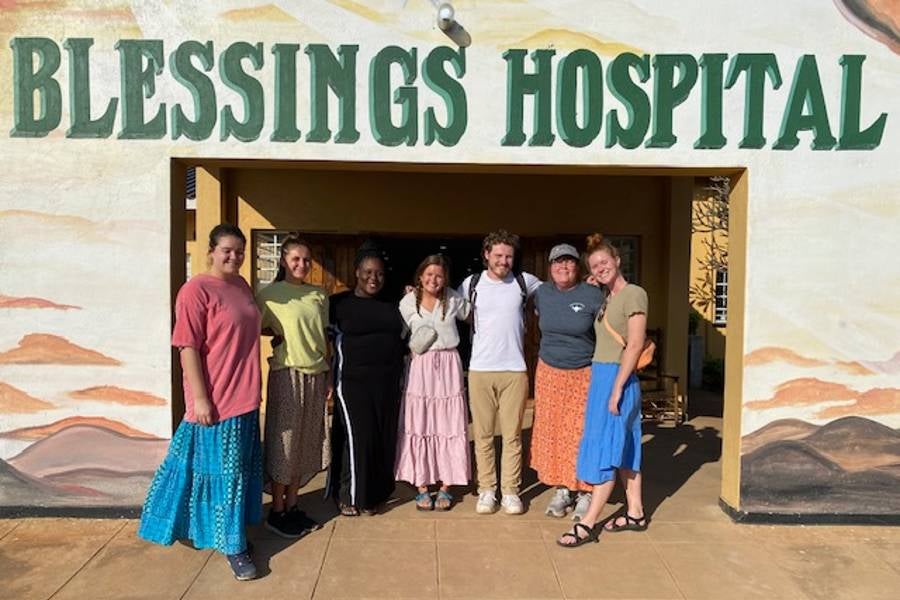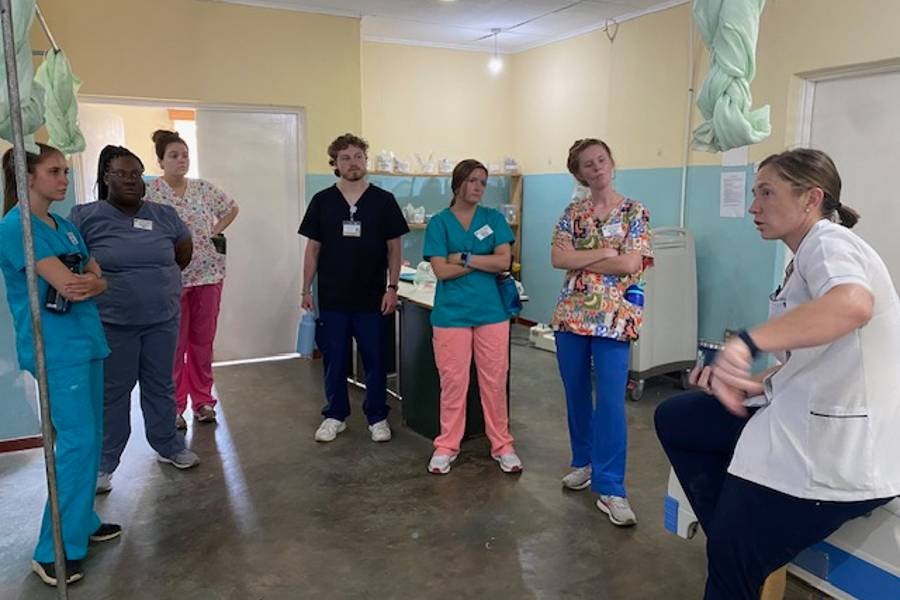 Rounding out the May trips is the annual mission at Blessings Hospital in Malawi in partnership with Chikondi Health. The team is composed of School of Nursing and College of Pharmacy students, alumni and faculty who will serve May 17-June 4 alongside the staff of Blessings Hospital, providing assistance to the hospital staff both at the hospital itself and at mobile medical clinics. Nursing Instructor Kathy Williams and Jenni Whitefield ('96), adjunct nursing faculty, are leading the trip. 
Other mission destinations this summer include:
Brisbane, Australia, June 8-July 8. The team will serve with Redlands College and is led by Olivia Malham, director of student affairs and recruitment in the College of Bible & Ministry. 
Perth Australia, June 15-July 11. The team will work with partner Lifestreams Christian Church to organize youth nights, mentoring, plan multi-generational and young adult events, service activities, and more.
Belfast, Ireland, June 30-July 8. Led by Professor of Math Gary Hall, this team will work with multiple churches in the area. 
Cozumel, Mexico, July 9-15. The Lipscomb Academy volleyball team will engage in activities with the children of Ciudad de Angles, putting together and hosting a community carnival and supporting the local church. 
Edinburgh, Scotland, July 25-Aug. 3. The Lipscomb Academy girls' soccer team will partner with Missionary Athletes International, along with Sports Friends, Ambassadors in Football, and Christians in Sport to work with the community to integrate sports and the Gospel. 
Tegucigalpa, Honduras, July 27-Aug. 3. The College of Pharmacy will travel to a small village in Honduras to support an orphanage and provide much-needed medical care. Led by Dean Tom Campbell will work with a local physician and nurse to provide both acute and chronic medical treatments for the residents, staff and volunteers. Additionally, they will travel to villages in the surrounding area to provide medical care where access to that care is limited. 
Baja, Mexico, July 29-Aug. 5. The Bison softball team will partner with Baja Missions to serve and engage the community. 
Edinburgh, Scotland, Aug. 11-18. The women's golf team, lead by interim head coach Shannon O'Brien, will serve the community and youth through golf clinics, outreach and hospitality and connecting people to their community of believers and will use golf as a platform to share the Gospel. 
Travel study
Each summer students have unique opportunities for travel study through a variety of short-term courses. This summer 14 courses are offered with many of these taking place during Maymester.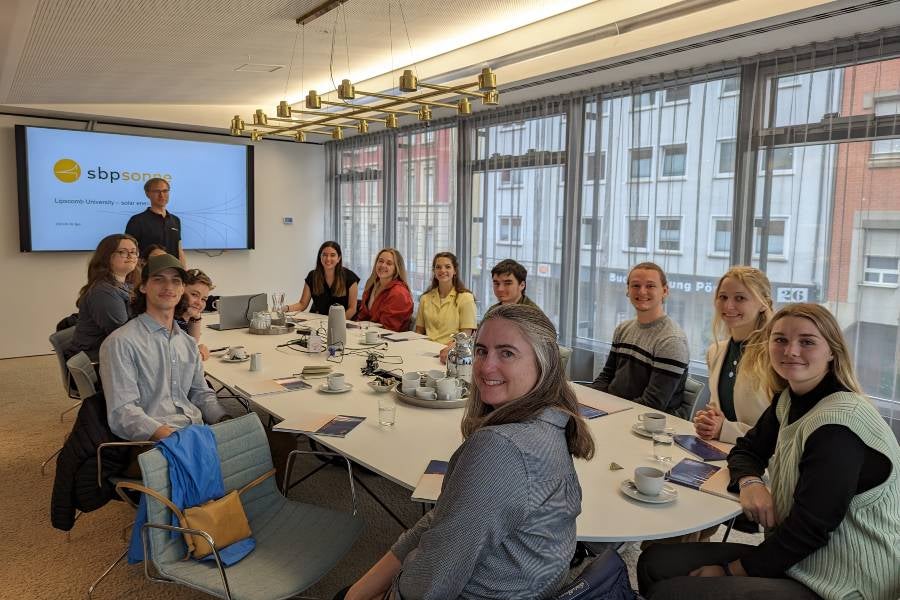 The College of Engineering offered a Maymester abroad this year returning after a COVID-19 hiatus to the small town of Esslingen outside of Stuttgart, Germany, May 7-June 2. Monica Sartain, assistant professor of civil engineering, and Kirsten Dodson, associate professor of mechanical engineering, lead this team of students who are taking classes and visiting a number of local companies to learn about sustainable practices in manufacturing, energy and waste management.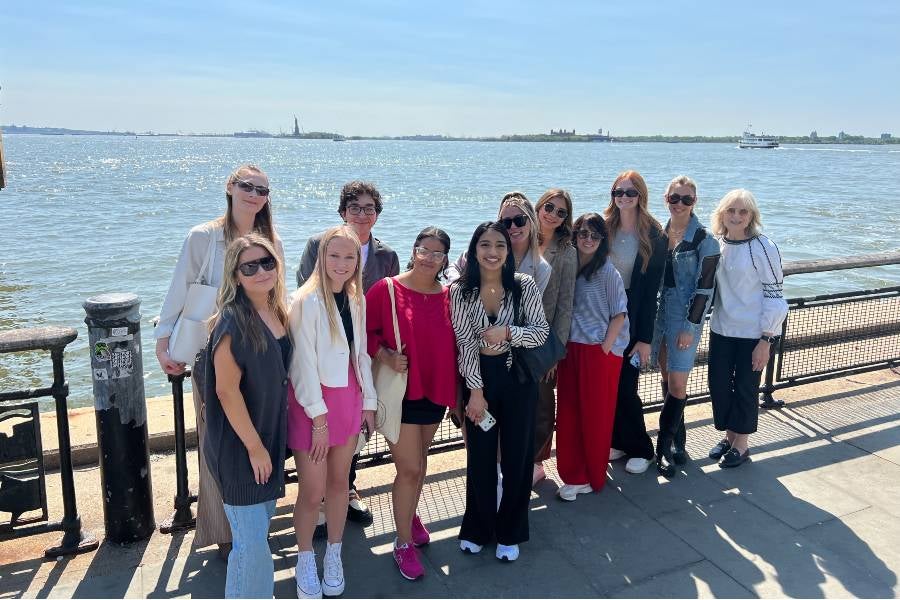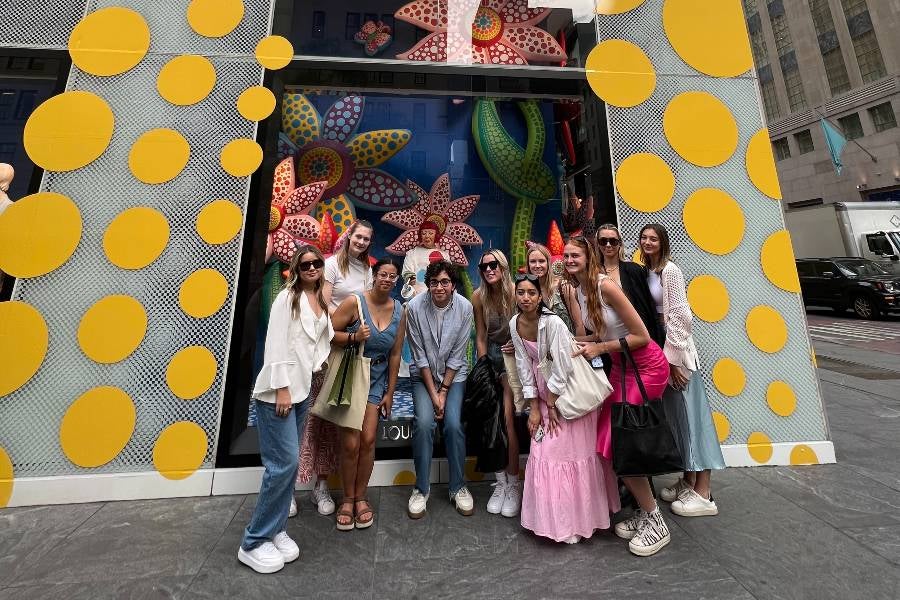 The Department of Fashion and Design and the Department of Theatre, both housed in the George Shinn College of Entertainment & the Arts, took groups of students to New York City for educational tours. Ten fashion design and merchandising students traveled to the Big Apple May 9-16 where they studied the fashion industry from a holistic perspective. From design houses, to luxury retailers like the Nordstrom Flagship and Bergdorf Goodman, textile designers, denim fabricators, experiential retail  pop-up designers, they had a wide range of experiences in addition to visits to museums, a Broadway musical and retail research. Charlotte Poling, assistant professor of fashion, and Sissy Simmons, department chair and assistant professor, led the course.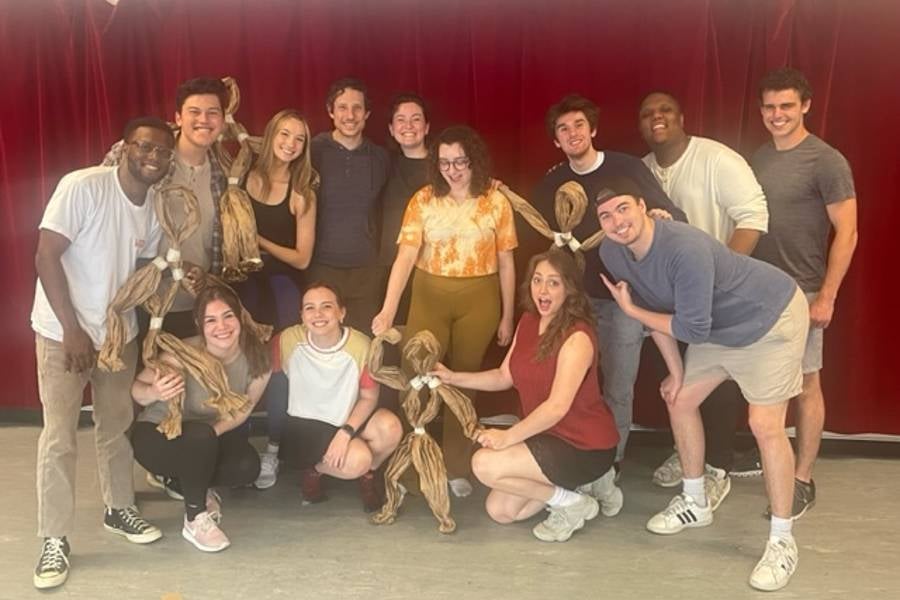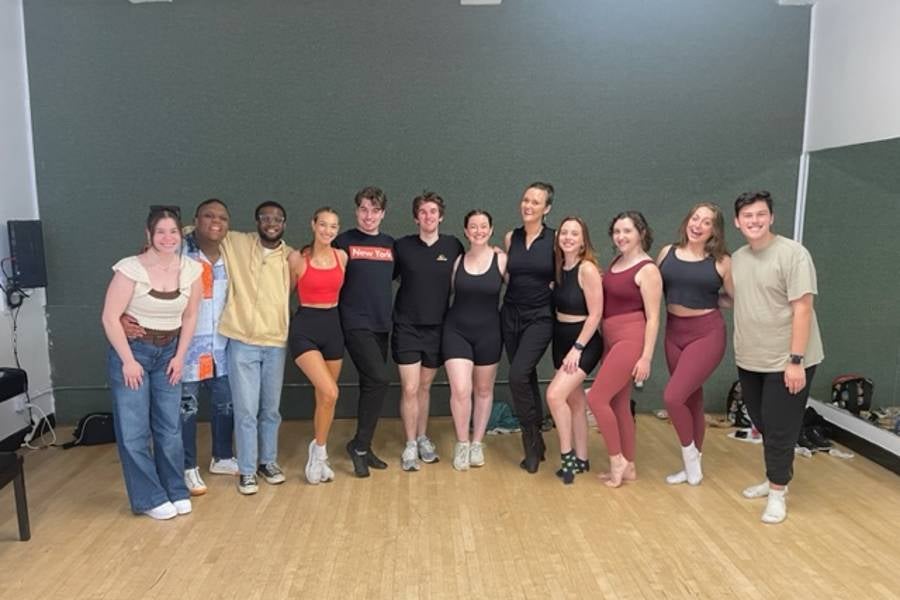 Nat McIntyre, assistant professor of theatre, led a group of students for a week immersing themselves in professional theater in New York City May 16-23. Students attended shows almost every night and experienced workshops with current and former Broadway artists.  These included a dance audition with Leah Hofmann (The Rockettes, Big Fish, Something Rotten, War Horse) and a puppet Jonathan David Martin, currently in Tony-nominated Life Of Pi. Hofmann shared her experiences as a committed Christian in the theatre industry.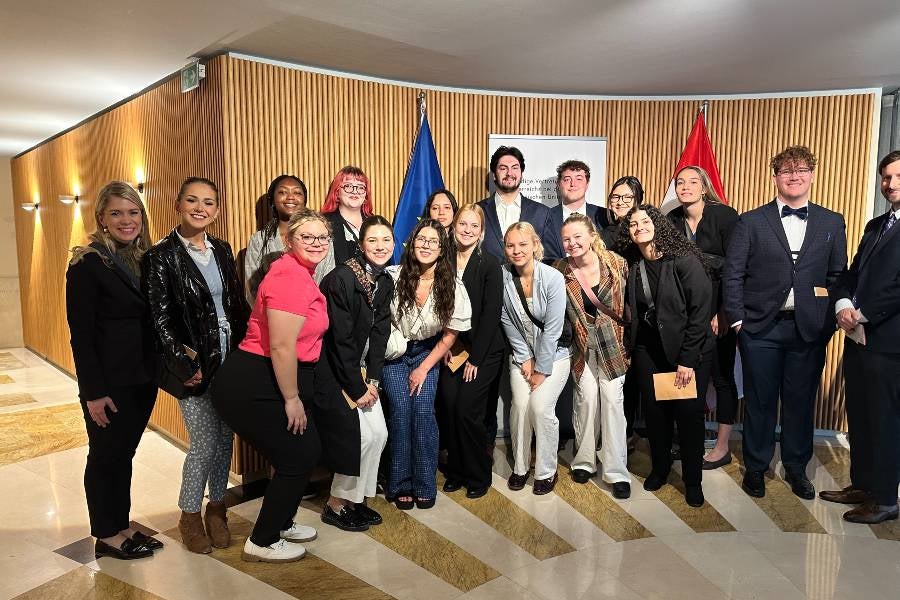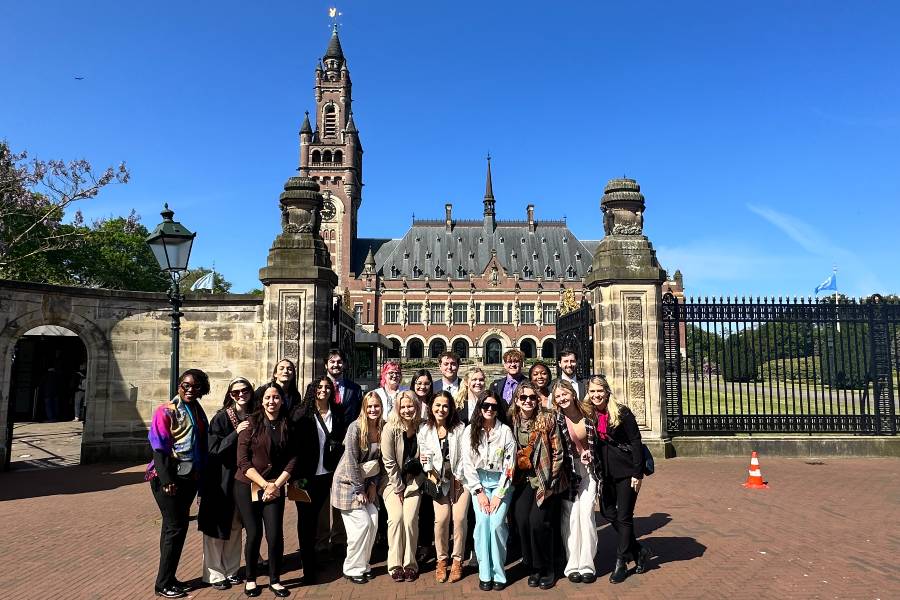 The Law, Justice & Society's Law in the Global Community course returned to Europe for the first time since 2019. This quintessential experience of the program has been in existence for about 15 years and takes place May 12-23 this year. Led by Kimberly McCall, associate dean of academics for the College of Leadership & Public Service and director of the Fred D. Gray Institute for Law, Justice & Society, students began their time in London, with visits to Old Bailey Courts, Middle Temple Hall and High Down Prison, as well as a meeting with Ardea International. They then traveled to Brussels, The Hague and Paris, with visits to the International Peace Palace, Eurojust, and the Austrian representative to the European Union. The final leg of the trip is to Geneva and Interlaken, Switzerland, where the students will enjoy time in the mountains and visits to the International Federation of Red Cross and the World Trade Organization.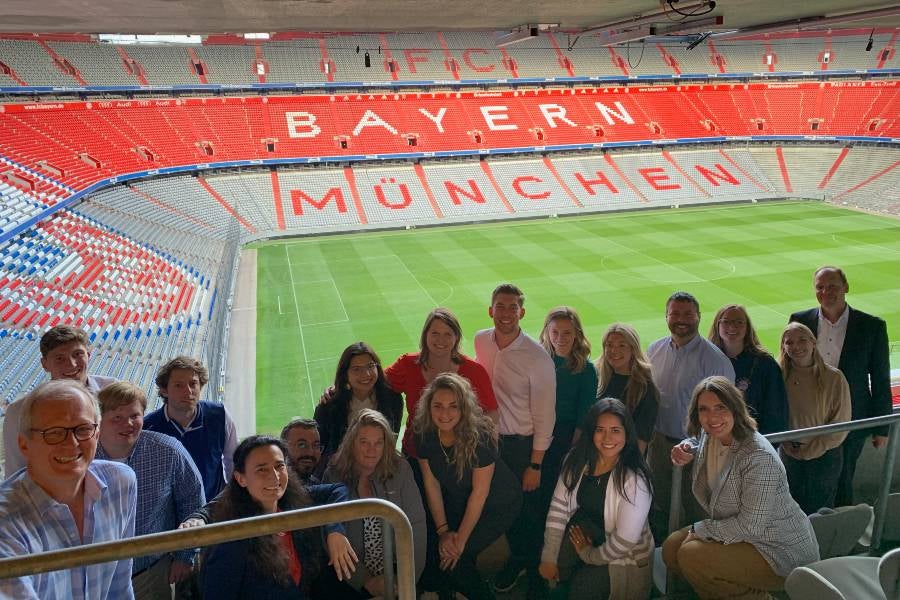 Students enrolled in the College of Business's Professional Master of Business Administration international business course took a field trip May 12-21. Concept coursework is completed on campus followed by an applied lab in an international location. This year's trip took students to Munich, Germany, and Prague, Czech Republic. The lab consists of business visits and an overview of the country's history and culture. A highlight of the trip was a visit with SAP leadership, who hosted Lipscomb students in their suite in the famous Allianz Arena where FC Bayern soccer club plays. The trip was led by Joe Ivey, professor of management.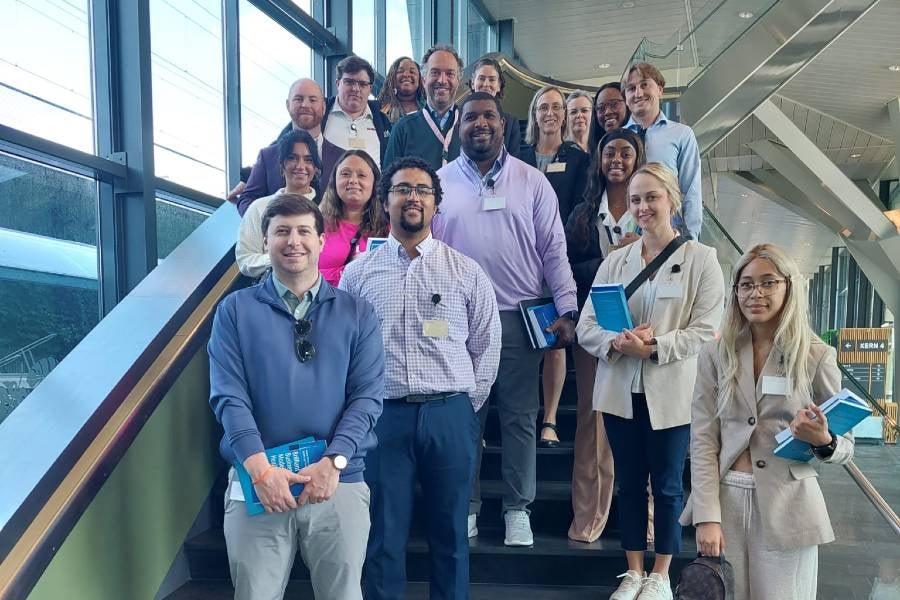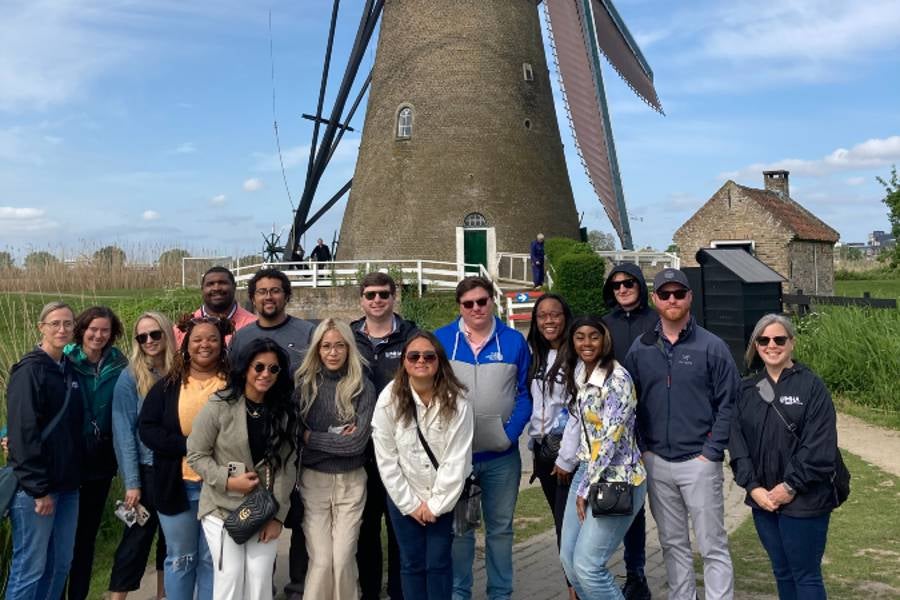 Master of Health Administration (MHA) students also got a first-hand international business experience May 13-20 as part of the Population Health and Global Perspectives course. This year both Year 1 and Year 2 cohorts traveled to the Netherlands to visit different healthcare organizations, such as health insurance, public health, hospitals and clinics, to learn about the Dutch healthcare system. MHA students spent time in Amsterdam and Rotterdam during this trip led and organized by Lesley Tomaszewski, associate professor and MHA program director, and assisted by Rebecca Burcham, chair of the Department of management, entrepreneurship and marketing.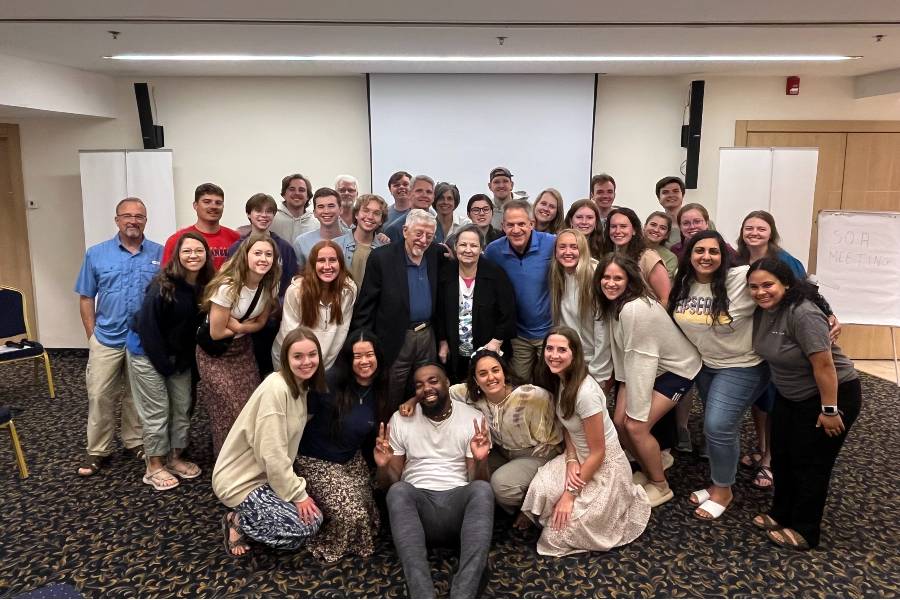 Scott Sager, vice president of church services, is leading a group of 34 students along with faculty and staff to the Holy lands for the Biblical Worldview course. The group will visit Israel, Palestine, Jordan and Sinai May 16-30. The trip is underwritten by two alumni families.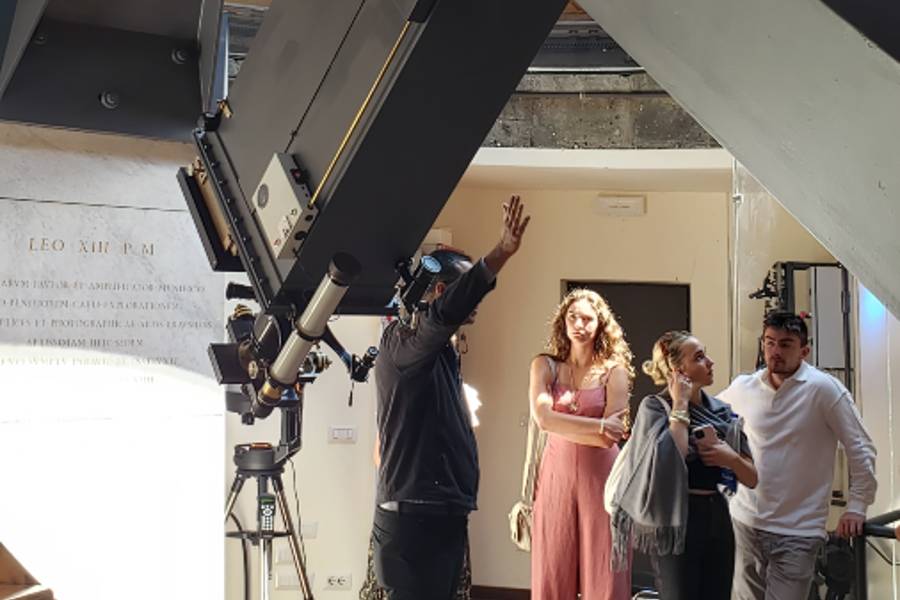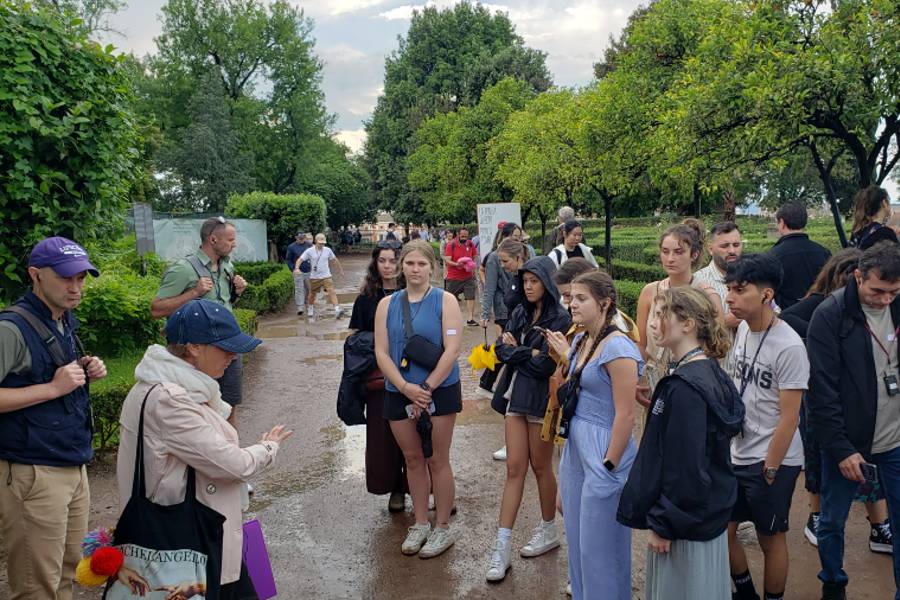 The College of Liberal Arts & Sciences offered two Maymester courses this year. John Lewis, McClure Professor of Faith and Science, and J.P. Conway, adjunct Bible faculty, are leading a faith and science travel course to Italy May 19-30. Students will explore Rome and Florence to study scientists such as Galileo and the early intersection of faith and science. Students majoring in Spanish have an opportunity to explore Oviedo, Spain, and to be immersed in the language and culture while earning nine credit hours in this Maymester course. Ted Parks, professor of foreign languages, is leading this course which takes place May 19-June 25. 
Other travel courses this summer include:
From June 5-21, Melissa Forte, associate professor and chair of the Department of Cinematic Arts, will lead a film production course in the United Kingdom. 
Doctorate of Education students in the Comparative and International Education course will travel to Europe June 9-18 to meet and interview educational leaders, policy makers and practitioners. They will study and consider educational policy reform initiatives at the primary, secondary and post-secondary levels and educational systems and institutions as they relate to their national, international and global context as well as their political, economic and cultural context. Trace Hebert, associate provost for research and graduate studies, will lead the trip. 
The Lanier Center for Archaeology will send students to two excavation sites this summer. Students will conduct work on the Abila Archaeological Project on the Jordan/Syrian border from June 18-July 14. Dave Vila of John Brown University invited the Lanier Center to excavate the Abila site which will provide insight into the region's transition from Roman Christianity to Islam. Tom Davis, professor and Lanier Center associate director, will lead this group. 
Lanier Center Director Steve Ortiz will lead a team of student archaeologists June 13-July 14 to Israel to work on the Tel Burna excavation project. This long-term project has been in the field since 2009. In addition to uncovering the settlement history of the site, students will continue work on the ancient borders, collecting survey data of the site and surrounding area pertaining to agriculture and other human activity. 
From July 8-14 graduate students in the Institute for Sustainable Practice (ISP) will travel to New England to examine European scaled sustainability that is highly diverse and geographically dense. The trip is led by Dodd Galbreath, director, ISP graduate program and associate professor.