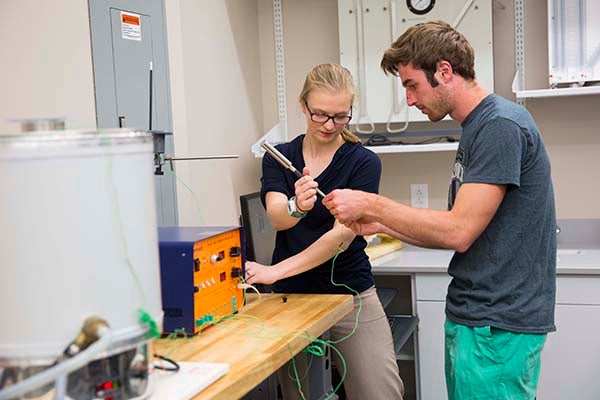 Program Overview
Program Overview
Building: it's what civil engineers do. Skyscrapers, bridges, roads, fresh water systems and wastewater treatment plants are all designed and constructed with the input of civil engineers. This process, though continually evolving, is one that has been revered since ancient times, and engineers remain a cornerstone of society.
Study everything civil engineering encompasses: structural, environmental, geotechnical, hydraulic and more. Hone the technical skills of design and construction in our brand new building, Fields Engineering Center. Our elite faculty and collaborative foundation will provide the landscape for you to thrive in our rigorous program.
Even more importantly, you will learn how to learn — all that we do is designed to prepare you for the life-long learning that will sustain you through a professional career filled with technological advancement. You'll leave this place with valuable skills and join your peers studying in top-ranked graduate programs or working for some of the world's best companies.
Our program is ABET-accredited.
Courses
Courses
Specific courses required within civil engineering:
BI 3123 - Engineering Ethics: Redemption and Technology

EN 3143 - Technical Writing

ESS 1024 - The science of green living
CEE 3413 - Construction
Courses for major (97 hours):
CM 1113 - General Chemistry I

CM 1123 - General Chemistry II

CM 1211 - General Chemistry Laboratory I

CM 1221 - General Chemistry Laboratory II

CEE 1123 - Fundamentals of Engineering Design

CEE 2113 - Statics

CEE 2123 - Dynamics

CEE 2133 - Surveying and Geomatics

CEE 3113 - Strength of Materials

CEE 3211 - Solid Mechanics and Materials Laboratory

CEE 3213 - Structural Analysis

CEE 3313 - Environmental Engineering

CEE 3413 - Construction

CEE 3443 - Civil Engineering Materials

CEE 3451 - CE Construction Materials Lab

CEE 3513 - Transportation Engineering I

CEE 3613 - Fluid Mechanics

CEE 3621 - Hydraulics Laboratory

CEE 3713 - Geotechnical Engineering

CEE 3721 - Geotechnical Engineering Laboratory

ENGR 0110 - Professional Development and Networking

ENGR 1113 - Introduction to Engineering

ENGR 3303 - Applied Mathematics

ENGR 3943 - Engineering Economy and Planning

ENGR 4943 - Interdisciplinary Design I
ENGR 4953 - Interdisciplinary Design II

MA 1314 - Calculus I

MA 2314 - Calculus II

MA 2324 - Calculus III

MA 3133 - Differential Equations

PH 2414 - General Physics I
Five Civil Engineering Specialty Electives (15 semester hours) chosen from:
CEE 4213 - Reinforced Concrete Structural Design

CEE 4223 - Structural Steel Design

CEE 4313 - Water and Wastewater

CEE 4413 - Construction Project Planning and Management

CEE 4513 - Transportation Engineering II

CEE 4613 - Urban Hydrology and Hydraulic Systems

CEE 4713 - Foundation Engineering
Note:
The minor in applied mathematics is automatically satisfied.
MA 1314 - Calculus I (4) F, SP, SU, must be taken during the fall semester of the freshman year in order to enroll in PH 2414 during the spring semester. Otherwise, completion of the program may require more than eight semesters. Students who are not eligible to begin in the calculus sequence should consider enrolling in MA 1123 in the summer session.
Internship
Become more competitive in the job market with an internship related to your interests. You'll gain experience and boost your exposure. An internship will also help you learn whether you've chosen a career you'll enjoy.
Job placement
With a top-tier university education on your resume, you'll be in high demand, whether you choose to launch your career or begin graduate school. Most of our programs have a placement rate of at least 90 percent within six months of graduation.
Expert faculty, small class sizes
Learn from award-winning, experienced faculty who actually care about you. Our small class sizes allow us to get to know you personally. We lead an approachable community within our respective programs. Our faculty connections are the experts on their subject matter, too.
Todd Lynn

Associate Professor of Civil and Environmental Engineering

With over 20 years of experience with pavement materials testing, design, research and product development, Todd Lynn comes to Lipscomb University from Thunderhead Testing, LLC, a construction materials testing and...

Learn More

Mark McDonald

Professor of Practice, Civil Engineering

McDonald brings a wealth of recognition in research and teaching to the classroom. He was awarded the Military Operations Research Journal award in 2012 for the best paper submitted in...

Learn More

Chris Gwaltney

Chair, Civil and Environmental Engineering

Gwaltney holds a Professional Engineering license in Tennessee, Kentucky, and Indiana with 10 years work experience in the geotechnical engineering design and construction industry. His specific areas of interest include...

Learn More
Career Paths
Civil Engineering Technicians
Civil engineering technicians help civil engineers to plan, design, and build highways, bridges, utilities, and other infrastructure projects. They also help to plan, design, and build commercial, industrial, residential, and land development projects.
Civil Engineers
Civil engineers conceive, design, build, supervise, operate, construct, and maintain infrastructure projects and systems in the public and private sector, including roads, buildings, airports, tunnels, dams, bridges, and systems for water supply and sewage treatment.
Health and Safety Engineers
Health and safety engineers develop procedures and design systems to protect people from illness and injury and property from damage. They combine knowledge of engineering and of health and safety to make sure that chemicals, machinery, software, furniture, and other products will not cause harm to people or damage to property.