Lipscomb's Story
What Grounds Us Is What Grows Us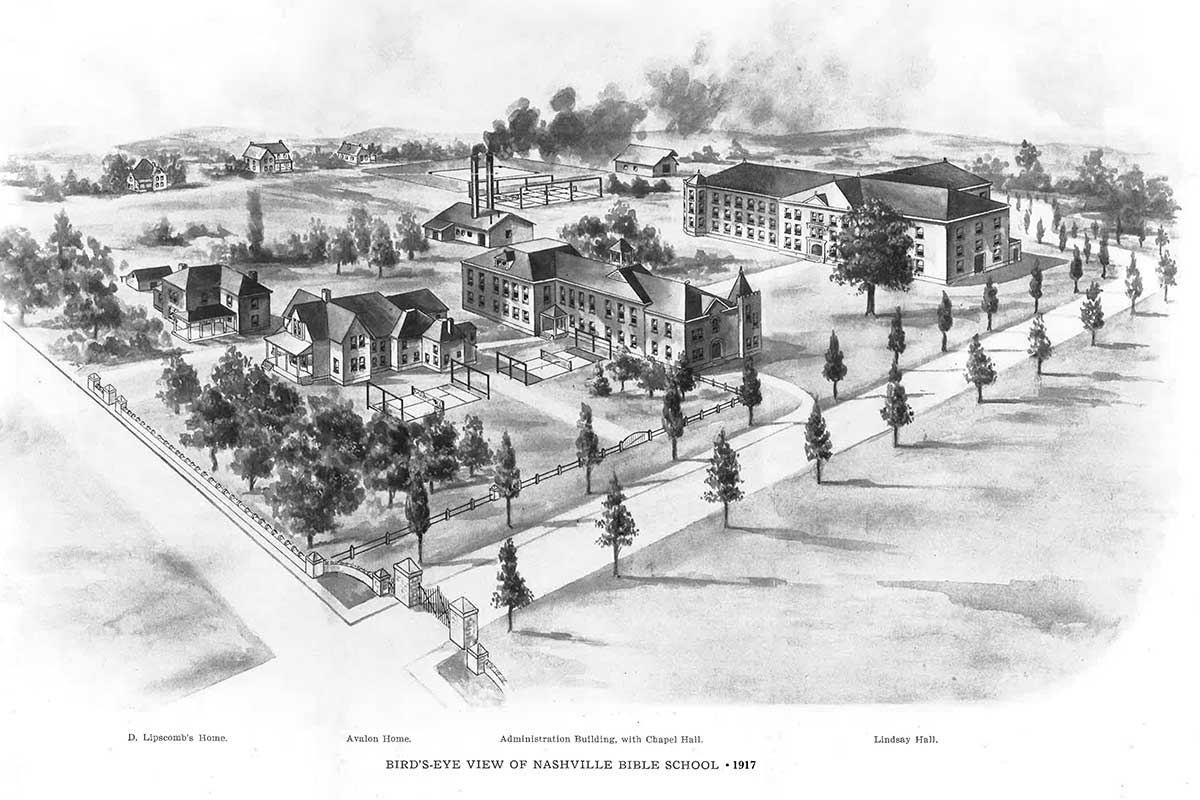 The story of Lipscomb University is one of faith, knowledge, community, innovation and leadership. It is one with a strong foundation, built from the dreams of two ministers on the land where the institution now sits — the very ground that students walk across daily. And our story, one that began in 1891, is still being written.
From the beginning, Lipscomb University was intended to be an institution focused on providing students with a wide breadth of practical teachings and skills alongside biblical studies and opportunities for spiritual growth. Its founders, David Lipscomb and James A. Harding, believed in a broad general education that included English, Latin, Greek, mathematics, logic, metaphysics, natural science and "in general, whatever may be necessary to fit one for usefulness in living an earnest, faithful life."
But more than any skill, they believed that at the center of a well-rounded education was a deep faith and grounding in the Bible. Harding wrote that their establishment would be a school created "to teach the Christian religion as presented in the Bible in its purity and fullness: and in teaching this to prepare Christians to usefulness, in whatever sphere they are called upon to labor. Such additional branches of learning will be taught as are needful and helpful in understanding the Bible and in teaching it to others."
Lipscomb and Harding were pioneers in faith-based education across the Southeast because of the unique nature of their school that integrated academics and faith. Their bold, confident and faithful pursuit of God's will defined their legacy, and it is boldness, confidence and faithfulness that have continued to define the institution throughout its history.
These characteristics are what have distinguished us, the people of Lipscomb University, from all other institutions. (No, we're not afraid to blow our own trumpet!)
Our character has been molded and formed across many influential moments from day one, but this is through both our successes and failures. Who we are today is because of where we've been in our past and how we've grown. Some of the most course-charting events in our history have been ones where our community has triumphed in the face of tragedy, ones where we have faced our failures and ones where we have sought lasting change.
These include the dormitory fires of 1929 and 1930 and our resiliency in recovering; the addition of multiple colleges within Lipscomb to expand our growth and reach; the Great Flood of Nashville in 2010 and our students' and faculty members' responses of hospitality and compassion to the people of Nashville; our intentional campus-wide conversations on race and equality in 2016 that welcomed leaders from the Church of Christ and focused especially on difficult and painful lessons from the church's past; and many more.
By looking to our past to grow and learn from both our mistakes and our achievements, we become the leaders we want to be. And in doing so, we raise up students and alumni who go out into the world with humility and purpose, prepared to lead others in bringing about God's kingdom on Earth and following in Jesus' footsteps.
Today, there's not one sphere where our graduates do not lead: government, science, the arts, technology, classroom education, medicine, public service. And the most popular of academic areas studied at Lipscomb happen to be the most practical and useful to society, including engineering, education, health care and business. Students find grounding in both academic knowledge and deep spiritual understanding, fulfilling the vision of our founders from the start.
As a Lipscomb graduate, you will go confidently into career fields and communities to serve others, create new ways of bettering society, and instill Christ's Spirit in humanity — as you pursue God's call on your life. With such a strong foundation made of what matters, we are confident you will change the world.