Summer Housing
Spend your summer in Nashville at Lipscomb. Students are not required to be enrolled in summer or fall classes in order to get summer housing. 
How to Register for Summer Housing
Pay the $35 Summer Housing Processing Fee.
All students who would like to live on campus during the summer must complete the Summer 2024 Student Housing Application. Your login is the letters/number before the @ sign of your Lipscomb email address. Your password is the same as your password for your CNS Student Portal. You must use a computer, as this site is not supported on a mobile device.

When filling out the application, please select the term for which you will be staying on campus. If you plan to stay for two different terms, females email Asa Bailey, to let her know the terms which you will be on campus and males email Boston Duncan, to let him know the terms which you will be on campus.
Students who will be living on campus for the Entire Term or Maymester will move directly from their spring semester assignments to their summer assignments.

After this information has been received, you will be assigned to Sewell Hall (male) or Johnson Hall (female) and receive an email with your summer assignment.

Students will receive an email from the RHD of their respective building before their date of move-in with your summer assignment and move-in information.
*Lipscomb University only offers housing to current students who are enrolled in summer and/or fall classes at Lipscomb University. 
Dining
Meal plans are not available during the summer. Students are encouraged to add Lipscomb Bucks to their student ID.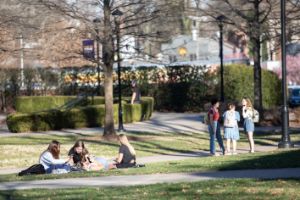 Apply for Summer Session
A variety of academic courses with full credit are available during our summer semesters. You have the opportunity to get closer to your degree by taking courses over the summer. All college students, college graduates and qualifying high school juniors and seniors are welcome to enroll in summer courses.
Resources