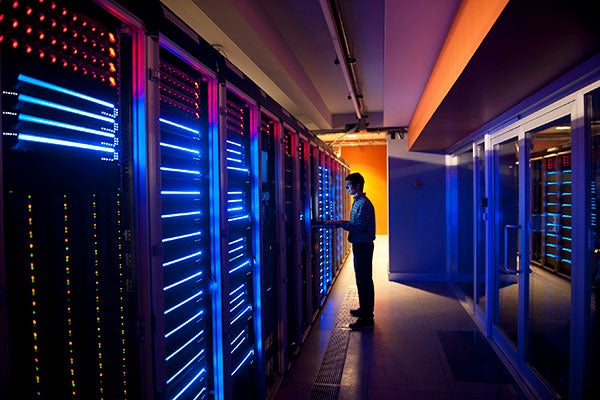 Program Overview
Program Overview
Computer technology is at the core of nearly every modern enterprise, so let us help you develop your knowledge. Our expert faculty specialize in different areas of computing and can help you broaden the skills you need to be valuable in any modern workplace.  We'll teach you to study, design, create, utilize, support and manage computer-based systems, software applications and computer hardware. This program is all about all things modern — embedded systems in automobiles, smart homes and even mobile and distributed systems. When you graduate, you'll be well-connected to the IT industry in Middle Tennessee thanks to our professional connections and the opportunities you take on during your time here.
Courses
Courses
General education requirement (38 hours)

Specific courses required:
BI 4213 - Biblical Ethics

LUSS 2093 - Impact of Internet Technologies on Society

Mathematics requirement satisfied by major

Required courses for the major area (76-78 hours)
AC 2503 - Financial Accounting

AC 2513 - Managerial Accounting

ENT 2503 - An Introduction to Business

CS 1213 - Introduction to Computer Programming

CS 1233 - Object-Oriented System Design and Programming

CS 2233 - Data Structures and Algorithms

CS 2243 - Database Management Systems

CCT 395V - Internship *

CCT 4613 - Senior Project

SEC 3113 - Fundamentals of Information Security

IT 1123 - Future of Computing

IT 2043 - Information Technology Applications

IT 2223 - Web Application Development I

IT 3313 - Network Principles

IT 3323 - Wireless Networks and Mobile Systems

IT 3413 - Systems Analysis and Design

IT 3423 - Project Management

ITM 4003 - Principles of Technology Management

IT 4323 - Modern Telecommunications

MK 3503 - Principles of Marketing

MK 3533 - Marketing Management

MA 1113 - College Algebra

MA 2053 - Survey of Calculus

MA 2103 - Discrete Mathematics

MA 2183 - Elementary Statistics



Concentration courses (9 hrs) 

(choose one concentration area)




Game Development:
GD 3253 - Game Development I

GD 3263 - Game Development II

GD 3273 - Collaborative Serious Games Development



Information Technology Entrepreneurship:
ENT 3543 - Entrepreneur Marketing
ENT 4503 - New Venture Creation
MK 3403 - Strategic Internet Marketing



Information Security:
SEC 3313 - Introduction to Policy and Procedures

IT 3343 - Database Administration

SEC 3333 - Introduction to Business Continuity and Recovery Planning



Mobile Computing:
CS 3243 - Mobile Device Programming

CS 3333 - Mobile and Distributed Computing Systems

CS 4013 - Future Mobile and Social Computing Systems



System Administration:
IT 3333 - Network Administration

IT 3343 - Database Administration 

SEC 3333 - Introduction to Business Continuity and Recovery Planning OR

BA 3703 - Business Communication



Web Application Development:
IT 3223 - Web Application Development II

IT 3233 - Web Server Technologies 

IT 3243 - Principles of Web Engineering
**A general business minor is automatically satisfied by the information technology major.
Internship
Become more competitive in the job market with an internship related to your interests. You'll gain experience and boost your exposure. An internship will also help you learn whether you've chosen a career you'll enjoy.
Job placement
With a top-tier university education on your resume, you'll be in high demand, whether you choose to launch your career or begin graduate school. Most of our programs have a placement rate of at least 90 percent within six months of graduation.
Expert faculty, small class sizes
Learn from award-winning, experienced faculty who actually care about you. Our small class sizes allow us to get to know you personally. We lead an approachable community within our respective programs. Our faculty connections are the experts on their subject matter, too.
Ken Mayer

Assistant Professor

Ken Mayer Jr. is an Assistant Professor in Cybersecurity and IT. Previously, he came from private industry working for several Fortune 500 companies including, Dell Inc., Mercedes-Benz North America, and...

Learn More

Alan Cantrell

Instructor

Alan Cantrell is an Instructor in the College of Computing and Technology at Lipscomb University. He is a Director of IT Service Management in the Infrastructure & Security department at...

Learn More

Chris Simmons

Associate Professor

Chris Simmons is an Assistant Professor in the College of Computing and Technology. He obtained his Bachelor's degree from Tennessee State University, followed by a Master's degree in Information Technology...

Learn More
Career Paths
Computer and Information Systems Managers
Computer and information systems managers, often called information technology (IT) managers or IT project managers, plan, coordinate, and direct computer-related activities in an organization. They help determine the information technology goals of an organization and are responsible for implementing computer systems to meet those goals.
Computer Support Specialists
Computer support specialists provide help and advice to computer users and organizations. These specialists either support computer networks or they provide technical assistance directly to computer users.
Computer Systems Analysts
Computer systems analysts, sometimes called systems architects, study an organization's current computer systems and procedures, and design solutions to help the organization operate more efficiently and effectively. They bring business and information technology (IT) together by understanding the needs and limitations of both.