Juniors
Every student's journey to discovering the right school looks different. What will yours be?
You can already envision your perfect school. A connected campus community. Supportive and engaging professors. Experiences that give purpose to your potential. We think you'll find what you're looking for and more at Lipscomb University, where all you bring makes all the difference.
Current Students Who Found the Right Fit at Lipscomb
Elliot Jones ('23)
Staying close to home in Nashville has only enriched Elliot's college experience at Lipscomb.
As a high school junior, she went to visit her top-choice school out of state, but the experience wasn't what she expected. So she decided to tour Lipscomb for a different perspective. When she moved into Elam Hall her freshman year, Elliot instantly found community, including as a member of Phi Sigma, a social club.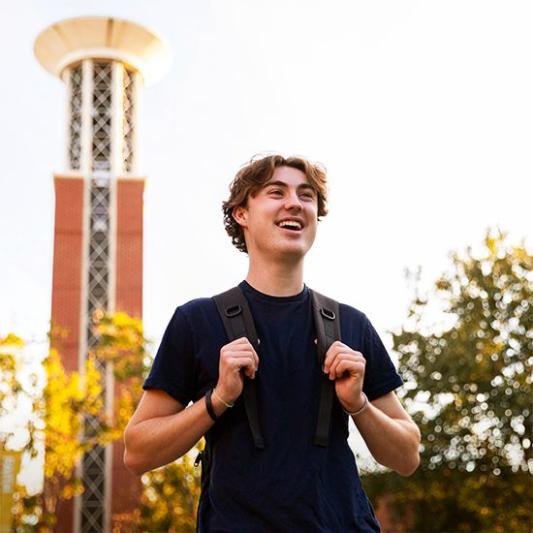 Ben Barry ('25)
A college search in the middle of a global pandemic meant Ben had to get creative. The online search process made it more difficult to get to know schools without visiting campus, but it did allow him to consider colleges that were further from his home in Chicago. During New Student Orientation, his Quest Team leader recruited him to work for Admissions. And now that he's here, the experience has been everything he hoped for.
Julia Carvalho Correa ('23)
When Julia began her college search as an exchange student, she knew she wanted to attend school abroad but never imagined she would find a home at Lipscomb University, almost 5,000 miles from her hometown. Now Julia is a member of the President's Student Advisory Council, the International Students Board, RAICES (Hispanic Heritage Club), Pi Delta social club, the WEB DuBois Honor Society and the National Society of Leadership and Success.
"I went on a tour of campus here, and after like the first 30 minutes, I immediately knew. I've grown up in Nashville my entire life, and I've yet to be bored of this city." - Elliot Jones ('23)
"I found Lipscomb entirely on the web. Since I've gotten here, I've made so many friends and built so many connections. If you are interested in a small school with a good campus and a good community, Lipscomb might be for you." - Ben Barry ('25)
"Lipscomb was the only school that was reaching out to me every week—sending me emails, making sure I was OK through admissions and through the financial aid process. They were reaching out to me. No other school did that." - Julia Carvalho Correa ('23)
Connect with Us
Current Students
Chat with a current student online to get first-person insight into the student experience at Lipscomb University. You can chat with students based on hometown and major.
Chat with a Student
Campus Visit
See for yourself! Schedule a visit to meet our faculty, tour campus and hang out with current students to get a real sense of what your future as a Bison could be like.
Schedule Your Visit
Virtual Events
Experience Lipscomb from wherever you are. Learn about the admission process, scholarships and financial aid options from an admissions counselor. Participate in a Q&A with a panel of current students who can tell you all about the authentic Lipscomb experience.
Register for an Event