Her whole life Marin Brown ('26) knew where she wanted to go to college, but she didn't end up there.
During her junior year of high school, Marin's best friend who was thriving as a freshman engineering major at Lipscomb invited Marin to come for a visit, and she immediately fell in love with campus.
"Walking this campus I just felt at home," she remembers. "I felt a click in my heart that I was supposed to be here. I knew that here I would be safe, I would belong, and I could work for something greater."
That summer, she applied and was accepted to participate in Lipscomb's Summer Scholars program, an 8-day residential learning experience where students can earn college credit and guaranteed acceptance to the university. That made her college search process much less stressful.
So when Marin "just got bored" during the pandemic in 2020, she used her spare time to found a nonprofit organization called SOLO, which stands for Saving Our Lives Ourselves. Through SOLO, Marin serves children in rural counties close to her home through spiritual and emotional development that helps them discover what they want to be and see what success looks like.
Adjusting to college life meant taking some time away from SOLO, but she hopes to start programming again this summer. In the meantime, Marin has gotten involved on campus as a student ambassador for Admissions, through the Office of Intercultural Development and as a member of SGA Freshman Council, Black Student Union and the Vine at Nine Chapel.
And she has big dreams to make the world a better place. She hopes to practice clinical psychology, working as a researcher and counselor, and advocating for social justice.
"When I was walking this campus on that Lipscomb Friday my junior year of high school, I just knew I could do anything here."
---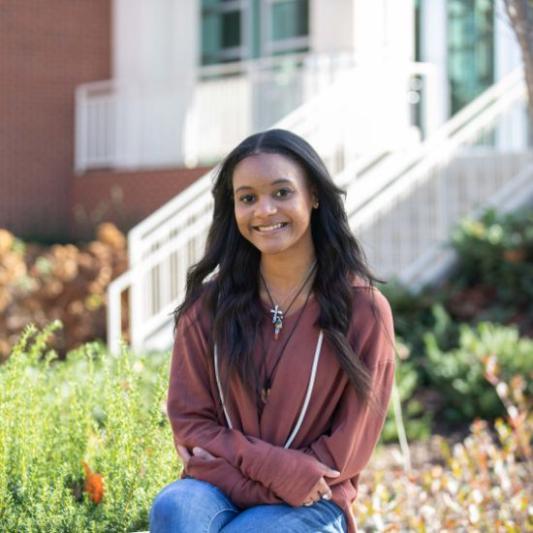 "I Just Jumped In"
"I knew before I even got here that I really wanted to be involved in this campus," she says. "I really wanted to be someone trustworthy, that people could go to, that people wanted to see make things happen. I just wanted to be a friend."
Growing Personally in Community
An environment where you belong and matter
"I'm in such a great place. I'm in such a safe place. I feel safe in the sense that my voice matters here. My comfort matters to other people. Other people care about how I turn out, about how my life goes. I have a voice and people can actually hear it."
Lipscomb is "exactly what I thought"
Marin says nothing has surprised her about Lipscomb because her campus visit experience accurately captured what life would be like on campus. "Lipscomb has a soul, and I just thought it was so beautiful. And I still do. I love it even more now."
"Getting involved helps you mentally, emotionally and spiritually. Just be around people. Be a part of the community. Find the community you want to be a part of and help it be awesome because you could be the missing piece."
---
More Resources For Juniors