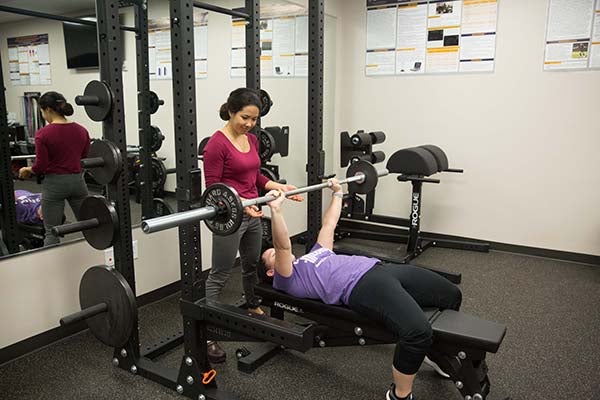 Program Overview
Program Overview
Don't just stand on the sidelines — drive for success with a degree in sport management. Prepare for a career on the business side of the athletics and fitness industry. With its three major league teams and four Division I NCAA schools, Nashville is the perfect city for you to score shadowing experience, internships and jobs. 
Study in a program that provides you with a comprehensive business education and the added exercise science knowledge to elevate your expertise. Hone skills and gain experience in the business, management and marketing aspects of the athletics and fitness industries. 
Our unique degree is unlike anything you'll find in middle Tennessee. Once you've learned all you can from our experienced and innovative faculty, go on to pursue an MBA or head straight into the workforce — you'll be a strong candidate for whatever path you choose.
Courses
Courses
Specific courses required:
AC 2503 - Financial Accounting
AC 2513 - Managerial Accounting
BY 1003 - Foundations of Biology
BY 2213 - Introductory Human Anatomy and Physiology
CM 1013 - Introduction to Chemistry
EC 2413 - Principles of Microeconomics
ENT 2503 - An Introduction to Business
ENT 3543 - Entrepreneur Marketing
ENT 4403 - Entrepreneur Finance
ENT 4503 - New Venture Creation
EX 2533 - Kinesiology
EX 3363 - Biostatistics
EX 4113 - Exercise Physiology
EX 4153 - Strength and Conditioning Program Design
MA 1113 - College Algebra
PE 2203 - Foundations in Kinesiology
PE 4323 - Administration of Exercise Related Programs
PS 1113 - Introduction to Psychology
SPMG 2503 - Introduction to Sport Management
SPMG 3003 - Sport Management Practicum I
SPMG 4003 - Sport Management Practicum II
Choose two of the following courses:
ENT 4Xn3 - Special Topics in [Insert Area]
LJS 3513 - The Social Enterprise
LJS 4303 - Special Topics: [Insert Topic] and the Law
MK 3543 - Professional Relationships Marketing
MK 3453 - Social Media Marketing
MK 3503 - Principles of Marketing 
Note:
All students majoring in sport management must achieve a "C" or above in all department courses required for the sport management major.
20:1
Student to faculty ratio
Job placement
With a top-tier university education on your resume, you'll be in high demand, whether you choose to launch your career or begin graduate school. Most of our programs have a placement rate of at least 90 percent within six months of graduation.
Expert faculty, small class sizes
Learn from award-winning, experienced faculty who actually care about you. Our small class sizes allow us to get to know you personally. We lead an approachable community within our respective programs. Our faculty connections are the experts on their subject matter, too.
Nashville
A big city. An even bigger opportunity. We consider Nashville an extension of our classroom, and as a leading city in many industries, that means you'll gain experience and insight you won't find anywhere else.
Ruth Henry

Vice Chair, Kinesiology and Nutrition

Long-tenured Lipscomb faculty member in exercise science, she teaches the statistics and research courses.

Learn More

Randy Bostic

Adjunct Faculty

Randy is founder of Bostic Law, PLLC. A firm that helps protects assets for families and small business. Randy focuses his practice on Estate Planning through wills, trusts, and probate,...

Learn More

Matthew Ruiz

Professor of Kinesiology

Professional expertise in sport, exercise and performance psychology.

Learn More

Kent Johnson

Professor

Cofounder of EXNS program Long-tenured Lipscomb faculty member in exercise physiology, leads the cardiovascular laboratory, and is a fellow in the ACSM.

Learn More

Jeremy Townsend

Assistant Professor of Kinesiology

Jeremy Townsend is currently an Assistant Professor in Exercise and Nutrition Science at Lipscomb University. He received his Bachelor's degree from Harding University where he was a captain of the...

Learn More
Career Paths
Recreation and fitness studies teachers, postsecondary
Teach courses pertaining to recreation, leisure, and fitness studies, including exercise physiology and facilities management. Includes both teachers primarily engaged in teaching and those who do a combination of teaching and research.
Coaches and Scouts
Coaches teach amateur or professional athletes the skills they need to succeed at their sport. Scouts look for new players and evaluate their skills and likelihood for success at the college, amateur, or professional level. Many coaches also are involved in scouting.
Recreation Workers
Recreation workers design and lead activities to help people stay active, improve fitness, and have fun. They work with groups in summer camps, fitness and recreational sports centers, nursing care facilities, nature parks, and other settings. They may lead such activities as arts and crafts, sports, music, dramatics, or games.