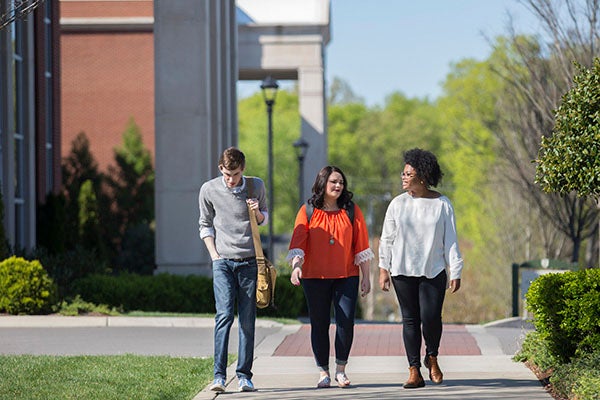 Program Overview
Program Overview
Sometimes, unexpected injuries occur and drastically change daily physical abilities. Other times, long-standing impairments require consistent re-training of muscles and their functions. Let us prepare you to deliver proper care regarding all types of physical injuries. 
Within pre-physical therapy, you will begin with a foundational knowledge of relevant sciences -  biology, chemistry, physics, anatomy and kinesiology. Our seasoned faculty will guide you into higher-level kinesiology courses where you will have the opportunity to evaluate, create a plan for and administer effective treatments. Lucky for you, this is exactly what physical therapists do! And you'll gain this exposure before even entering graduate school. 
And since enrollment in a graduate, professional program is the end goal, our faculty will assure that you have all the necessary requirements for your school of choice. They'll serve not only as your professors but also as mentors, catalysts and resources that successfully launch you forward.
So, join us in a profession that brings restoration to a variety of settings — hospitals, private practices, schools, sports facilities and more. You can be the one to walk alongside of patients and see their progress first-hand. Your fitness plans can be the reason for healing. And your passion can motivate all who you come in contact with. We're eager to get you there.
Courses
Courses
Our office can assist you in determining which courses you need to satisfy professional school requirements. Looking at the website for the professional program you're interested in is also helpful in learning more about the additional courses or requirements of the program.
Course requirements can vary from one health professional program to another. Generally, these are the courses required by most physical therapy schools:

General Biology: Eight semester hours with labs
General Chemistry: Eight semester hours with labs
Physics: Eight semester hours with labs
Human Anatomy & Physiology: Eight semester hours
Statistics: Three to four hours
Math: Usually through Calculus I
General Psychology: Three semester hours
Developmental Psychology: Three semester hours
English: Six semester hours
Service learning
We provide you the opportunity to enhance your academic understanding by applying what you've learned in class to service projects that benefit our community. Before graduation, you'll participate in at least two SALT (Serving and Learning Together) projects.
Job placement
With a top-tier university education on your resume, you'll be in high demand, whether you choose to launch your career or begin graduate school. Most of our programs have a placement rate of at least 90 percent within six months of graduation.
Expert faculty, small class sizes
Learn from award-winning, experienced faculty who actually care about you. Our small class sizes allow us to get to know you personally. We lead an approachable community within our respective programs. Our faculty connections are the experts on their subject matter, too.
Our Faculty
No matter what major you choose, we're ready to advise you on your path to becoming a physical therapist.
Career Paths
Physical Therapists
Physical therapists, sometimes called PTs, help injured or ill people improve their movement and manage their pain. These therapists are often an important part of the rehabilitation, treatment, and prevention of patients with chronic conditions, illnesses, or injuries.
Physical Therapist Assistants and Aides
Physical therapist assistants, sometimes called PTAs, and physical therapist aides work under the direction and supervision of physical therapists. They help patients who are recovering from injuries and illnesses regain movement and manage pain.
Athletic Trainers
Athletic trainers specialize in preventing, diagnosing, and treating muscle and bone injuries and illnesses.