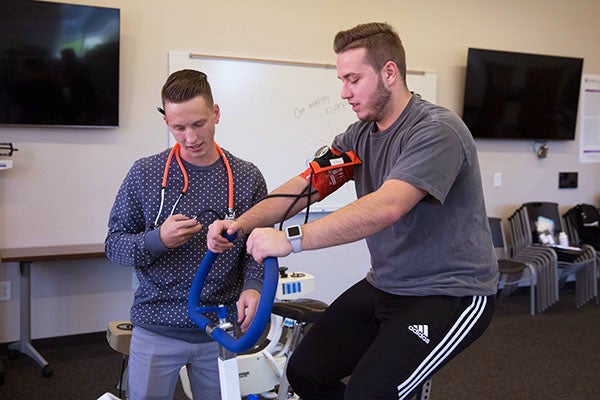 Program Overview
Program Overview
Equip yourself to help others become better versions of themselves. Our interdisciplinary program teaches you how to empower your community through wellness, health and fitness. 
At Lipscomb, you will gain valuable experiential knowledge with our advanced facilities, where you'll learn how the human body functions, moves and grows stronger. You'll receive the highest quality of instruction and mentorship from passionate professors who are experts in their fields. You'll also benefit from faculty relationships with local practices and organizations, immersing yourself in Nashville's professional community.
Earn a degree that will pave your career path as a physical or occupational therapist, physician's assistant, chiropractor, nurse or any other health care field you could imagine. When you graduate, you'll join the rest of your peers who landed careers in the field or were admitted to the allied health graduate schools of their choice — who are transforming lives around the world.
Courses
Courses
Specific courses required:
AT 3002 - Prevention and Care of Athletic Injuries
BY 1134 - Principles of Biology: Cell and Genetics
BY 1144 - Principles of Biology: Diversity and Ecology
BY 3514 - Human Anatomy and Physiology I
BY 3524 - Human Anatomy and Physiology II
CM 1113 - General Chemistry I
CM 1211 - General Chemistry Laboratory I
EX 2533 - Kinesiology
EX 3002 - Mechanics of Movement
EX 3363 - Biostatistics
EX 4113 - Exercise Physiology
EX 4123 - Exercise Physiology Lab
EX 4133 - Exercise Evaluation and Prescription
EX 4143 - Special Topics in Exercise Science
EX 4153 - Strength and Conditioning Program Design
EX 4163 - Applied Exercise Physiology
EX 4224 - Externship in Kinesiology
HL 1303 - Healthful Living
HL 3302 - First Aid and Emergency Care
NUTR 2613 - Principles of Nutrition
MG 3503 - Leading and Managing People or MK 3503 - Principles of Marketing
PE 2203 - Foundations in Kinesiology
PE 2402 - Concepts of Motor Learning
PE 4323 - Administration of Exercise Related Programs
PE 4502 - Seminar in Kinesiology

Note:
All students majoring in exercise science must achieve a "C" or above in all department courses required for the exercise science major.
20:1
Student to faculty ratio
Internship
Become more competitive in the job market with an internship related to your interests. You'll gain experience and boost your exposure. An internship will also help you learn whether you've chosen a career you'll enjoy.
Job placement
With a top-tier university education on your resume, you'll be in high demand, whether you choose to launch your career or begin graduate school. Most of our programs have a placement rate of at least 90 percent within six months of graduation.
Expert faculty, small class sizes
Learn from award-winning, experienced faculty who actually care about you. Our small class sizes allow us to get to know you personally. We lead an approachable community within our respective programs. Our faculty connections are the experts on their subject matter, too.
Ruth Henry

Vice Chair, Kinesiology and Nutrition

Long-tenured Lipscomb faculty member in exercise science, she teaches the statistics and research courses.

Learn More

Kent Johnson

Professor

Cofounder of EXNS program Long-tenured Lipscomb faculty member in exercise physiology, leads the cardiovascular laboratory, and is a fellow in the ACSM.

Learn More

Laurel Littlefield

Associate Professsor of Exercise Science

Laurel Littlefield joined the Kinesiology department in 2018 as an associate professor. Prior to working at Lipscomb, Laurel was a faculty member at Lubbock Christian University from 2013 - 2018....

Learn More

Jeremy Townsend

Assistant Professor of Kinesiology

Jeremy Townsend is currently an Assistant Professor in Exercise and Nutrition Science at Lipscomb University. He received his Bachelor's degree from Harding University where he was a captain of the...

Learn More

Matthew Ruiz

Professor of Kinesiology

Professional expertise in sport, exercise and performance psychology.

Learn More
Career Paths
Physical Therapists
Physical therapists, sometimes called PTs, help injured or ill people improve their movement and manage their pain. These therapists are often an important part of the rehabilitation, treatment, and prevention of patients with chronic conditions, illnesses, or injuries.
Athletic Trainers
Athletic trainers specialize in preventing, diagnosing, and treating muscle and bone injuries and illnesses.
Occupational Therapists
Occupational therapists treat injured, ill, or disabled patients through the therapeutic use of everyday activities. They help these patients develop, recover, improve, as well as maintain the skills needed for daily living and working.