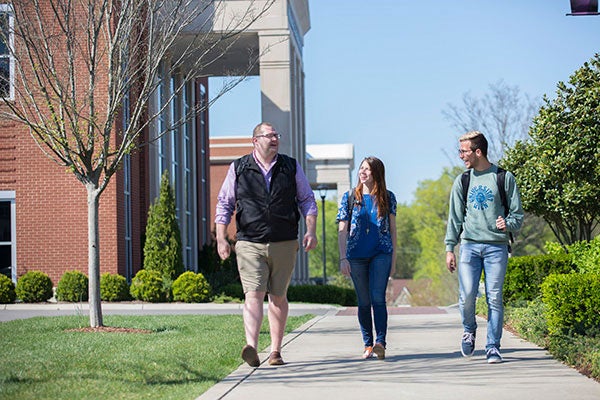 Program Overview
Program Overview
You've got a passion for bringing physical, developmental and mental potential to fruition, and you're looking to make a career out of it. Develop and carry out plans for patients recovering from illness and injury. Assist disabled individuals to achieve daily functionality. Work alongside of clients to improve and maintain their functionality for everyday tasks. 
With your Pre-Occupational Therapy focus, you will be given opportunities to assess, analyze and create strategies for improvement in a variety of patients. You'll understand best-practice strategies for healthy living and reaching full potential. And our seasoned faculty will guide you in the necessary preparation for the next step of your education. You'll even have the opportunity to obtain the Health Professions Advisory Committee (HPAC) scholarship, the Ward Scholarship and participation in the Ward Research Fellowships. 
With a comprehensive introduction to the world of occupational therapy, you will be well equipped to continue and eventually serve patients in industries such as geriatrics, disabled services, education, hospitals and more.
Courses
Courses
Our office can assist you in determining which courses you need to satisfy professional school requirements. Looking at the website for the professional program you're interested in is also helpful in learning more about the additional courses or requirements of the program.
 Course requirements can vary from one health professional program to another. Generally, these are the courses required by most occupational therapy schools:

General Biology: Eight semester hours with labs
General Chemistry: Four semester hours with labs
Human Anatomy & Physiology: Eight semester hours with labs
Physics: Four to six semester hours with lab(s)
Statistics: Three to four semester hours
Medical Terminology: One semester hour
Kinesiology: Three semester hours
General Psychology: Three semester hours
Developmental Psychology: Three semester hours
Abnormal Psychology: Three semester hours
Sociology: Three semester hours
Speech & Communications: Three semester hours
Math: Usually through Calculus I
English: Six semester hours
Service learning
We provide you the opportunity to enhance your academic understanding by applying what you've learned in class to service projects that benefit our community. Before graduation, you'll participate in at least two SALT (Serving and Learning Together) projects.
Job placement
With a top-tier university education on your resume, you'll be in high demand, whether you choose to launch your career or begin graduate school. Most of our programs have a placement rate of at least 90 percent within six months of graduation.
Expert faculty, small class sizes
Learn from award-winning, experienced faculty who actually care about you. Our small class sizes allow us to get to know you personally. We lead an approachable community within our respective programs. Our faculty connections are the experts on their subject matter, too.
Our Faculty
No matter what major you choose, we are ready to advise you on your path to becoming an occupational therapist.
Ruth Henry

Vice Chair, Kinesiology and Nutrition

Long-tenured Lipscomb faculty member in exercise science, she teaches the statistics and research courses.

Learn More

Kent Clinger

Chair, Chemistry

A native of Fort Worth, Texas, Kent Clinger received a Bachelor of Science degree in Chemistry from Oklahoma Christian College in 1976. He studied in the Master of Science program...

Learn More

Beth Conway

Professor

Beth Conway is associate professor of Biology in the College of Liberal Arts and Sciences at Lipscomb University. She received her bachelor of science (B.S.) degree in Biochemistry and Molecular...

Learn More

Randy Bybee

Professor

A native of Gainesboro, Tenn., Randy Bybee received a B.S. degree in Physics from Tennessee Technological University in 1988. He graduated from North Carolina State University in 1995 with a...

Learn More
Career Paths
Occupational Therapists
Occupational therapists treat injured, ill, or disabled patients through the therapeutic use of everyday activities. They help these patients develop, recover, improve, as well as maintain the skills needed for daily living and working.
Occupational Therapy Assistants and Aides
Occupational therapy assistants and aides help patients develop, recover, improve, as well as maintain the skills needed for daily living and working. Occupational therapy assistants are directly involved in providing therapy to patients; occupational therapy aides typically perform support activities. Both assistants and aides work under the direction of occupational therapists.
Speech-Language Pathologists
Speech-language pathologists (sometimes called speech therapists) assess, diagnose, treat, and help to prevent communication and swallowing disorders in children and adults. Speech, language, and swallowing disorders result from a variety of causes, such as a stroke, brain injury, hearing loss, developmental delay, Parkinson's disease, a cleft palate, or autism.