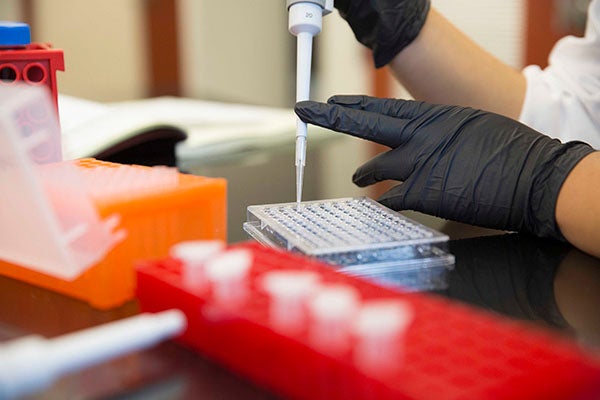 Program Overview
Program Overview
The demand for ethical, effective physicians is always high. If you possess the aptitude for science and the heart for helping those in need, let us help you prepare for a career in medicine.  Realization of that dream will depend upon a high quality undergraduate experience. We have a long history of preparing motivated, qualified students for successful entry into medical schools. Make a difference in your community by combining character, social, and intellectual competencies to become a contributing member of the healing profession. 
Your success as a premedical applicant and medical school student will require a working knowledge of the natural and behavioral sciences.  Our distinguished faculty will guide you through rigorous coursework in biology, chemistry and physics. In these courses, you'll have access to state-of-the-art labs and research opportunities. 
Our Health Professions Advisory Committee (HPAC) also will walk alongside and provide guidance for satisfying prerequisite requirements, networking opportunities and interview preparation. In addition to regularly notifying you of on-campus workshops, speakers and professional school representatives, HPAC will keep you posted regarding online webinars and regional health fairs.
HPAC scholarships are awarded as need-based supplemental financial aid to a number of qualified pre-health applicants.  The HPAC also provides merit-based Ward Scholarships and Ward Research Fellowships to a few exceptional students who have been nominated and selected by faculty.  Our aim is to provide you with all the tools and resources needed for your success as a professional school applicant.
Courses
Courses
Our office can assist you in determining which courses you need to satisfy professional school requirements. To  learn about the admission requirements for particular professional schools, we recommend that you visit their websites.
Although course requirements can vary from one health professional program to another, these are the courses required by most medical schools:
General biology: Eight semester hours with labs
General chemistry: Eight semester hours with labs
Organic chemistry: Eight semester hours with labs
Physics: Four to six semester hours with lab(s)
Math: trigonometry or calculus, depending upon physics prerequisites.
English: Six semester hours
Service learning
We provide you the opportunity to enhance your academic understanding by applying what you've learned in class to service projects that benefit our community. Before graduation, you'll participate in at least two SALT (Serving and Learning Together) projects.
Job placement
With a top-tier university education on your resume, you'll be in high demand, whether you choose to launch your career or begin graduate school. Most of our programs have a placement rate of at least 90 percent within six months of graduation.
Internship
Become more competitive in the job market with an internship related to your interests. You'll gain experience and boost your exposure. An internship will also help you learn whether you've chosen a career you'll enjoy.
Expert faculty, small class sizes
Learn from award-winning, experienced faculty who actually care about you. Our small class sizes allow us to get to know you personally. We lead an approachable community within our respective programs. Our faculty connections are the experts on their subject matter, too.
Our Faculty
No matter what major you choose, we're ready to advise you on your path to becoming a physician.
Career Paths
Physicians and Surgeons
Physicians and surgeons diagnose and treat injuries or illnesses. Physicians examine patients; take medical histories; prescribe medications; and order, perform, and interpret diagnostic tests. They counsel patients on diet, hygiene, and preventive healthcare. Surgeons operate on patients to treat injuries, such as broken bones; diseases, such as cancerous tumors; and deformities, such as cleft palates.
Diagnostic Medical Sonographers and Cardiovascular Technologists and Technicians, Including Vascular Technologists
Diagnostic medical sonographers and cardiovascular technologists and technicians, including vascular technologists, also called diagnostic imaging workers, operate special imaging equipment to create images or to conduct tests. The images and test results help physicians assess and diagnose medical conditions.
Medical Scientists
Medical scientists conduct research aimed at improving overall human health. They often use clinical trials and other investigative methods to reach their findings.
---
Various Roles in Health Care
Private or group clinical practice; hospitalist; government positions; medical educator; researcher; administrative and corporate roles