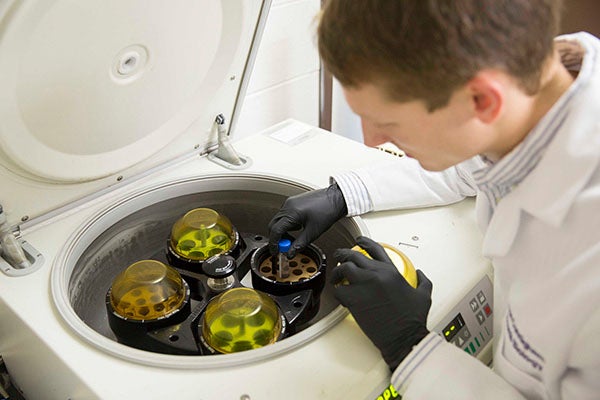 Program Overview
Program Overview
We've been doing experiential learning in the sciences since before it was cool. And with guidance from our expert faculty, you'll take advantage of rich opportunities to investigate the basis for life. We will help you prepare for a career in the life sciences: think clinical or biomedical research, or other graduate programs in the allied health professions. You'll face challenges in this program as you learn the cellular mechanisms underlying human physiology, genetics and disease.  You won't be alone. Our award-winning teachers — world-respected biomedical research scientists —  will mentor you along the way.
#1
Biology program in U.S. among Christian colleges
Research Opportunities
We know that you want to be an innovator in the field. That's why we offer unique research opportunities in our state-of-the-art facilities with our world-class faculty so that you can hone your expertise.
Job placement
With a top-tier university education on your resume, you'll be in high demand, whether you choose to launch your career or begin graduate school. Most of our programs have a placement rate of at least 90 percent within six months of graduation.
Expert faculty, small class sizes
Learn from award-winning, experienced faculty who actually care about you. Our small class sizes allow us to get to know you personally. We lead an approachable community within our respective programs. Our faculty connections are the experts on their subject matter, too.
Our Faculty
Meet our key faculty.
Career Paths
Physicians and Surgeons
Physicians and surgeons diagnose and treat injuries or illnesses. Physicians examine patients; take medical histories; prescribe medications; and order, perform, and interpret diagnostic tests. They counsel patients on diet, hygiene, and preventive healthcare. Surgeons operate on patients to treat injuries, such as broken bones; diseases, such as cancerous tumors; and deformities, such as cleft palates.
Medical Scientists
Medical scientists conduct research aimed at improving overall human health. They often use clinical trials and other investigative methods to reach their findings.
Environmental Scientists and Specialists
Environmental scientists and specialists use their knowledge of the natural sciences to protect the environment and human health. They may clean up polluted areas, advise policymakers, or work with industry to reduce waste.