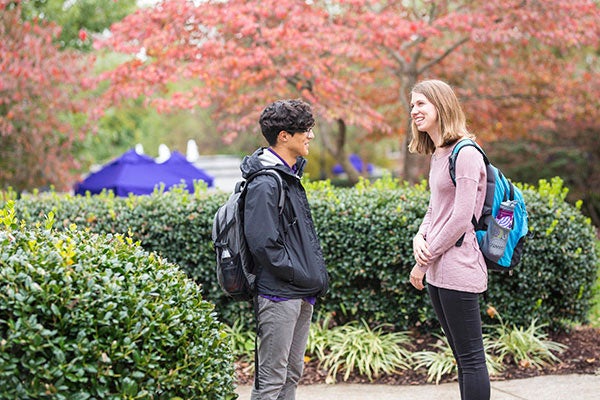 Program Overview
Program Overview
The International Affairs major is the perfect way to maximize your semester abroad. Your 12 Global Learning credits will be applied to the major, fulfilling a core part of the coursework for this major. International Affairs integrates your language training, travels, and Lipscomb education. Further courses in political science and history will complement your experiences and broaden your knowledge base.
The world is shrinking and every career has an international facet to be explored. A semester abroad can become a value-added and efficient asset when combined with the International Affairs major. It merges an exciting experience into a scholarly pursuit.
If this sounds like the major for you, check out our Global Learning offerings here (https://www.lipscomb.edu/academics/global-learning).
Courses
Courses
Travel Component:
A total of twelve credit hours from either a Lipscomb University Global Learning semester-long program or travel courses with prior department approval. 
Specific courses required:
PO 3033 - International Relations

PO 3223 - Research Methods

PO 4233 - International Law and International Organizations

PO 4243 - International Security: Problems and Solutions

PO 4313 - International Political Economy

PO 4993 - Capstone Seminar in Political Science



Twelve hours:
A total of twelve hours of credit from travel courses subject to department approval. 



Nine hours selected from the following:
PO 3133 - Authoritarianism and Democracy

PO 3153 - African Politics

PO 4053 - History and Politics of the Middle East

PO 4133 - History and Politics of Russia

PO 4213 - American Foreign Policy

PO 4813 - Washington Seminar

HI 3143 - Nineteenth Century Europe (1815-1914)

HI 3153 - Twentieth Century Europe (1914-present)

HI 4103 - Latin America

HI 4143 - Modern China and the Far East

LJS 3413 - International Conflict Management
100%
Graduate School Acceptance Rate
Study Abroad
See the world — whether it's Italy, Austria, Costa Rica, England or another country. Career opportunities will open for you as you sharpen your foreign language skills. Gain the international experience and cross-cultural communication skills you'll need in our global economy.
Job placement
With a top-tier university education on your resume, you'll be in high demand, whether you choose to launch your career or begin graduate school. Most of our programs have a placement rate of at least 90 percent within six months of graduation.
Nashville
A big city. An even bigger opportunity. We consider Nashville an extension of our classroom, and as a leading city in many industries, that means you'll gain experience and insight you won't find anywhere else.
Susan Haynes

Assistant Professor of Political Science

Susan Turner Haynes joined Lipscomb University as an assistant professor in 2015. Prior to her doctorate, Haynes was selected as a Public Policy and Nuclear Threat (PPNT) fellow at the...

Learn More

Marc Schwerdt

Chair of History, Politics and Philosophy

Marc Schwerdt joined the Lipscomb political science faculty in 2004. His research has concentrated on perceptions of public service in children's literature and has been published in peer-reviewed journals Social...

Learn More

Craig Bledsoe

Provost

Bledsoe has served as the provost and chief academic officer at Lipscomb University since 1997. Under his leadership, the university has expanded to ten colleges that offer over 200 undergraduate...

Learn More