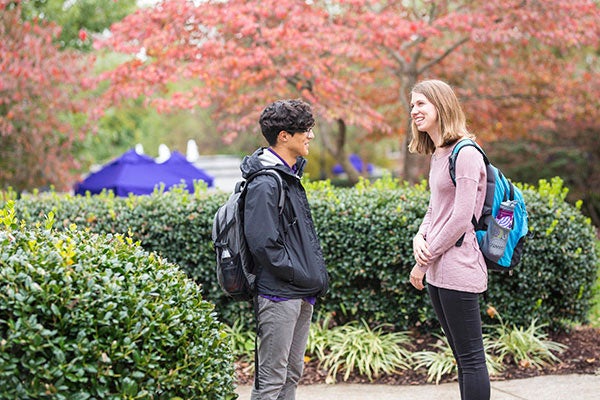 Program Overview
Program Overview
Once you live on another continent, you'll find you want to make other cultures an integral part of your life. The International Affairs major is perfect for that lifestyle. We know you want to maximize your time, so we require courses focused on the world beyond our borders and how it all fits together. The 12 Global Learning credits in this major will make full use of your time studying abroad. Your experiences from your semester abroad will be a reference point for classroom discussion and work. After graduation, you'll have the versatility you need for a successful start to your professional career.
Courses
Courses
Travel Component:
A total of twelve credit hours from either a Lipscomb University Global Learning semester-long program or travel courses with prior department approval. 
Specific courses required:
PO 3033 - International Relations

PO 3223 - Research Methods

PO 4233 - International Law and International Organizations

PO 4243 - International Security: Problems and Solutions

PO 4313 - International Political Economy

PO 4993 - Capstone Seminar in Political Science



Twelve hours:
A total of twelve hours of credit from travel courses subject to department approval. 



Nine hours selected from the following:
PO 3133 - Authoritarianism and Democracy

PO 3153 - African Politics

PO 4053 - History and Politics of the Middle East

PO 4133 - History and Politics of Russia

PO 4213 - American Foreign Policy

PO 4813 - Washington Seminar

HI 3143 - Nineteenth Century Europe (1815-1914)

HI 3153 - Twentieth Century Europe (1914-present)

HI 4103 - Latin America

HI 4143 - Modern China and the Far East

LJS 3413 - International Conflict Management
Study Abroad
See the world — whether it's Italy, Austria, Costa Rica, England or another country. Career opportunities will open for you as you sharpen your foreign language skills. Gain the international experience and cross-cultural communication skills you'll need in our global economy.
Job placement
With a top-tier university education on your resume, you'll be in high demand, whether you choose to launch your career or begin graduate school. Most of our programs have a placement rate of at least 90 percent within six months of graduation.
Expert faculty, small class sizes
Learn from award-winning, experienced faculty who actually care about you. Our small class sizes allow us to get to know you personally. We lead an approachable community within our respective programs. Our faculty connections are the experts on their subject matter, too.
Susan Haynes

Assistant Professor of Political Science

Susan Turner Haynes earned her doctoral degree in political science from George Mason University in 2014, and she joined Lipscomb University as an assistant professor in 2015. Prior to graduating...

Learn More

Marc Schwerdt

Associate Professor

Marc Schwerdt began teaching at Lipscomb in 2004. Previously he taught at Oklahoma Christian University and worked on fundraising for two congressional campaigns in 1996. His areas of academic expertise...

Learn More

Craig Bledsoe

Provost

Bledsoe has served as the provost and chief academic officer at Lipscomb University since 1997. Under his leadership, the university has expanded to ten colleges that offer over 200 undergraduate...

Learn More
Career Paths
Political Scientists
Political scientists study the origin, development, and operation of political systems. They research political ideas and analyze governments, policies, political trends, and related issues.
Lawyers
Lawyers advise and represent individuals, businesses, and government agencies on legal issues and disputes.
Archivists, Curators, and Museum Workers
Archivists appraise, process, catalog, and preserve permanent records and historically valuable documents. Curators oversee collections of artwork and historic items, and may conduct public service activities for an institution. Museum technicians and conservators prepare and restore objects and documents in museum collections and exhibits.