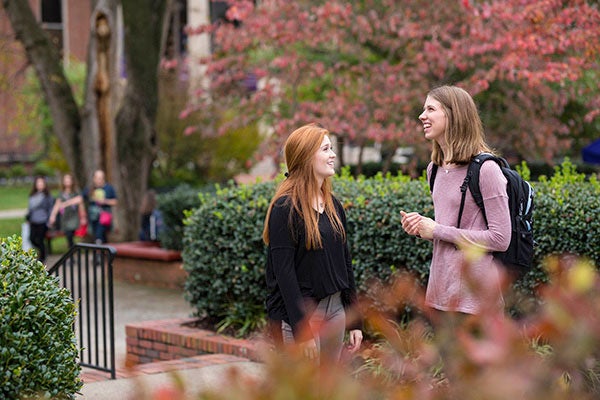 Program Overview
Program Overview
Join the global conversation in a new tongue. Study historic texts and literary works in their original language. Explore opportunities that will allow you delve into the depths of francophone countries and cultures. Be prepared to excel in an increasingly globalized world. 
In our intimate class settings, you will do more than develop language proficiency. You'll also enrich your cultural competencies, engage your critical thinking, sharpen your oral and written communication skills, and expand your knowledge about different ways of thinking. 
The cross-cultural mindset you'll gain will carry you a long way — quite literally. Your French degree will lead to higher performance in all job markets, create opportunities for service or advanced studies around the globe, and open the door to an international career.
Tuition & Aid
Tuition & Aid
Standard tuition rates apply. Financial aid is available for qualified students.
 
For those teaching French, the Nina Walls Scholarship provides a month-long immersion program in Lyon
Additional scholarships for recent graduates or for new teachers are offered through the ACTFL (American Council on the Teaching of Foreign Languages) website.
Post-graduate teaching scholarships: Lipscomb students qualify to apply for several scholarships through the Alliance Française of Nashville and to work as teaching Ambassadors in France through the French Embassy. 
100%
Job placement rate of French Teaching majors
Study Abroad
See the world — whether it's Italy, Austria, Costa Rica, England or another country. Career opportunities will open for you as you sharpen your foreign language skills. Gain the international experience and cross-cultural communication skills you'll need in our global economy.
Job placement
With a top-tier university education on your resume, you'll be in high demand, whether you choose to launch your career or begin graduate school. Most of our programs have a placement rate of at least 90 percent within six months of graduation.
Expert faculty, small class sizes
Learn from award-winning, experienced faculty who actually care about you. Our small class sizes allow us to get to know you personally. We lead an approachable community within our respective programs. Our faculty connections are the experts on their subject matter, too.
Kelly Kidder

Associate Professor

Kelly Kidder received her Ph.D. from The Ohio State University in Foreign and Second Language Education. Her studies comprised several core areas, including Qualitative Research, French Cultural Studies, Second Language...

Learn More

Cecelia Ramsey

Lecturer in English and Modern Language

Cecelia Ramsey is a Lecturer of French in the Department of English & Modern Languages. She received her M.A. in Literary Translation: French to English from New York University and...

Learn More

Kimberly Reed

Chair, English and Foreign Languages

Kimberly Reed is professor of English and French, Chair of the Department of English & Modern Languages, and a University Research Fellow. She has co-edited two books, "Approaches to Teaching...

Learn More
Career Paths
High School Teachers
High school teachers help prepare students for life after graduation. They teach academic lessons and various skills that students will need to attend college and to enter the job market.
Interpreters and Translators
Interpreters and translators convert information from one language into another language. Interpreters work in spoken or sign language; translators work in written language.