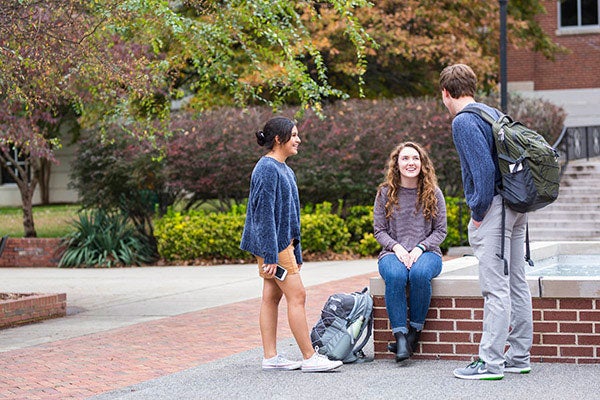 Program Overview
Program Overview
Get ready to experience different cultures from the inside out. As the ability to converse in Spanish is increasing in importance in the U.S. and worldwide, it's no secret that with a background in this language, you'll be better equipped for your profession — and for service. While studying here and abroad, you'll learn to think more critically — and to act with compassion. You'll learn to know and care about your neighbor across the street and the one across the world. 
Our Spanish Teaching degree combines the best of two worlds: our respected education program and a course of study involving language, geography and literature. We teach our classes in Spanish to prepare you for a career where you, as a teacher, will do the same.
Study Abroad
See the world — whether it's Italy, Austria, Costa Rica, England or another country. Career opportunities will open for you as you sharpen your foreign language skills. Gain the international experience and cross-cultural communication skills you'll need in our global economy.
Expert faculty, small class sizes
Learn from award-winning, experienced faculty who actually care about you. Our small class sizes allow us to get to know you personally. We lead an approachable community within our respective programs. Our faculty connections are the experts on their subject matter, too.
Nashville
A big city. An even bigger opportunity. We consider Nashville an extension of our classroom, and as a leading city in many industries, that means you'll gain experience and insight you won't find anywhere else.
Ted Parks

Associate Professor

Ted Parks is an Associate Professor of Spanish in the Department of English and Modern Languages. He has taught all levels of Spanish at Lipscomb, and, before moving to Nashville...

Learn More
Career Paths
High School Teachers
High school teachers help prepare students for life after graduation. They teach academic lessons and various skills that students will need to attend college and to enter the job market.
Interpreters and Translators
Interpreters and translators convert information from one language into another language. Interpreters work in spoken or sign language; translators work in written language.