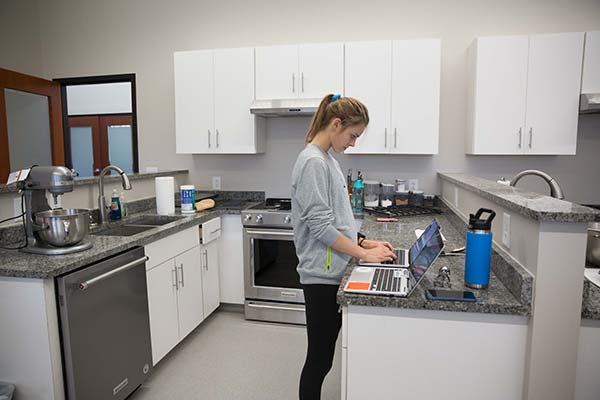 Program Overview
Program Overview
Transform your passion for food and hospitality into a lifelong career. Learn about meal planning and preparation, culinary design and development, safety and service guidelines, and the business management skills to combine it all.
Master the ins and outs of the restaurant industry, from human resources to food production. Our seasoned faculty will develop both your strategic and creative skills and guide you as you explore your career options. Plus, our Christian worldview informs our approach to hospitality — learn how and why food systems management is a form of ministry.  
From this program, you can go on to culinary school, restaurant management and nonprofit management — with a firm foundation in business, since you'll automatically earn a business minor. Between coursework, faculty mentorship and internship opportunities, you'll be well-prepared for whatever it is you are called to do.
Courses
Courses
Specific courses required:
AC 2503 - Financial Accounting
AC 2513 - Managerial Accounting
BA 3703 - Business Communication
BY 2424 - Introductory Microbiology
CM 1013 - Introduction to Chemistry
CM 1023 - Introduction to Chemistry-Organic
EC 2413 - Principles of Microeconomics
EC 2403 - Principles of Macroeconomics
MG 3503 - Leading and Managing People
MG 3613 - Legal Aspects of Business I
MG 4453 - Human Resource Management
MK 3503 - Principles of Marketing
MK 3533 - Marketing Management
NUTR 1011 - Professional Orientation
NUTR 1213 - Basic Foods
NUTR 2613 - Principles of Nutrition
NUTR 3213 - Food Science and Production
NUTR 4043 - Practicum
NUTR 4093 - Senior Seminar
NUTR 4213 - Food Systems Management I
NUTR 4223 - Food Systems Management II
NUTR 4232 - Quantity Food Production, Safety, and Sanitation
PS 3323 - Business and Industrial Psychology
Note:
A minor in distributive business is satisfied with this program.
12:1
Student to faculty ratio
Internship
Become more competitive in the job market with an internship related to your interests. You'll gain experience and boost your exposure. An internship will also help you learn whether you've chosen a career you'll enjoy.
Job placement
With a top-tier university education on your resume, you'll be in high demand, whether you choose to launch your career or begin graduate school. Most of our programs have a placement rate of at least 90 percent within six months of graduation.
Expert faculty, small class sizes
Learn from award-winning, experienced faculty who actually care about you. Our small class sizes allow us to get to know you personally. We lead an approachable community within our respective programs. Our faculty connections are the experts on their subject matter, too.
Anne Lowery

Associate Professor

Lowery came to Lipscomb in 2009 as the assistant director of the dietetic internship program and moved up to become an assistant professor and director of the internship program in...

Learn More

Autumn Marshall

Chair, Nutrition and Kinesiology

Long-tenured Lipscomb faculty member in nutrition, extremely well-connected throughout the region in all things nutrition and dietetics.

Learn More
Career Paths
Chefs and Head Cooks
Chefs and head cooks oversee the daily food preparation at restaurants and other places where food is served. They direct kitchen staff and handle any food-related concerns.
Food Service Managers
Food service managers are responsible for the daily operation of restaurants or other establishments that prepare and serve food and beverages. They direct staff to ensure that customers are satisfied with their dining experience, and they manage the business to ensure that it is profitable.
Agricultural and Food Science Technicians
Agricultural and food science technicians assist agricultural and food scientists by performing duties such as measuring and analyzing the quality of food and agricultural products.