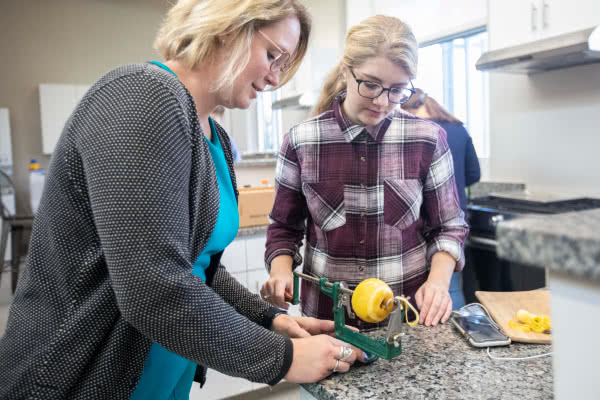 Environmental and Sustainability Science
Program Overview
Program Overview
It's a great moment to consider a career in sustainable agriculture or renewable energy. Now is the time to take your passion of conservation to the next level. You'll find this is the perfect major for you.
Grow in a holistic approach to stewarding creation and people. We'll teach you modern sustainability's core principles. Let us teach you about people, society and economic prosperity with social purpose. Increase your understanding of responsible oversight of human activities — and what it means to take care of our planet.
We'll lead you in these concepts beyond the classroom: you'll encounter them in the laboratory and in field experiences. 
We are passionate about advancing sustainability science through education, research, training and service. So we'll connect you to service and internship opportunities in Nashville, whether it's in a business, area farm, food, manufacturing environments or other agencies.  Upon graduation, you'll be well-prepared for your career, since sustainable practice can translate to every profession, organization, culture, market and environment.
Job placement
With a top-tier university education on your resume, you'll be in high demand, whether you choose to launch your career or begin graduate school. Most of our programs have a placement rate of at least 90 percent within six months of graduation.
Expert faculty, small class sizes
Learn from award-winning, experienced faculty who actually care about you. Our small class sizes allow us to get to know you personally. We lead an approachable community within our respective programs. Our faculty connections are the experts on their subject matter, too.
Nashville
A big city. An even bigger opportunity. We consider Nashville an extension of our classroom, and as a leading city in many industries, that means you'll gain experience and insight you won't find anywhere else.
Emily Stutzman

Director, Institute of Sustainable Practice Undergraduate Program

With a M.S. in rural sociology and Ph.D. in forestry from Auburn University, Emily Stutzman joined the Institute for Sustainable Practice in January 2015 as our full-time Academic Director. She...

Learn More

Dodd Galbreath

Director, Institute of Sustainable Practice Graduate Program

In the Fall of 2007, Professor Galbreath founded the Institute for Sustainable Practice, the Southeast's first, comprehensive, academic sustainability program. As the director of graduate programs in sustainability, he also...

Learn More

Andy Borchers

Associate Dean of Undergraduate Studies

Andy Borchers, DBA, CLTD, CPIM is a Professor of Management and Associate Dean for Undergraduate Programs in the College of Business. Before moving to Lipscomb in 2011, Borchers spent 20...

Learn More

William Paddock

Sustainable Practice Adjunct

William Paddock currently teaches the Enterprise II course focusing on business performance metrics and methods of sustainability. He founded WAP Sustainability to work in his passion for creating sustainability programs...

Learn More

Giuliano Scarsi

Giuliano Scarsi is originally from Nizza Monferrato, Italy. He earned his bachelor's degree in Natural Sciences in 2003 and graduated in 2007 with a master's degree in Sciences of Natural Systems...

Learn More

Richard Willis

Richard Willis joined NCAT in January 2009 as a Post-Doctoral Fellow. He received a BS in physical science from Freed-Hardeman University in 2003 and a BCE from Auburn University in...

Learn More
Career Paths
Environmental Scientists and Specialists
Environmental scientists and specialists use their knowledge of the natural sciences to protect the environment and human health. They may clean up polluted areas, advise policymakers, or work with industry to reduce waste.
Environmental Science and Protection Technicians
Environmental science and protection technicians monitor the environment and investigate sources of pollution and contamination, including those affecting public health.
Agricultural Engineers
Agricultural engineers attempt to solve agricultural problems concerning power supplies, the efficiency of machinery, the use of structures and facilities, pollution and environmental issues, and the storage and processing of agricultural products.