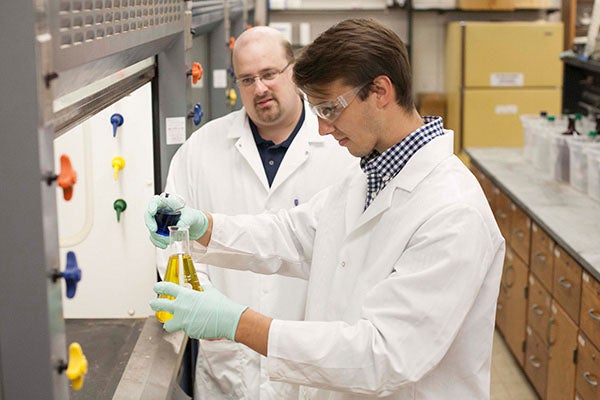 Program Overview
Program Overview
Every day, chemists are working to improve life in the world. Whether it's testing new drugs to cure disease, or looking for ways to protect our environment, we're making our mark on the world. Learn from our expert faculty and grow in service, part-time employment and leadership. Get the one-on-one attention you need to excel in your career path. 
Our program sets itself apart by being distinctly Christian — with a plethora of research opportunities. We provide flexible emphases for our applied chemistry major, from computer science or mathematics to business, green chemistry, environmental chemistry and forensic science. 
The applied path is perfect for those who want extra flexibility and the option to pursue diverse emphases that align with your niche. Join our distinguished graduates in every sector of chemistry, from the industrial sector to nonprofits, government and education. For example, you could earn required pre-pharmacy requirements while gaining the business skills you need. And if you choose the professional chemistry major, you'll be in good company. It has a history of Lipscomb graduates with prestigious careers. They generally wind up in industrial or academic research, at such organizations as BP America, NASA and Conoco-Phillips.
So upon graduation, no matter what path you choose in chemistry, you'll be ready to start your career in the chemical industry — and to take your pick of job offers.
Research Opportunities
We know that you want to be an innovator in the field. That's why we offer unique research opportunities in our state-of-the-art facilities with our world-class faculty so that you can hone your expertise.
Job placement
With a top-tier university education on your resume, you'll be in high demand, whether you choose to launch your career or begin graduate school. Most of our programs have a placement rate of at least 90 percent within six months of graduation.
Expert faculty, small class sizes
Learn from award-winning, experienced faculty who actually care about you. Our small class sizes allow us to get to know you personally. We lead an approachable community within our respective programs. Our faculty connections are the experts on their subject matter, too.
Career Paths
Chemist
Chemists study substances at the atomic and molecular levels and the ways in which substances react with each other. They use their knowledge to develop new and improved products and to test the quality of manufactured goods.
Chemical Engineers
Chemical engineers apply the principles of chemistry, biology, physics, and math to solve problems that involve the production or use of chemicals, fuel, drugs, food, and many other products. They design processes and equipment for large-scale manufacturing, plan and test production methods and byproducts treatment, and direct facility operations.
Pharmacists
Pharmacists dispense prescription medications to patients and offer expertise in the safe use of prescriptions. They also may conduct health and wellness screenings, provide immunizations, oversee the medications given to patients, and provide advice on healthy lifestyles.