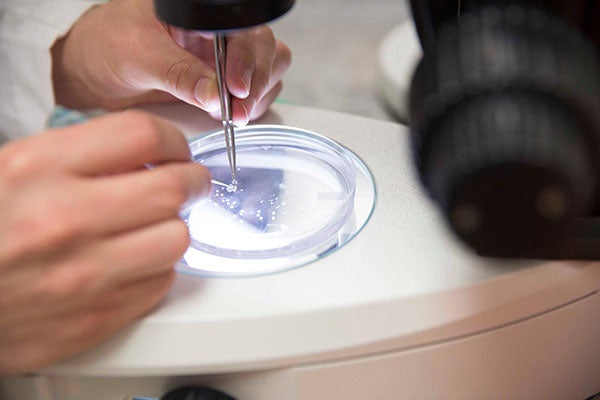 Program Overview
Program Overview
You're passionate about improving life for all, so join those who are doing that.  You'll have a surplus of opportunities to serve, work and lead within our biochemistry program. Our graduates are in demand in every facet of chemistry and biochemistry. And that includes the medical, industrial, governmental, educational and nonprofit sectors. By the way, more than 50 percent of our biochemistry graduates have earned doctorate degrees. So get started with us — choose the degree path that is right for you. Our experienced faculty will cultivate you. The success of our graduates proves that.
There's no capstone required for our biochemistry majors. But most of our students take part in undergraduate research at Lipscomb, at major research universities — or both. It's common for graduates of both of our biochemistry degrees to get into recognized research universities and medical schools across the U.S. Whatever your goals are, we'll help you get there.
Job placement
With a top-tier university education on your resume, you'll be in high demand, whether you choose to launch your career or begin graduate school. Most of our programs have a placement rate of at least 90 percent within six months of graduation.
Expert faculty, small class sizes
Learn from award-winning, experienced faculty who actually care about you. Our small class sizes allow us to get to know you personally. We lead an approachable community within our respective programs. Our faculty connections are the experts on their subject matter, too.
Nashville
A big city. An even bigger opportunity. We consider Nashville an extension of our classroom, and as a leading city in many industries, that means you'll gain experience and insight you won't find anywhere else.
Career Paths
Biochemists and Biophysicists
Biochemists and Biophysicists study the chemical and physical principles of living things and of biological processes, such as cell development, growth, heredity, and disease.
Medical Scientists
Medical scientists conduct research aimed at improving overall human health. They often use clinical trials and other investigative methods to reach their findings.
Pharmacists
Pharmacists dispense prescription medications to patients and offer expertise in the safe use of prescriptions. They also may conduct health and wellness screenings, provide immunizations, oversee the medications given to patients, and provide advice on healthy lifestyles.