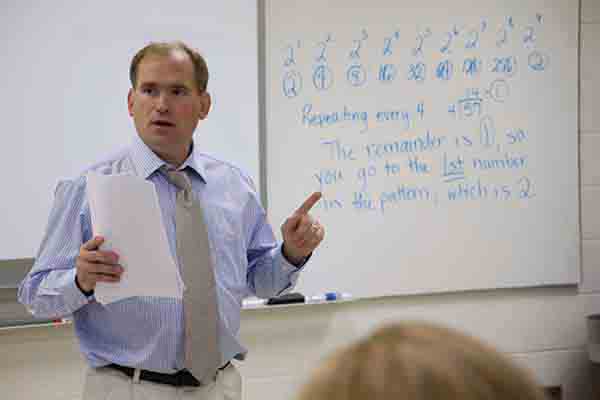 Program Overview
Program Overview
Interested in exploring what's beyond math's basics? Here, you will receive a thorough foundation of applied mathematics including an in-depth study of calculus concepts. Highly qualified professors will walk alongside you to ensure your comprehension along the way resulting in useful, practical knowledge. With this additional training in mathematics, you will become increasingly marketable within a handful of various industries.
Courses
Courses
Specific courses required:
MA 1314 - Calculus I
MA 2314 - Calculus II
MA 2324 - Calculus III
MA 3133 - Differential Equations
One course selected from:
ENGR 3303 - Applied Mathematics
MA 3123 - Mathematical Theory of Statistics
MA 4403 - Advanced Applied Mathematics
Study Abroad
See the world — whether it's Italy, Austria, Costa Rica, England or another country. Career opportunities will open for you as you sharpen your foreign language skills. Gain the international experience and cross-cultural communication skills you'll need in our global economy.
Job placement
With a top-tier university education on your resume, you'll be in high demand, whether you choose to launch your career or begin graduate school. Most of our programs have a placement rate of at least 90 percent within six months of graduation.
Expert faculty, small class sizes
Learn from award-winning, experienced faculty who actually care about you. Our small class sizes allow us to get to know you personally. We lead an approachable community within our respective programs. Our faculty connections are the experts on their subject matter, too.
Mark Miller

Professor

Mark Miller holds a Bachelor of Science degree in Mathematics from Harding University, a Master of Science degree in Mathematics from University of Houston, and a Doctor of Arts degree...

Learn More

Amy Nelson

Professor

Amy Nelson graduated from Lipscomb University with a degree in Mathematics Education. After teaching high school for a year, she returned to school and graduated with a Master's degree in...

Learn More
Career Paths
Mathematical technicians
Apply standardized mathematical formulas, principles, and methodology to technological problems in engineering and physical sciences in relation to specific industrial and research objectives, processes, equipment, and products.
Mathematicians and Statisticians
Mathematicians and statisticians analyze data and apply mathematical and statistical techniques to help solve real-world problems in business, engineering, healthcare, or other fields.
Actuaries
Actuaries analyze the financial costs of risk and uncertainty. They use mathematics, statistics, and financial theory to assess the risk of potential events, and they help businesses and clients develop policies that minimize the cost of that risk. Actuaries' work is essential to the insurance industry.