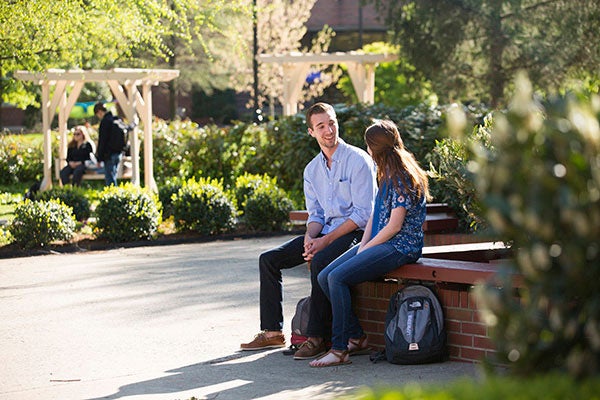 Program Overview
Program Overview
Sure, two plus two is four. But if you're here, you're probably interested in exploring what's beyond math's basics. And your options are endless: statistics, calculus, geometry, abstract algebra, topology, differential equations and many more! Dig deeper into the incredible body of knowledge that constitutes mathematics by earning your degree in the field. 
Learn from highly qualified professors who care about your personal development just as much as your academic success. Work alongside peers who will challenge and support your intellect and welcome your enthusiasm. A faith-based perspective applied to the discipline will help you see the field in a new light.
Plus, the problem-solving skills you finesse will apply far beyond just equations. A mathematics major will fully equip you for employment in the industry or for enrolling in a graduate program in mathematics.
Research Opportunities
We know that you want to be an innovator in the field. That's why we offer unique research opportunities in our state-of-the-art facilities with our world-class faculty so that you can hone your expertise.
Job placement
With a top-tier university education on your resume, you'll be in high demand, whether you choose to launch your career or begin graduate school. Most of our programs have a placement rate of at least 90 percent within six months of graduation.
Expert faculty, small class sizes
Learn from award-winning, experienced faculty who actually care about you. Our small class sizes allow us to get to know you personally. We lead an approachable community within our respective programs. Our faculty connections are the experts on their subject matter, too.
Career Paths
Mathematicians and Statisticians
Mathematicians and statisticians analyze data and apply mathematical and statistical techniques to help solve real-world problems in business, engineering, healthcare, or other fields.
Actuaries
Actuaries analyze the financial costs of risk and uncertainty. They use mathematics, statistics, and financial theory to assess the risk of potential events, and they help businesses and clients develop policies that minimize the cost of that risk. Actuaries' work is essential to the insurance industry.
High School Teachers
High school teachers help prepare students for life after graduation. They teach academic lessons and various skills that students will need to attend college and to enter the job market.