Pixar's Pete Docter shares experiences with animation students
At Lipscomb, education extends beyond the borders of the classroom to learn from leaders around the globe.
Kim Chaudoin |
Lipscomb University's cinematic arts students recently had a unique opportunity to learn from one of the top industry leaders in a special event hosted by the George Shinn College of Entertainment & the Arts' School of Film and Creative Media. 
Pete Docter, Chief Creative Officer at Pixar Animation Studios and Academy Award®-winning director of Monsters Inc., Up and Inside Out, met with students in a virtual forum March 18 to share insights from his career, his experiences and advice for the next generation of animators. Tom Bancroft, chair of Lipscomb's animation program, and Docter were classmates at California Institute of the Arts (CalArts). Docter joined the virtual conversation from his home in California, where he has worked for more than a year during the pandemic and where he finished work last year on Soul, which he directed and for which he has been nominated for another Oscar. 
Starting at Pixar in 1990 as the studio's third animator, joining animators John Lasseter and Andrew Stanton, Docter collaborated and helped develop the story and characters for Toy Story, Pixar's first full-length animated feature film, for which he was also supervising animator. He served as a storyboard artist on A Bug's Life and wrote initial story treatments for both Toy Story 2 and WALL-E. In addition to directing, Docter also executive produced Monsters University and the Academy Award-winning film Brave. 
The Minnesota native's interest in animation began at the age of eight when he created his first flipbook. At CalArts, he produced a variety of short films, one of which won a Student Academy Award®. Those films have since been shown in animation festivals worldwide, such as Spike & Mike's Festival of Animation, and are featured on the Pixar Short Films Collection Volume 2. He was hired by Pixar, one of the giants of the animation industry, right out of college. 
"I really got connected with the opportunity at Pixar mostly because of these film festivals," recalled Docter. "It might be hard to believe now, but at that time no one had heard of Pixar and didn't know what it was. So it wasn't a place that anybody aspired to apply to because it wasn't on their radar back in those days."
One day John Lasseter asked one of Docter's professors at CalArts if he knew of any students who would be a good fit at Pixar. "He recommended me to John, who had also seen my work through the student film festivals, and that's how I got started at Pixar," explained Docter. 
"It was an unusual time, though, because nobody knew about Pixar. There were opportunities in LA, that I probably would have dreamed of doing a couple of years earlier, like in high school wanting to work for Disney or well known and well respected companies like that. I still can't quite fathom why I said no to Disney, and instead went to this small, unknown computer company Pixar. I wanted to do animation, not work on computers," he further explained. "But it felt right. So after thinking about it for a while, I decided to trust my instincts and accepted the position at Pixar. I think that's one of the great lessons in life — is just being open to opportunities. You never know what's going to happen, and what you can do with certain opportunities especially if you're willing to really embrace it, engage it and have fun with it. I have been at Pixar now for more than 30 years, so I think I made the right decision."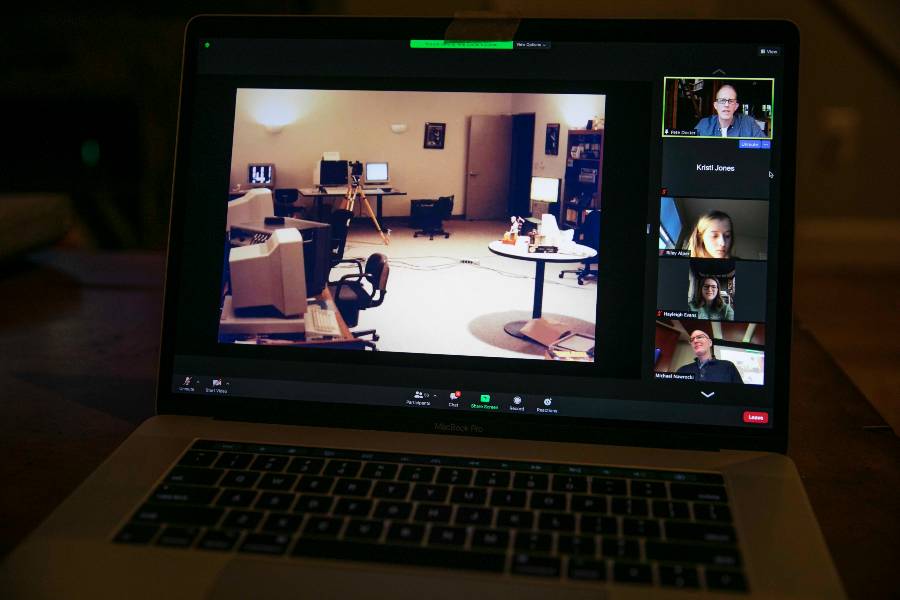 An animation pioneer
At Pixar, Docter was one of only about ten animators at the time in a company of no more than 100 people, most of whom were involved in hardware and software development. Today, there are more than 1,200 employees. He was on the frontlines of exploring the then-new frontier of computer generated animation. Fast-forward nearly three decades and the technology is streamlined and a common technique in animation production. Docter remembers the early days of a technique that Pixar led the way in developing. 
"Basically we experienced the very beginning of computer animation," said Docter. "The computer definitely helped in being able to do things more efficiently and helped us do things that were difficult to do drawing by hand. However, if you have ever used a new program or software you know that it sometimes takes a little while to figure out. So, for the first couple of months, I was like, if I could draw this, I would have been done by now" 
"The early techniques compared to where we are today were pretty primitive. To be able to test our animation, we literally set up a tripod with a camera aimed at the screen and recorded onto a LaserDisc player. It would take hours sometimes to be able to test," he continued. "We would go to lunch and come back and watch it. But it was fun because for me, it was kind of like taking apart the cassette tape player in my parents house or, you know, figuring out how the movie projector worked or any of that kind of stuff. It was intriguing."
In the early days of Pixar, Docter said the company developed a lot of short films, which was a way to test the latest technological advancement. "Our experimentation grounds were short films," he said. 
One of the lessons Docter said he learned early in his career was to not over complicate his characters or story lines. He credits Disney animator Bill Peet (Dumbo, Cinderella, Jungle Book, 101 Dalmatians) with giving him this advice in a conversation about the state of films being produced by the industry with the onset of technological advances. 
"He believed films were too complex and he viewed great animation as telling a very simple story to allow the characters to emerge," explained Docter. "I always think about that when I'm developing a story or character and I think, 'okay, this next film, I'm gonna make it simple.' And then it ends up being a movie like Soul or Inside Out, and it's horribly complicated. But I do try to simplify things such that people really understand the story and can just enjoy the characters."
"I think the heart of pretty much everything we do as humans is about people, individuals and relationships," he continued. "No matter what film I watch, what I really care about are the characters. As I develop characters I try to find some sort of truth in them so the audience understands where that character is coming from. I think about how I am going to create this story and these characters in such a way that make people happy, scared, sad, whatever the emotion is that I'm aiming for there, and hopefully say something meaningful, too?"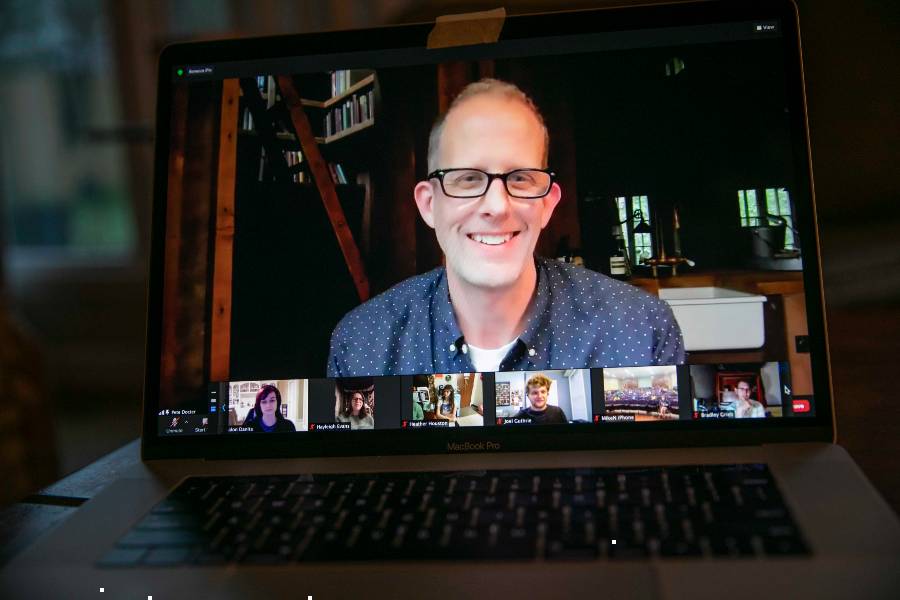 A shared experience
Docter shared a number of insights about his career including stories about the production of some of his best-known films, the reality of the time commitment to pursue a career in animation and the realities of being in a leadership role at an industry leader. 
"When I came to Pixar, I was doing it because I loved the craft of animation. But what I found that really lit me up was the community, the relationships, the fact that we, as artists, were passionate about the same thing, solving these problems and making these discoveries that became the most exciting thing," Docter admitted. "Rather than me as an individual, it was me as part of a group, an individual contributor to this group. And I think my journey as a director has been letting go of what I think is a falsehood of what a director is supposed to be, and becoming more of a leader of people."
"There is also a shared experience in what we do," he continued. "I think one reason you look at any piece of art, or listen to a piece of music, is to feel a connection. When I go to the movies and something clicks for me, or look at a painting, or listen to a piece of music, it's a reminder that I'm not the only person in the world … that I'm part of something that's bigger than just me. I believe we're social people who have a need to feel a connection with other people. So as a filmmaker, that's what I'm trying to provide."
He also shared insight into how he develops ideas, storylines and characters for new projects. 
"As I'm approaching a new idea, one of the telltale signs for me if it's working or not, is if I keep thinking about it and it follows me home. Or, I'm on a walk and it keeps showing up in my head. Then there's probably some emotional reason why it's important to me," explains Docter. "That's kind of the way new ideas seem to appear and stick with me."
Docter is one of a number of artists who have shared their career experiences with Lipscomb students. An important component of the CEA's approach to educating and preparing students who want to pursue careers in the arts is to provide them opportunities to learn from artists who have been on the front lines at some of the biggest production houses in the nation. 
"It's an incredible time to be at Lipscomb and the College of Entertainment & the Arts with faculty and artists-in residence who are leaders in their fields, who have career experiences and success that are living 'textbooks' from which to teach our students," said Mike Fernandez, dean of Lipscomb's College of Entertainment & the Arts. "Interviews like this with Pete Docter are possible only because of their connections in the industry that provide once-in-a-lifetime opportunities for our students not only to learn from them but also make those connections and to network. Learning from those in the field is an essential component of what we do here at Lipscomb that is just as important as the skills, techniques and knowledge learned as students develop and hone their craft."
Fernandez has strategically assembled an "all-star cast" of industry-proven leaders as faculty for the college, including Bancroft, a Disney animator for more than 25 years (Beauty and the Beast, The Lion King, Aladdin, Pocahontas, Mulan, Brother Bear); Steve Taylor, filmmaker, writer, producer and recording artist; Brown Bannister, a Grammy Award winning producer; Mike Nawrocki, co-creator of VeggieTales and co-founder of Big Idea Entertainment; and former Disney animators John Pomeroy (The Rescuers, Pete's Dragon, Pocahontas), Jim Elston (Mulan, Tarzan, Lilo and Stitch) and Tim Hodge (Mulan, Brother Bear, Lion King). Each year, Bancroft brings in a series of artists to hold workshops and to share their experiences with students. Recent guests have included: Aaron Blaise, Disney animator for 21 years (Beauty and the Beast, Aladdin, The Lion King); John Musker, a 40-year Disney animation studio veteran (The Little Mermaid, The Princess and the Frog, Moana); and American Dad writer Jordan Blum and Supervising Director Brent Woods, also known for his work on Family Guy and King of the Hill. 
The George Shinn College of Entertainment & the Arts, through its School of Cinematic Arts, offers undergraduate and graduate programs in animation, undergraduate program in film production and a Master of Arts and Master of Fine Arts in film and creative media. Learn more about all of the academic programs offered in Lipscomb's CEA at www.lipscomb.edu/cea.