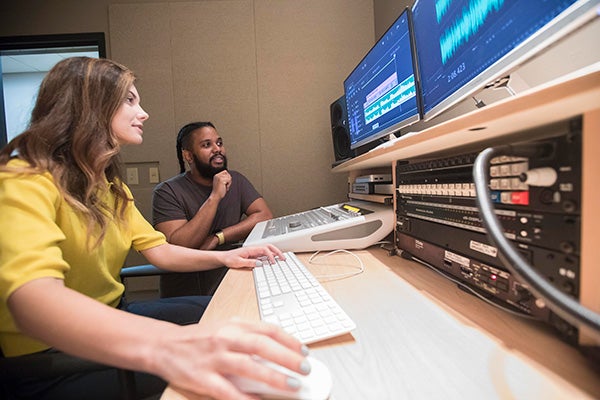 Program Overview
Program Overview
Become skilled in one of the most valuable cultural and economic fields in the U.S. — the production and distribution of motion pictures and television. By studying film production at Lipscomb, you'll learn the art of storytelling and how to express your original ideas on screen, in an environment that emphasizes collaboration, compassion and care for individuals and communities around the world. Here, we'll help you make an impact for good.
You'll plan, crew and shoot projects, sharpen your screenwriting skills and learn the business, both its history and specific application. You'll also experiment and work with cutting-edge technology, including cinematic VR, and you will have a plethora of opportunities for practical experience and networking.
Be exposed to industry professionals brought to our campus for you. Our contacts in the film and TV industry combined with your developed technique and experience will lead to opportunities for a sustainable and influential career in this lucrative industry.
10:1
Student to Faculty Ratio
Internship
Become more competitive in the job market with an internship related to your interests. You'll gain experience and boost your exposure. An internship will also help you learn whether you've chosen a career you'll enjoy.
Job placement
With a top-tier university education on your resume, you'll be in high demand, whether you choose to launch your career or begin graduate school. Most of our programs have a placement rate of at least 90 percent within six months of graduation.
Expert faculty, small class sizes
Learn from award-winning, experienced faculty who actually care about you. Our small class sizes allow us to get to know you personally. We lead an approachable community within our respective programs. Our faculty connections are the experts on their subject matter, too.
Career Paths
Film and Video Editors and Camera Operators
Film and video editors and camera operators manipulate moving images that entertain or inform an audience.
Producers and Directors
Producers and directors create motion pictures, television shows, live theater, commercials, and other performing arts productions. They interpret a writer's script to entertain or inform an audience.
Actors
Actors express ideas and portray characters in theater, film, television, and other performing arts media. They interpret a writer's script to entertain or inform an audience.