NASA, Vandy, Yale and others are Lipscomb's partners in discovery
Lipscomb faculty's partnerships with institutions both near and far bring new insights and knowledge to our world
By Janel Shoun-Smith |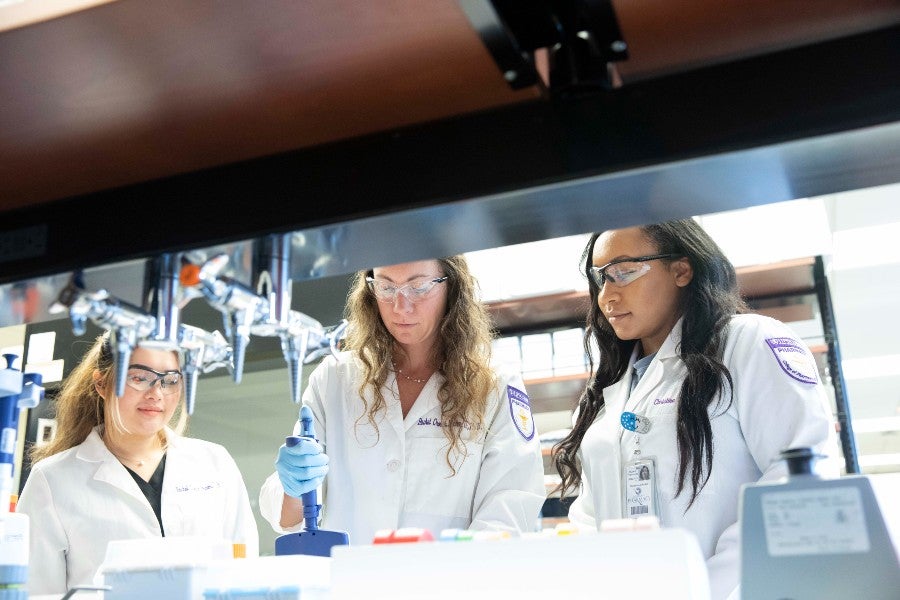 Lipscomb University faculty spend countless hours in laboratories and offices, grinding out the daily work of discovering new knowledge. While their eyes may be focused on a tiny microscope slide, the impact of that daily work reaches far beyond the lab, beyond the campus and beyond Nashville. Especially through the magnifying power of partners.
In the past year, Lipscomb's faculty have been called on by some of the nation's most prestigious institutions to help solve problems and enhance the world's knowledge through research and scholarship into heavy ions, pharmaceuticals, supply chains and nutritional supplements, to name a few.
Keep reading to see how Lipscomb's partners in discovery are making an impact far beyond what we can see today: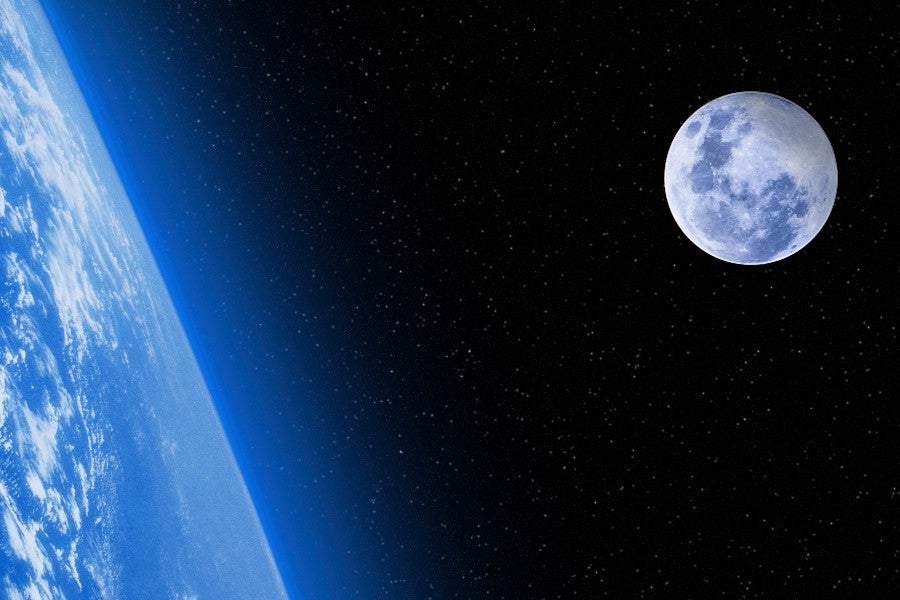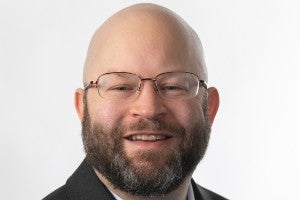 John Hutson tests space-bound power sources for NASA
When Vanderbilt University's Dr. Arthur Witulski, research professor of electrical engineering, needed someone familiar with running tests at heavy ion accelerator facilities, he knew who he could call on with that rare expertise.
Dr. John Hutson, a Vanderbilt University graduate who had been a member of Vanderbilt's Radiation Effects and Reliability group, is working just a few miles from Vanderbilt as a Lipscomb associate professor in electrical and computer engineering in the Raymond B. Jones College of Engineering.
Having worked at Northrop Grumman Corporation, one of the largest defense and aerospace contractors in the U.S., as a reliability and systems engineer before coming to Lipscomb, Hutson is one of a relatively small handful of people who has extensive hands-on experience carrying out the kinds of tests that Witulski needed: firing high-energy ions at electrical equipment designed for outer space.
Witulski has a grant from NASA Goddard Spaceflight to develop silicon carbide power components for NASA lunar surface applications to create a more lightweight battery that can operate more reliably and effectively in the atmosphere of space, where heavy ions combined with very high voltage can cause permanent damage, sometimes actually blowing holes in power devices.
Once completed, the new silicon carbide devices could be used for everything "from orbital vehicles to lunar rovers to a moon base to space suits," said Hutson, noting that these new components will reduce the weight of space-bound cargos. "If you can operate at higher voltages, you don't need as much current, so you can design electrical systems with less wires and less weight."
Hutson is just one of Lipscomb's faculty who have been called on by some of the nation's most prestigious institutions to help solve problems and enhance today's world through research. 
Chad Gentry & Abby Burka develop practices for integrated health care with Vanderbilt and Meharry Medical
When Dr. Chad Gentry came to Lipscomb's pharmacy faculty in 2012, he began a partnership with Vanderbilt University's nursing program to establish a pioneering interprofessional practice program at Nashville's Clinic at Mercury Courts, where he serves as lead clinical pharmacist. 
Over the intervening years, Lipscomb pharmacy students have joined nursing, medical and social work students at the clinic to learn the ins and outs of team health care, and Health Resources and Services Administration grants have funded the development and study of the Mercury Courts Model, an interprofessional, collaborative practice model of primary care.
In 2019 Gentry was honored by Vanderbilt and state and national organizations for his work developing the Mercury Courts Model.
Vanderbilt University, also located in Nashville, is one of Lipscomb's biggest partners, with Lipscomb faculty holding dual positions at Vanderbilt, a Pharm.D.-to-Ph.D. pathway program in drug discovery and development, numerous research subawards to Lipscomb and interprofessional practice opportunities for Lipscomb health science students.
Gentry also paved the way for a growing Lipscomb partnership with Nashville's Meharry Medical College when he was appointed as a health policy fellow at the Robert Wood Johnson Center for Health Policy, and later Lipscomb joined the Meharry-Vanderbilt Alliance.
That partnership flourished and today Lipscomb includes Meharry dental students in its Grand Rounds program, an annual course that gives health science students from various disciplines an opportunity to work as an interprofessional team on patient case studies, said Dr. Abbie Burka, associate professor of pharmacy practice and director of interprofessional education at Lipscomb.
In the coming school year, Burka and Dr. Regina Stokes Offodile, professor and interim chair of the Department of Professional & Medical Education at Meharry, will begin a pilot longitudinal study to pair Lipscomb pharmacy students and Meharry medical students to interact and learn together throughout their four years of study.
READ MORE: Chad Gentry has been honored both locally and nationally.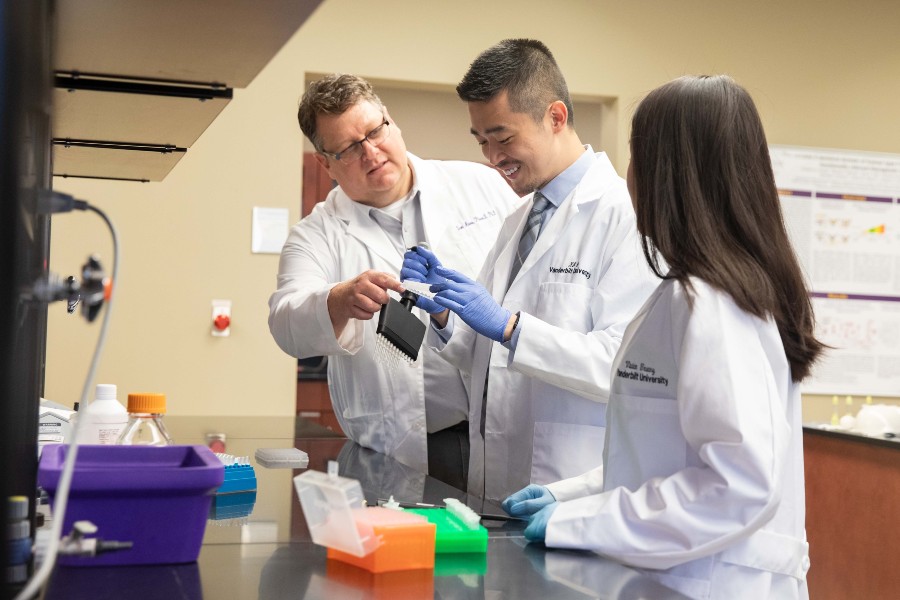 Scott Akers & Rachel Crouch study pharmacokinetic properties for the American Heart Association, Vanderbilt NIH and the Cleveland Clinic 
Dr. Scott Akers, executive director of the pharmaceutical sciences research center and associate dean of research in Lipscomb's College of Pharmacy, leads a center of excellence in drug metabolism and pharmacokinetics that has partnered with Vanderbilt physicians and scientists to accelerate drug molecules through preclinical and clinical stages of drug development. 
Akers is a co-investigator on two multimillion-dollar research grants awarded by the American Heart Association to Drs. Dan Roden and Bjorn Knollman at Vanderbilt to evaluate novel drug therapies in patients experiencing heart arrhythmias. Vanderbilt called on Akers' expertise in quantitative drug analysis and pharmacokinetics to evaluate drug exposure of these drug molecules in patients and to explore the relationship of drug levels with clinical outcomes.
Akers and Dr. Rachel Crouch ('08, '12), assistant professor of pharmaceutical sciences and a trainee of the Lipscomb/Vanderbilt pathway program, are also collaborating on a National Institutes of Health-funded project with Vanderbilt's Dr. Jeffrey Johnston who synthesized a variant cyclopeptide produced by a fungus to test its therapeutic effects on cardiac arrhythmias.
Akers' and his students are evaluating the cyclopeptide's pharmacokinetic profile in preclinical animal models, and Crouch and her students are exploring how specific enzymes in the liver metabolize the peptide, work that recently earned Crouch a new investigator award from the American Association of Colleges of Pharmacy.
Lipscomb faculty's work and connections with Vanderbilt have led to partnerships with institutions far beyond Nashville's borders as well. 
Dr. Shaun Stauffer, a former Vanderbilt professor now at the Cleveland Clinic Center for Therapeutics Discovery reached out to Akers and Crouch to support the preclinical development of two novel molecules for treating COVID-19. 
That research, "Structure-Based Optimization of ML300-Derived, Noncovalent Inhibitors Targeting the Severe Acute Respiratory Syndrome Coronavirus 3CL Protease," was published in 2021 in the Journal of Medicinal Chemistry. 
READ MORE: Learn more about Lipscomb's Pharm.D. to Ph.D. Pathway Program with Vanderbilt University and its graduate Elizabeth Gibson.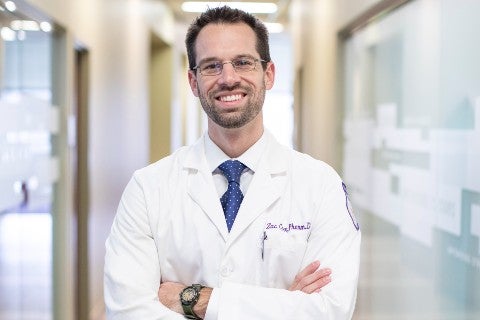 Zac Cox boosts heart failure recovery along with scientist from Yale
Dr. Zac Cox, who has a dual role as a Lipscomb professor of pharmacy and inpatient clinical pharmacist at Vanderbilt University Medical Center, has worked with Yale University's Dr. Jeff Testani on 13 published articles exploring various drug therapies for patients hospitalized with acute heart failure. These works have been referenced in the European Society of Cardiology's and the American College of Cardiology's international guidelines for heart failure treatment, said Cox .
Among the latest was "Compensatory post-diuretic renal sodium reabsorption is not a dominant mechanism of diuretic resistance in acute heart failure," published in European Heart Journal in 2021.
Cox's work with heart failure patients at Vanderbilt has led to various clinical trials to investigate drug treatments for companies such as Astra Zeneca and Cumberland Pharmaceuticals as well as a recently started five-year, NIH-funded trial at Vanderbilt and the Nashville Veterans Association to monitor and dose diuretics in hospitalized patients with heart failure.
READ MORE: Learn more about Zac Cox's articles in the world's top cardiac journals.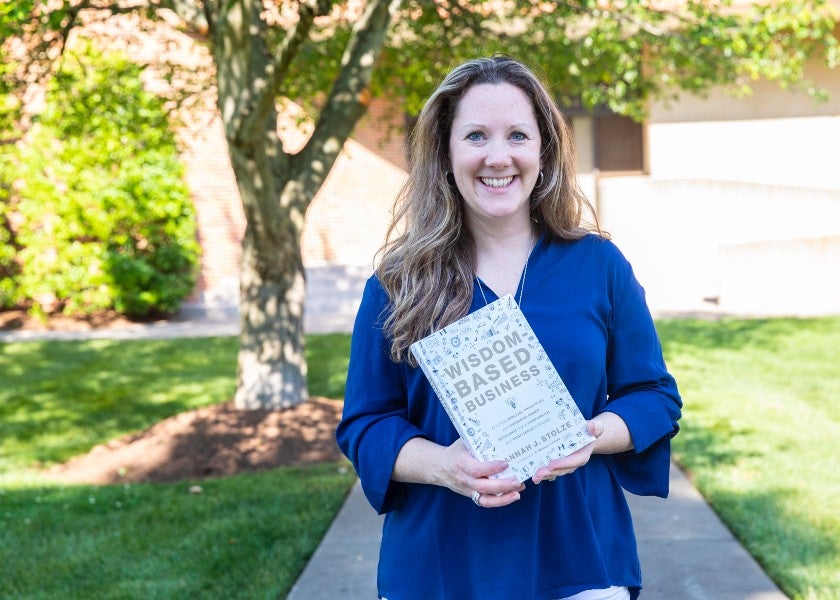 Hannah Stolze edits latest supply chain research with professor from The Ohio State University 
When it comes to partnerships in scholarship and research, Dr. Hannah Stolze, associate professor of supply chain management and director of the Center for Transformative Sales & Supply Chain Leadership, may be working with the university farthest afield from Lipscomb's Nashville campus. 
She is working with two professors from the University of Canterbury in Christ Church in New Zealand, as well as another professor from The Ohio State University, as a guest editor for a special edition of the Journal of Business Logistics focused on transformative supply chain research, to be published in 2023.
"The transformative space examines the impact of business on human flourishing," explains Stolze, who is also a Fulbright Scholar. "This is a more holistic approach that also takes a look at impact, not only on the customer but also on employees."
Stolze and her fellow guest editors first published a paper in the Journal of Service Management on food deserts that became exposed by the Covid-19 pandemic. That piece was the first article on transformative supply chain research published in that journal, said Stolze.
As an outgrowth of that, the Council of Supply Chain Management Professionals, which Stolze and her guest editors are all members of, were invited to become guest editors of an edition of the association's journal focused specifically on the topic.
"The forthcoming edition promises to have a tangible positive impact on corporate decision-making," said Stolze. "All of the articles included in this edition will outline empirical research studies, with data collected from real-world companies and the results being reported or used by those companies."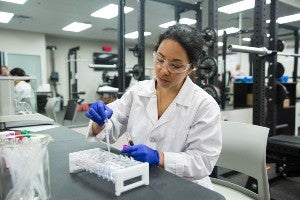 Jeremy Townsend holds clinical trials for Liquid I.V.
Dr. Jeremy Townsend, assistant professor of kinesiology, works with various private companies, such as Deerland Enzymes and Liquid I.V., to test the effect of specific dietary products on the health and performance of collegiate athletes.
As the research coordinator for the Master of Exercise and Nutrition program, Townsend involves both Lipscomb's graduate students and its student-athletes in sponsored research to test the effects on performance of various products such as post-recovery nutrition drinks or probiotics.
"Sports health and nutrition is a huge market, and there is so much bad information out there on social media," said Townsend. "We don't want any athletes to suffer due to misleading information."
In addition, Townsend has earned grants from the company Renaissance Periodization for the past two years to conduct research on the effect of gut microbiome on gastrointestinal function during resistance exercise. The goal is to minimize gastrointestinal (GI) stress while maximizing GI function to help athletic performance and recovery, he said.
He and his student team have analyzed stool samples to determine factors that contribute to having GI damage during exercise and will compile data to determine what are red flags for GI distress based on the athlete's diet and other factors.
Since coming to Lipscomb in 2016, Townsend has authored, co-authored with his students, or contributed to 40 articles published in peer- reviewed journals.
Whether it's partnering with scientists just down the road or collaborating with researchers across the globe, Lipscomb's faculty are called on by academia to bring their particular expertise and perspective to endeavors to discover new and valuable knowledge for our world.