World's top academic journal on heart failure publishes Lipscomb professor's research
Cox's work with patients helps nab almost $2 million grant for one of the nation's top medical centers.

Janel Shoun-Smith | 615.966.7078 |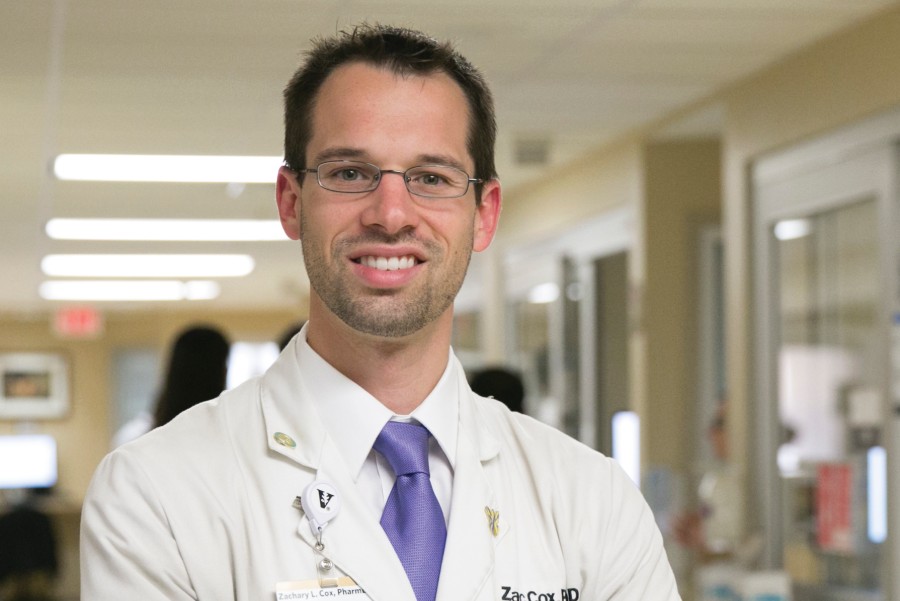 Zac Cox, associate professor of pharmacy and an inpatient clinical pharmacist at Vanderbilt Medical University Center, continues to garner national and international attention for his research exploring various drug therapies for patients hospitalized with acute heart failure.
His past work with the drug Milrinone and other ways to reduce diuretic resistance in heart failure patients, was one factor that helped win a $1.8 million grant from Astra Zeneca for Vanderbilt to study dapagliflozin, a new line of medications that was previously only used for diabetes, in acute heart failure patients.
Cox is listed as the co-primary investigator with Vanderbilt's Dr. JoAnn Lindenfeld on the multi-center study titled, "A Randomized, Open-label Study of Dapagliflozin in Patients with Type 2 Diabetes Admitted with Acute Heart Failure."
That grant came in a year when Cox was also invited to present his research at the European Society of Cardiology Heart Failure Congress in Athens, Greece in May 2019 on "Diuretic Strategies for Loop Diuretic Resistance in Acute Heart Failure: The 3T trial," which tested drugs that may help eliminate excess fluid in patients who are resistant to the standard approaches.
In addition, he is published in the Journal of the American College of Cardiology: Heart Failure with "Diuretic Strategies for Loop Diuretic Resistance in Acute Heart Failure: The 3T trial" and will soon be published in the Journal of the American College of Cardiology as a co-author of a review of diuretics in heart failure. These journals are the top journals for heart failure research in the world, Cox said.
He has also co-authored a book chapter in "Cardiorenal Syndrome in Heart Failure" on best practices for overcoming diuretic resistance and is currently carrying out a phase 1 clinical trial at the University of Kansas Medical Center for a novel inhaled milrinone formulation for which he is co-inventor and co-principal investigator with Dr. Nick Haglund.
"Everything that we are doing in these investigations is novel," said Cox. "We know that one-third of patients who leave the hospital are not fully decongested. One reason is that they are resistant to the class of medications that we use. The risk of that patient dying in the next year is really high. So we are demonstrating that different classes of medications can help with the decongestion and thus produce less chance of death in chronic heart failure patients."
Since 2014, Cox has worked in his dual appointment at Lipscomb and Vanderbilt to provide top quality patient care, conduct research among Vanderbilt's heart failure patients and supervise Lipscomb students in their Advanced Pharmacy Practice Experiences.
During his years at Lipscomb, his research findings have been praised by Cleveland Clinic cardiologists and he pioneered the inhaled form of the drug milrinone that has been patented. Milrinone is normally administered through IV, so creating an inhaled form of the drug, reduces the risk of infection and increases the quality of life for patients, who often have to take the drug by IV at home, while waiting for a heart transplant.
Such national recognition provides Cox new opportunities to share the best practices around the world and builds the scientific community's respect in Lipscomb's research, thus boosting the chance of future grants and publications, Cox said.