Pharm.D.-to-Ph.D. Pathway graduates continue to excel beyond Lipscomb
Two alumna of the pharmacy pathway program win fellowships and a post at St. Jude Children's.
Janel Shoun-Smith | 615.966.7078 |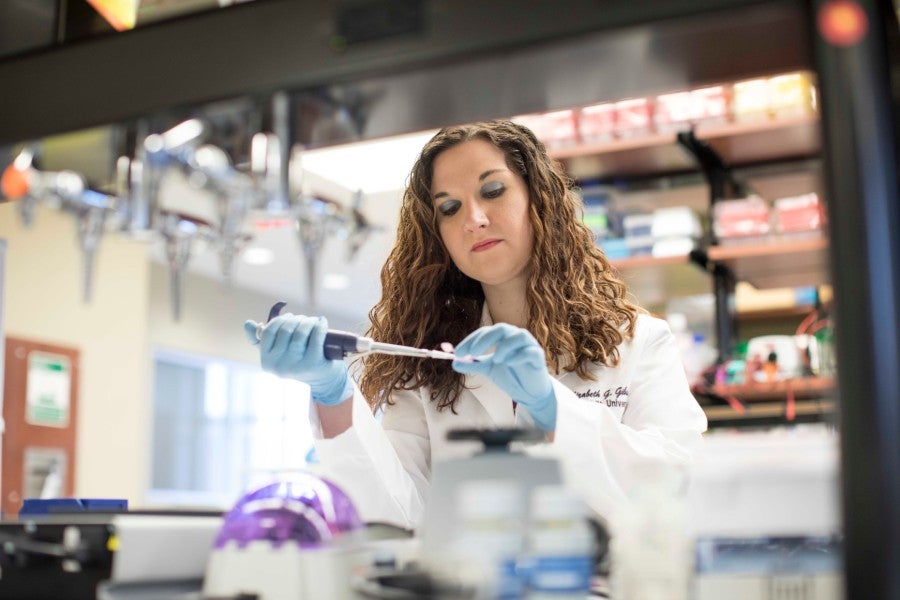 Graduates of the College of Pharmacy's Pharm.D.-to-Ph.D. Pathway Program continue to succeed both in their pharmacological training at Vanderbilt University and in professional research endeavors.
Dr. Brittany Spitznagel, currently working on her thesis studies at Vanderbilt, became the third pathway graduate to receive a PhRMA Foundation fellowship in pharmacology/toxicology in April 2019.
The PhRMA pharmacology/toxicology awards support career development activities of scientists embarking on research that integrates information on molecular or cellular mechanisms of action with information on the effects of an agent observed in an intact organism, in experimental animal or clinical studies or both.
Spitznagel was one of 14 recipients of the 2019 grants and fellowships awarded at the annual meeting of the American Society for Pharmacology and Experimental Therapeutics in Orlando, Florida.
"Pharmacology, toxicology and experimental therapeutics are essential fields of endeavor in the ongoing effort to develop new treatments and cures for patients," said PhRMA Foundation President Eileen Cannon. "The Foundation remains committed to identifying promising young scientists in these areas and providing the kind of support that will enable them to advance their research in a way that leads to significant scientific discovery."
The second pathway graduate, Dr. Elizabeth Gibson, from Tate, Georgia, received her doctorate from Vanderbilt University in spring 2019 and recently began work as a post-doctoral research fellow at St. Jude Children's Research Hospital that summer.
At her new position at St. Jude, Gibson works with Dr. Clinton Stewart, to improve the use of chemotherapy drugs in infants and small children, particularly those with tumors of the central nervous system and other solid malignancies.
Using the experience she gained at Lipscomb and Vanderbilt in pharmacokinetics and pharmacodynamics, her work helps clinicians develop effective therapies and tailor doses of these powerful drugs to fit the individual patient at various developmental stages of their disease.
While completing her Ph.D. in pharmacology at Vanderbilt, Gibson published two book chapters and two first-author papers. She also won the Leon Cunningham Award of Excellence in Biochemistry from Vanderbilt and has presented at conferences including the American Society of Microbiology and the American Association of Pharmaceutical Sciences.
Dr. Rachel Crouch, Lipscomb's first pathway program graduate to receive her Ph.D. in pharmacology at Vanderbilt, was also awarded a PhRMA fellowship for her research and is now on faculty at Lipscomb University in the department of pharmaceutical sciences.