Chad Gentry recognized for interprofessional practice model used at nonprofit clinic
Associate professor has been recognized locally, statewide and nationally for his work to establish an collaborative practice serving urban underserved populations.
Janel Shoun-Smith | 615.966.7078 |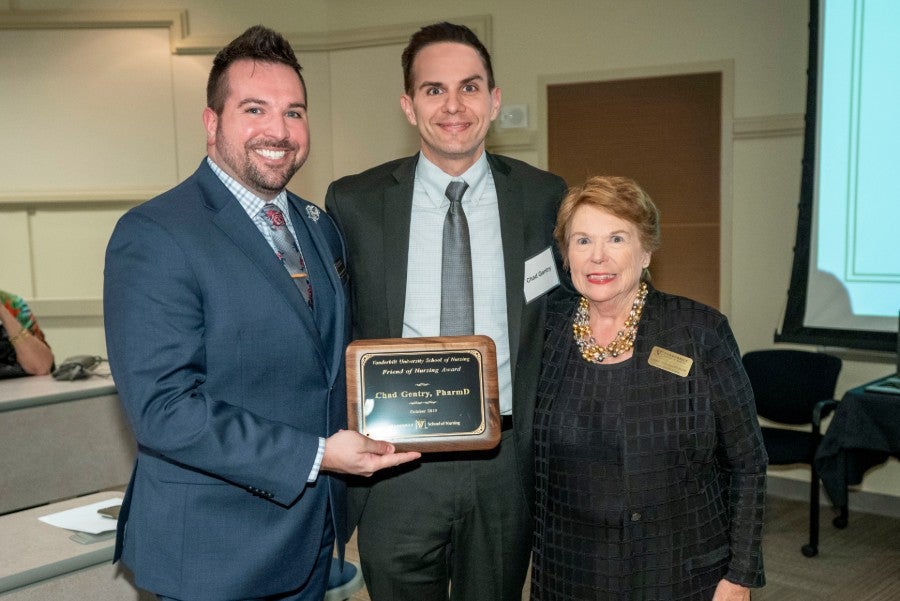 Dr. Chad Gentry, associate professor of pharmacy practice, has been recognized by local, state and national organizations this past year for his work to establish the Mercury Courts Model which brings students from pharmacy, nursing, social work and medicine together to coordinate patient care at the Clinic at Mercury Courts in Nashville.
The Tennessee Pharmacists Association awarded Gentry the 2019 TPA Excellence in Innovation Award. The National Academies of Practice elected Gentry to be a Distinguished Fellow in the Pharmacy Academy, and Vanderbilt University School of Nursing Alumni Board awarded Gentry its 2019 Friend of Nursing Award.
The Clinic at Mercury Courts is a nurse-managed, interprofessional, collaborative practice serving urban underserved individuals, families living in subsidized housing, and home-bound, assisted-living and group-home individuals with significant barriers to primary care access. Gentry's work with the interprofessional collaborative faculty team at Mercury Courts has led to more patients being on appropriate medications and better control rates for hypertension and diabetes.
Gentry is the lead clinical pharmacist at the Clinic at Mercury Courts and holds an academic appointment at Vanderbilt University School of Nursing.
His research funding and scholarly activity is in collaboration with Vanderbilt University School of Nursing and Vanderbilt University School of Medicine with a focus on interprofessional education, interprofessional collaborative practice and medication adherence.
The TPA Excellence in Innovation Award, coordinated by the National Alliance of State Pharmacy Associations and sponsored by Upsher-Smith Laboratories, is given annually to a pharmacist who has demonstrated significant innovation in practice, resulting in improved patient care and advancement of the profession of pharmacy.
The National Academies of Practice is a non-profit organization founded to advise governmental bodies on the health care system. Distinguished practitioners and scholars are elected by their peers from fourteen different health professions to join the only interprofessional group of health care practitioners and scholars dedicated to supporting affordable, accessible, coordinated quality health care for all.
Election to become a NAP distinguished fellow recognizes Gentry's leadership in the profession and that colleagues in other non-pharmacy NAP Academies recognize his ability to lead in the NAP Pharmacy Academy.
The Vanderbilt nursing alumni board's Friend of Nursing Award recognizes significant local or national contributions, or both, to the profession of nursing from an individual who is not a nurse or Vanderbilt nursing alumni.
Gentry partnered with the School of Nursing during the creation of Mercury Courts. He has worked closely with Vanderbilt to integrate pharmacy into clinical care while respecting the clinic's nurse-led philosophy.  
One of nominators for the alumni award said of Gentry: "His work is not only shaping clinical pharmacy today but is also the model for the interprofessional provider of the future. Most importantly, his respect, commitment and loyalty to our profession make him a true friend of nursing."
Gentry has served in various capacities of leadership with the Meharry Vanderbilt Alliance Interprofessional Education Faculty Collaborative, Vanderbilt Program in Interprofessional Learning, Lipscomb University College of Pharmacy and the Tennessee Interprofessional Practice and Education Consortium. He is also the lead pharmacist and key contributor in a Vanderbilt University study that uses text messaging to engage diabetes patients with their treatment program.