Lipscomb pre-college programs offer wide variety of summer experiences
High school students can study everything from healthcare to new media to get a jump-start to their college careers.
Logan Butts |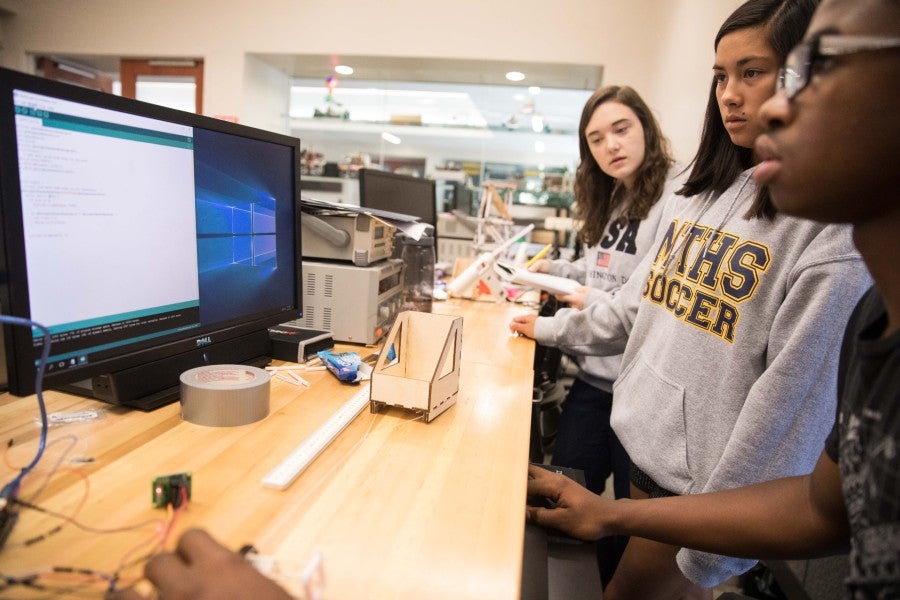 Lipscomb University's pre-college summer programs are back. Following a year without any on-campus initiatives due to COVID-19 protocols, 2021 will mark the return of the summer program experience at Lipscomb. 
There have been a few modifications to this summer's lineup because of evolving COVID protocols, but there are still eight programs taking place with the goal of returning to a fully normal slate in the summer of 2022. 
Read below for information on what to expect from each of the programs, what college credit will be offered, when and where they will be taking place, how you can apply, and who to contact for any further questions. 
Dates: June 6-10, 2021
Format: Commuter program on Lipscomb's campus
Eligibility: Rising high school sophomores, juniors, and seniors
Credit: 1 hour - Special Topics course 
Deadline to Apply: May 1
Contact for Further Information: Jimmy McCollum 
What to Expect:
The Music City New Media Academy is jointly hosted by Lipscomb University and the Tennessee High School Press Association. This five-day intensive program provides opportunities for young journalists to hone crucial media skills, meet with professionals in the field, and ultimately prepare for a college journalism degree. 
Through classroom lectures, workshop sessions, and hands-on learning, you'll be trained in the craft of journalism by award-winning faculty. Gain confidence in various writing styles and master the fundamental technical skills required for broadcasting and producing. In a normal year, you'll have made an on-site visit to a local television station and produced a newscast covering a mock crisis on Lipscomb's campus by the end of the week. 
Workshop sessions include: News writing, feature writing, sports writing, design and layout, editing, social media, photography, videography, and podcasting
Dates: June 7-11, 2021
Format: Commuter program on Lipscomb's campus
Eligibility: Rising high school sophomores, juniors, and seniors
Credit: 1 hour - Medical Terminology 
Deadline to Apply: May 1
Contact for Further Information: Laura Ward
What to Expect:
The Health Care Academy, sponsored by HCA TriStar, introduces rising 10th through 12th-grade students to a wide variety of health science professions. The program focuses on providing skills that are transferable across multiple health professions. Experiences are led by professional faculty from our nursing, physician assistant, nutrition, pharmacy, and exercise science programs. Gain invaluable real-world experience in Nashville, the nation's health care capital. Due to COVID-19 protocols, the program will be a day program from 8:00 a.m. to 3:00 p.m. each day. Housing will not be available on campus this year. 
Those accepted to the program may have the opportunity to earn college credit of 1 hour in Medical Terminology (BY2321) at no extra cost provided Lipscomb University admission criteria are satisfied. Students will have some online pre-work the week before the academy and will attend lectures each day in addition to the hands-on learning experiences. Students should expect to have homework each evening. Learning will be assessed throughout the week with quizzes and exams to earn their college credit.  
Students accepted to the program will be offered experiences such as the following: Participation in the health sciences simulation center, learn about IV's and injections, stethoscope training, blood pressure training and practice, nutrition label evaluation and healthy meal planning, pharmacy compounding and research, gross anatomy lab, knot tying and suturing skills, and breath and heart sounds.
ENGAGE Youth Theology Initiative
Dates: July 6-9, July 12-15, 2021
Format: Hybrid Model - 6-9 will feature virtual classes, 12-15 will feature on-campus residency 
Eligibility: Rising high school sophomores, juniors, and seniors
Credit: 1 hour
Deadline to Apply: May 1 (all programs)
Contact for Further Information: Claire Frederick
What to Expect:
Applications are now being accepted for the 2021 ENGAGE Youth Theology Initiative, hosted by Lipscomb's College of Bible and Ministry. High school students from diverse backgrounds will examine the call to racial justice and healing; the histories of both the church and U.S. Civil Rights movement; and what it means to live a life of Christian leadership and service. College credit is available for those who complete the ENGAGE program. University admissions criteria must be satisfied.
Young people today are eager to discover how their faith and vocation can connect to real-world issues in the here and now. The ENGAGE Youth Theology Initiative teaches students how they—using the skills and talents God has given them—can become the change they wish to see in the world.
In a typical ENGAGE year, students would spend all 10 days on campus residentially, with a two-day field trip to Alabama to visit a number of important Civil Rights locations. With COVID protocols preventing out-of-state travel, this summer students will travel around Nashville to visit the local Civil Rights trail.
Dates: June 7-25, July 9-12, July 16-19, 2021
Format: Hybrid format - Virtual Junemester from June 7-25, In-person dates in July
Eligibility: Rising high school seniors
Credit: 3 hours - four options: Intro to Communications, Fundamentals of Biology, Fundamentals of Physics, Intro to Psychology  
Deadline to Apply: May 1
Contact for Further Information: Johnathan Akin
What to Expect:
Students accepted into Summer Scholars are guaranteed admission to Lipscomb University.
Lipscomb's Summer Scholars is an online and in-person program that includes a traditional, academic class in the online format followed by a long-weekend, in-person campus experience that emphasizes experiential learning. It's specially designed to give high-achieving rising seniors the opportunity to earn college credit hours while still in high school. A highly competitive program, selected students will complete real university coursework, explore Nashville, and meet peers from across the country.
Become part of the community that Lipscomb has to offer within the diverse landscape of Nashville, where your learning will extend beyond the classroom. Not only will you visit all of Nashville's most famous attractions—you'll also get to experience Lipscomb's rich connections to Nashville's wealth of professional opportunities. During the evenings, you'll participate in activities on and off campus, ranging from go-karting downtown to group devotionals.
Typically, the program would be completely residential, but this year it will be in a hybrid format. 
Summer Scholars is open to all rising seniors (class of 2022) who have scored at least a 24 on the ACT, a 1160 on the SAT (ERW+M) superscore, or a 76 on the CLT. The 2021 application will open in January 2021 and close on May 1. Space is limited, so make plans to apply early and take the ACT or SAT prior to the application deadline.
Dates: July 12-16, July 17, 2021
Format: Commuter program on Lipscomb's campus 
Eligibility: Open to both recent high school graduates and current high school teachers
Credit: None, but could save you from a semester's worth of classes
Deadline to Apply: May 1
Contact for Further Information: Megan Davis
What to Expect:
This is a brand new program to Lipscomb's slate of summer initiatives. In partnership with Nissan, Lipscomb University is offering a weeklong summer program designed to prepare aspiring engineering students for college-level coursework. Open to both students and teachers, AERO (Accelerated Engineering Readiness Opportunity) takes a holistic approach by training recent high school graduates in crucial math and engineering skills while also developing public school teachers who are able to adequately prepare high school students for STEM degrees through project-based lessons. 
Whether you're a student or teacher, you'll have hands-on opportunities to learn from both industry professionals and Lipscomb College of Engineering and Math faculty members. Build a valuable portfolio of skills and connect with others in the profession along the way.
The Lipscomb + Nissan AERO summer program provides you a unique opportunity to build relationships with other aspiring engineers, connect with industry professionals, and get a jump start on your future, all while building the necessary engineering and math skills in a fast, fun, hands-on approach. 
Applicants who are current Middle Tennessee public high school seniors and are applying to engineering programs at a two-year or four-year institution, with an ACT math score between 21-25, are invited to apply.
Law Camp will not be taking place this summer, but it will be returning in 2022. 
What to Expect:
Each summer, Lipscomb University hosts high school students from across the country to participate in a weeklong camp that exposes students to various aspects of the legal profession. Law Camp will offer: A week with other highly-motivated peers seeking careers in the legal arena, networking opportunities with attorneys, lobbyists, elected officials, law enforcement officers and corporate executives, recreational and networking activities such as legal movie nights, miniature golf, go-karts and other outings to Nashville attractions, an opportunity to explore sports and entertainment law, healthcare law, social justice issues, the court system and the legislative process, and a chance to discover your own legal skills as you work on a mock case. 
The Fred D. Gray Institute for Law, Justice, & Society Summer Law Camp is non-residential. We do not provide housing or transportation to and from Lipscomb's campus each day. We do provide transportation to sessions throughout the city, as well as food throughout the week.
Surviving and Thriving in Uncertain Times  
Dates: Two weeks Mid-July, 2021
Format: Online using Canvas and Zoom 
Eligibility: Open to incoming freshman 
Credit: 1 hour 
Deadline to Apply: May 1
Contact for Further Information: Undergraduate Admissions 
What to Expect:
Created in 2020 by Lipscomb University President Randy Lowry, Surviving and Thriving in Uncertain Times is back for the summer of 2021. 
Take advantage of this unique opportunity to spend time with the president of a top university! Begin building community and developing key relationships with peers and professors during this two-week summer course that will equip you to navigate dynamic circumstances and develop practical strategies for living well in the midst of uncertainty. You can take the course free of charge.
Through an interdisciplinary approach combining concepts from the health sciences, English, Bible, psychology, history, business and conflict management, this course will teach you the lifelong value of resilience in the face of adversity and to develop strategies to thrive as a young adult. By considering the experiences of others who have developed resilience, you will apply these examples in the context of your faith and integrate these lessons into your life to live boldly, distinctively and faithfully in a variety of contexts.
This course will give you a jumpstart on college life at Lipscomb that will help you feel more connected when you arrive on campus this fall. Get to know faculty and fellow classmates through small-group mentoring, spend time with the president of Lipscomb University, and develop skills that will prepare you for success in college and resilience in life.