About the Nurture Conference
The Nurture Conference, sponsored by Lipscomb University's Institute for Christian Spirituality, brings nationally recognized leaders in Christian spirituality to a special event featuring keynote addresses and a variety of workshops. Previous speakers include Randy Harris, Gordon T. Smith, Glandion Carney, Gary Moon, Chris Webb, John Ortberg, Terry Wardle, John Mark Hicks and Evan Howard.
Our full-day conference each year features main sessions by keynote speakers, a variety of workshop offerings, and optional private Soul Care appointments, designed to be personally renewing and centered on prayer and discernment. 
Registration for Nurture 2021 closed on Wednesday, April 7th. Please stay tuned for more information regarding next year's conference. 
Nurture 2021 
An online, interactive experience. 
The Institute for Christian Spirituality is pleased to announce that we will be hosting our annual Nurture conference in a safe, virtual format on Friday and Saturday, April 9th-10th, 2021. All participants who registered for the event in 2020 had their registration retained and should have receive an email confirmation for this year's event. 
From Division to Harmony: Using the Enneagram for Self-Awareness, Empathy, and (Re)Integration
In these unprecedented times, our world is divided. We are not only distanced socially, but also emotionally, relationally, and spiritually. It is increasingly hard to relate to "the other." How are we to move beyond such division?
Additionally, we are divided within ourselves. We tend to be a "head person," a "heart person" or a "gut person." Why do we respond the way we do? We long for more wholeness, more integration.
The enneagram is a tool that fosters self-awareness. We become more aware of our motivations and inner workings.
The enneagram is a map that leads us to greater empathy. We can become sensitized to the thoughts, feelings, and drives of others.
The enneagram is a resource that invites the integration of our personalities, and the reintegration of our relationships. 
Following Jesus is all about transformation—becoming like Him and living like Him! Paul writes in Ephesians 4:22-24, You were taught, with regard to your former way of life, to put off your old self, which is being corrupted by its deceitful desires; to be made new in the attitude of your minds; and to put on the new self, created to be like God in true righteousness and holiness. Where do you seem to get stuck in that critical process of "putting off the old self" (the false self) and "putting on the new self" (the true self in Christ)? What needs transforming in you?
The Enneagram is a personality tool that offers profound insight into our heart motivations. These correspond to attitudes and behaviors—blind spots, sweet spots, and hot spots—affecting our personal transformation and all our relationships. The Enneagram provides a way of seeing both the beauty of how God made you and the sin that interferes with Christ's calling on your life.
Many have seen the Holy Spirit employ the Enneagram as an effective means for the "being made new" part of Paul's equation. This is not just about "finding your number"; rather this is an invitation to participate in ongoing journey of transformation. The new awareness it brings will offer ways to improve your relationship to God, your marriage, your parenting, and your work or ministry worlds.
Weekend Schedule
Friday, April 9th
7:00  Welcome, orientation, and contemplative exercise - Dr. Kris Miller
7:25  "The Real You and the False You" – Adele and Doug Calhoun
7:50  Break-out conversations
8:30  Blessing and dismiss
Saturday, April 10th
9:00  Welcome and contemplative exercise – Dr. Kris Miller
9:15  "Your Three Intelligences" – Adele and Doug
9:50  Triads 
10:20   Break
10:40  "The Harmony Enneagram" – Adele and Doug
10:55 Triads
11:45 Sharing our findings
12:00  Lunch 
12:45  Questions & Answers
1:15  "Transformation Using Harmony Triads: Breath Prayers" – Adele and Doug
1:30 Exercise: Enneagram harmony characteristics 
1:45 Triads
2:00 Break
2:15  "Transformation Using Harmony Triads: S.T.O.P." – Adele and Doug
2:35 Triads
2:50 Question & Answer
3:00 Break
3:15  "Transformation Using Harmony Triads: Welcoming Prayer"
3:20 Triads
3:30 Question & Answer
3:55 Blessing & dismiss
2021 Speakers: Doug & Adele Calhoun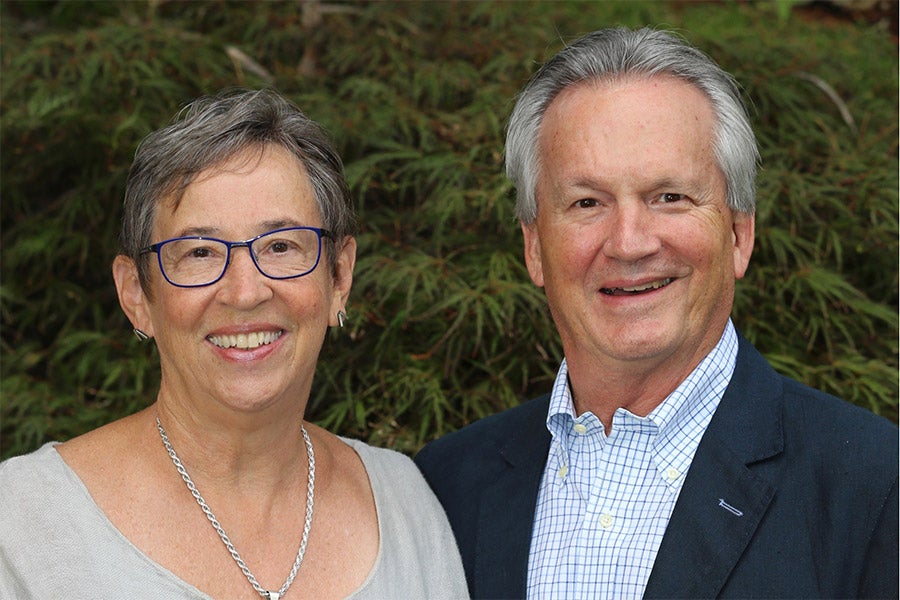 Adele delights in the "hats" she has worn throughout her life. She has worked as a missionary, InterVarsity staff member, wife, mother, spiritual director, college professor, author, pastor and many other roles in her lifetime. Adele's passion is for people to move beyond religion to a connection with Jesus that unites both their head and their heart in service and love of others. Adele is adjunct faculty for Selah (a Spiritual Direction Training program). She authored and co-authored many books, including Opening Our Hearts and Home with Karen Mains, The Spiritual Disciplines Handbook: Practices That Transform Us, Revised and Expanded (2015); Women & Identity (IVP Lifeguide Bible Studies co-authored with Tracey Bianchi) and many others. She regularly speaks at retreats and conferences on these topics. Adele is a certified Enneagram trainer and enjoys presenting workshops and seminars together with Doug. 
Doug brings over forty-five years of ministry experience working with people and seeking their transformation in Christ. This internal focus combines with his missional desire that God's glory would fill the whole earth. Doug loves to teach, to mentor, and guide others in their walk with God. He is a spiritual director and Enneagram teacher; he also presents workshops and seminars with wife Adele. Doug is a graduate of Miami University (B.A.) and Gordon-Conwell Theological Seminary (M.Div. and D.Min. in Christian Spirituality). Doug currently chairs the board of the Del Camino Connection; has been adjunct faculty to The Transforming Center and a founding member of the Transforming Church Network; and is adjunct faculty for PAX Center for Christian Spiritual Formation and Vision New England. 
Doug & Adele have co-authored with Clare & Scott Loughrige a book on the Enneagram entitled Spiritual Rhythms for the Enneagram: A Handbook for Harmony and Transformation, IVPress.