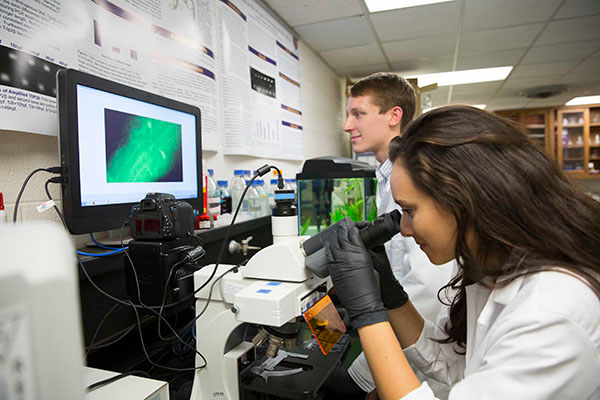 Program Overview
Program Overview
You've always had a passion for animals and now you have the opportunity to build a career around that. You already understand the great responsibility it is to care for animals, so let us provide you with the tools to live this out. 
Our enthusiastic faculty are committed to helping you establish the career you desire. You'll gain an extensive foundation in the sciences and math. Not only will your professors provide you with the academic knowledge to successfully further your education but will serve as mentors and advocates. They'll assist you in getting real-time experience with practicing professionals in your field, even before you enter veterinary school. Plus, by registering with our Health Professions Advisory Committee (HPAC) office, you'll have the opportunity to be nominated for prestigious Ward Society scholarships and research fellowships, which will look great on your veterinary school applications.  
Take your learning into professional school and eventually into a variety of settings - private clinics, hospitals, laboratories and field experiences.
Courses
Courses
Our office can assist you in determining which courses you need to satisfy professional school requirements. Looking at the website for the professional program you're interested in is also helpful in learning more about the additional courses or requirements of the program.
Course requirements can vary from one health professional program to another. Generally, these are the courses required by most veterinary schools:

General Biology: Eight semester hours with labs
General Chemistry: Eight semester hours with labs
Organic Chemistry: Eight semester hours with labs
Physics: Eight semester hours with lab(s)
Biochemistry: Four semester hours
Cell Biology: Four semester hours
Genetics: Four semester hours
Math: Usually through Calculus I
English: Six semester hours
Expert faculty, small class sizes
Learn from award-winning, experienced faculty who actually care about you. Our small class sizes allow us to get to know you personally. We lead an approachable community within our respective programs. Our faculty connections are the experts on their subject matter, too.
Service learning
We provide you the opportunity to enhance your academic understanding by applying what you've learned in class to service projects that benefit our community. Before graduation, you'll participate in at least two SALT (Serving and Learning Together) projects.
Job placement
With a top-tier university education on your resume, you'll be in high demand, whether you choose to launch your career or begin graduate school. Most of our programs have a placement rate of at least 90 percent within six months of graduation.
Our Faculty
No matter what major you choose, we're ready to help you on your path to becoming a veterinary medicine.
Kent Clinger

Chair, Chemistry

A native of Fort Worth, Texas, Kent Clinger received a Bachelor of Science degree in Chemistry from Oklahoma Christian College in 1976. He studied in the Master of Science program...

Learn More

John Lewis

Associate Professor

John Lewis is associate professor of Biology in the College of Liberal Arts and Sciences. He received his bachelor of science degree in Wildlife and Fisheries Science from Tennessee Technological...

Learn More

Linda Phipps

Professor

Phipps has over 35 years of experience in environmental science and chemistry. She served as the Pretreatment Coordinator for Dallas, TX, where she administered the pretreatment permitting and enforcement program...

Learn More

Amy Nelson

Professor

Amy Nelson graduated from Lipscomb University with a degree in Mathematics Education. After teaching high school for a year, she returned to school and graduated with a Master's degree in...

Learn More

Randy Bybee

Professor

A native of Gainesboro, Tenn., Randy Bybee received a B.S. degree in Physics from Tennessee Technological University in 1988. He graduated from North Carolina State University in 1995 with a...

Learn More

Dale Alden

Assistant Professor

Alden is a longstanding faculty member in the department of psychology and counseling. He teaches Introduction to Psychopathology, Psychological Assessment, and Biological Psychology for the graduate program. Alden is...

Learn More
Career Paths
Veterinarians
Veterinarians care for the health of animals and work to improve public health. They diagnose, treat, and research medical conditions and diseases of pets, livestock, and other animals.
Veterinary Assistants and Laboratory Animal Caretakers
Veterinary assistants and laboratory animal caretakers care for animals by performing routine tasks under the supervision of scientists, veterinarians, and veterinary technologists and technicians.
Veterinary Technologists and Technicians
Veterinary technologists and technicians perform medical tests under the supervision of a licensed veterinarian to assist in diagnosing the injuries and illnesses of animals.