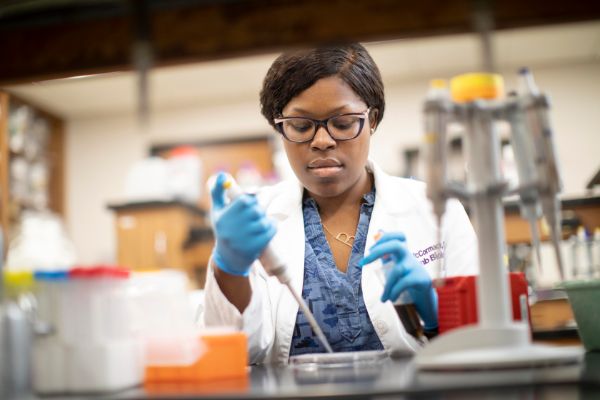 Program Overview
Program Overview
Today's medical schools are seeking students with diverse academic backgrounds, and the MCAT has added a psychology component to its entrance exam. To better prepare students for the MCAT and medical school while also preparing them for entrance into graduate programs in clinical neuropsychology and behavioral science or a career in laboratory research, Lipscomb University's Department of Biology, in collaboration with the Department of Psychology, Counseling, and Family Science, has created a new Bachelor of Science degree in Neurobiology. 
Neurobiology students will learn cellular, molecular and anatomical aspects of neurobiology while also gaining insight into the influence of this biology on behavior. By taking a more biological approach than many other programs, placing a focus on understanding the molecular basis of neurobiology, Lipscomb students will be adequately prepared for medical school and health care careers and will also be strong candidates for graduate programs in psychology, behavioral science and neuropsychology. In addition, Neurobiology majors will also earn a minor in Neuropsychology, providing students with a unique and multi-disciplinary understanding of neurobiology.
Courses
Courses
Neurobiology Core
Biology
BY 1134 - Principles of Biology: Cell and Genetics
BY 1144 - Principles of Biology: Diversity and Ecology
BY 2114 - Cell Biology
BY 3043 - Neurophysiology
BY 3053 - Neuroanatomy
BY 3114 - Genetics
BY 4213 - Developmental Genetics
BY 4802 - Capstone Course
Chemistry
CM 1113 - General Chemistry I
CM 1211 - General Chemistry Laboratory I
CM 1123 - General Chemistry II
CM 1221 - General Chemistry Laboratory II
Mathematics
MA 2183 - Elementary Statistics
Psychology
PS 1113 - Introduction to Psychology
PS 2603 - Introduction to Psychological Research
PS 4xx3 - Clinical Neuropsychology
PS 4423 - Abnormal Psychology
PS 4543 - Biological Psychology
Choose 3 Biology Electives from:
BY 3214 - Microbiology
BY 3223 - Virology
BY 3323 - Immunology
BY 3333 - Molecular Basis of Human Disease
BY 3514 - Human Anatomy and Physiology I
BY 3524 - Human Anatomy and Physiology II
BY 4014 - Molecular Biology
Choose 1 Psychology Elective from:
PS 2313 - Behavior Modification
PS 2423 - Life Span Development
PS 3513 - Drugs and Behavior
PS 4523 - Cognitive Psychology
 
#1
Biology program among Christian universities
Research Opportunities
We know that you want to be an innovator in the field. That's why we offer unique research opportunities in our state-of-the-art facilities with our world-class faculty so that you can hone your expertise.
Job placement
With a top-tier university education on your resume, you'll be in high demand, whether you choose to launch your career or begin graduate school. Most of our programs have a placement rate of at least 90 percent within six months of graduation.
Expert faculty, small class sizes
Learn from award-winning, experienced faculty who actually care about you. Our small class sizes allow us to get to know you personally. We lead an approachable community within our respective programs. Our faculty connections are the experts on their subject matter, too.
Hands-on experience
In addition to optional research opportunities, you will explore case studies in your classes and use human cadaveric dissection to fully understand what you are studying.
Jill Kirby

Assistant Professor of Biology

Jill Kirby earned her Doctorate degree in Physical Therapy from Belmont University in 2005. She spent 11 years working in a clinical setting mostly with children with a wide variety...

Learn More

Bonny Millimaki

Associate Professor

Bonny Millimaki is an associate professor of Biology in the College of Liberal Arts and Sciences. She received her Bachelor of Science in Biology from Middle Tennessee State University in 2003....

Learn More
Career Paths
Physicians and Surgeons
Physicians and surgeons diagnose and treat injuries or illnesses. Physicians examine patients; take medical histories; prescribe medications; and order, perform, and interpret diagnostic tests. They counsel patients on diet, hygiene, and preventive healthcare. Surgeons operate on patients to treat injuries, such as broken bones; diseases, such as cancerous tumors; and deformities, such as cleft palates.
Medical Scientists
Medical scientists conduct research aimed at improving overall human health. They often use clinical trials and other investigative methods to reach their findings.
Psychologists
Psychologists study cognitive, emotional, and social processes and behavior by observing, interpreting, and recording how individuals relate to one another and to their environments. They use their findings to help improve processes and behaviors.