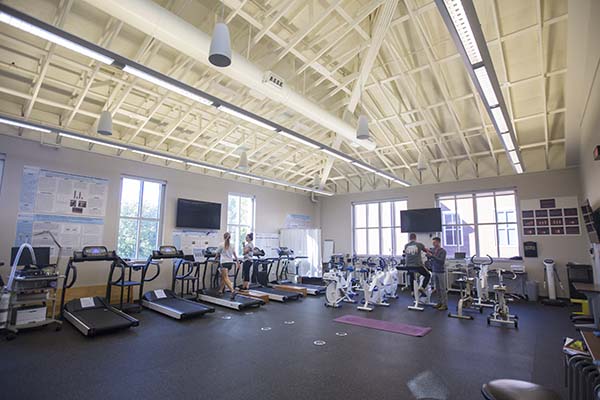 Health and Physical Education
Program Overview
Program Overview
It is pivotal that children be equipped with an early, sound foundation when it comes to health and wellness. Developing healthy patterns at a young age will lead to a more productive future. Let us further develop your passion for education and health so you can be a catalyst for the younger generation's future success. 

Our expert faculty will train you to develop programs for both physical activity and health curricula. You will participate in the classroom and gym of two local K-12 schools for in-person learning experiences with students of all ages. Student teaching opportunities will allow you to learn alongside professionals currently in the field. They will help you find the niche that fits you best. Whether you move on to teach, coach or continue with further studies, there is no degree that will prepare you better than this.
Courses
Courses
General education required of secondary and K-12 teacher education students
Subject matter specialization
BY 2213 - Introductory Human Anatomy and Physiology
EX 2533 - Kinesiology
EX 3002 - Mechanics of Movement
EX 3363 - Biostatistics
EX 4113 - Exercise Physiology
EX 4153 - Strength and Conditioning Program Design
HL 1303 - Healthful Living
HL 3302 - First Aid and Emergency Care
HL 4342 - Methods of Teaching Health
PE 1181 - Rhythm and Dance for Schools
PE 2001 - Lifetime Fitness or PE 2012 - Lifetime Wellness *
PE 2203 - Foundations in Kinesiology
PE 2402 - Concepts of Motor Learning
PE 2742 - Methods of Teaching Sports Skills
PE 3343 - Methods of Teaching Secondary Physical Education and Wellness
PE 3383 - Methods of Teaching Elementary Physical Education
PE 4323 - Administration of Exercise Related Programs
PE 4502 - Seminar in Kinesiology
PS 3513 - Drugs and Behavior
One activity course selected from:
PE 1031 - Golf
PE 1111 - Badminton Fundamentals
PE 1161 - Racquetball
PE 1311 - Tennis Fundamentals or
PE 1nnV - Selected Activities in Physical Education
One elective activity course from:
PE 1001 - PE 2001 not already taken


Note:
*Health and Physical Education Teaching majors who take PE 2012 in their freshman year have satisfied the competencies of PE 2001 and do not need to take PE 2001
All students majoring in health and physical education teaching must achieve a "C" or above in all department courses required for the health and physical education teaching major.
6:1
Student to faculty ratio
Job placement
With a top-tier university education on your resume, you'll be in high demand, whether you choose to launch your career or begin graduate school. Most of our programs have a placement rate of at least 90 percent within six months of graduation.
Expert faculty, small class sizes
Learn from award-winning, experienced faculty who actually care about you. Our small class sizes allow us to get to know you personally. We lead an approachable community within our respective programs. Our faculty connections are the experts on their subject matter, too.
Nashville
A big city. An even bigger opportunity. We consider Nashville an extension of our classroom, and as a leading city in many industries, that means you'll gain experience and insight you won't find anywhere else.
William Vantrease

Assistant Professor of Kinesiology

William Vantrease serves as an Assistant professor in the Kinesiology Department.  He received his Bachelor's degree in Exercise Science and Master's degree in Exercise and Nutrition Science both from Lipscomb...

Learn More

David Bender

Assistant Prof of Kinesiology

David Bender joined the Lipscomb faculty in 2020 as an assistant professor in nutrition and kinesiology. In 2002, Bender enlisted in the Marine Corps. He served from 2003 to 2011...

Learn More

Ruth Henry

Vice Chair, Kinesiology and Nutrition

Long-tenured Lipscomb faculty member in exercise science, she teaches the statistics and research courses.

Learn More
Career Paths
Coaches and Scouts
Coaches teach amateur or professional athletes the skills they need to succeed at their sport. Scouts look for new players and evaluate their skills and likelihood for success at the college, amateur, or professional level. Many coaches also are involved in scouting.
Health Educators and Community Health Workers
Health educators teach people about behaviors that promote wellness. They develop and implement strategies to improve the health of individuals and communities. Community health workers collect data and discuss health concerns with members of specific populations or communities..
Instructional Coordinators
Instructional coordinators oversee school curriculums and teaching standards. They develop instructional material, coordinate its implementation with teachers and principals, and assess its effectiveness.