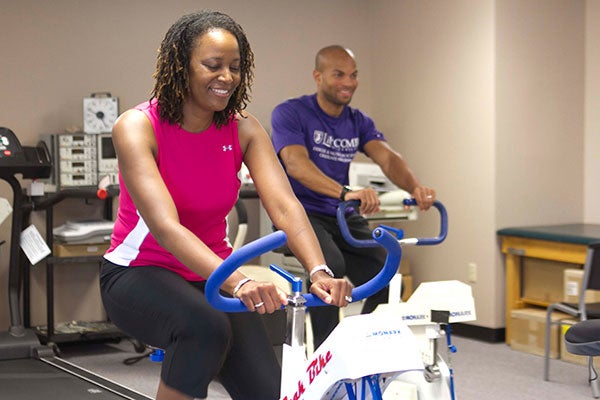 Exercise and Nutrition Science
10:1
Student to faculty ratio
Networking
Both our deeply connected faculty and our experiential learning opportunities offer myriad ways for you to form relationships with leaders in the industry. These connections will serve and support you throughout your career.
Small Class Sizes
You'll have opportunities to engage in meaningful discussion, receive one-on-one faculty mentorship and ask difficult questions in our small class sizes. Plus, you'll feel supported in a tight-knit learning community.
Nashville
A big city. An even bigger opportunity. We consider Nashville an extension of our classroom, and as a leading city in many industries, that means you'll gain experience and insight you won't find anywhere else.
Career Paths
Exercise Physiologists
Exercise physiologists develop fitness and exercise programs that help patients recover from chronic diseases and improve cardiovascular function, body composition and flexibility.
Strength and Conditioning
These specialists conduct sport-specific testing sessions, design and implement safe and effective strength training and conditioning programs and provide guidance regarding nutrition and injury prevention based on scientific knowledge.

Wellness and Health Coaching
Wellness and health coaches utilize evidence-based conversation, clinical interventions and strategies to empower clients/patients to make healthy behavioral changes.

---
Nutritionists
Nutritionists are experts in the use of food and nutrition to promote health and manage disease. They advise people on what to eat in order to lead a healthy lifestyle or achieve a specific health-related goal.
Additional Schooling
When you graduate, you may also pursue one or more career paths that require additional education, such as becoming a physical therapist or physician's assistant. You may go on to receive a doctorate in your field of choice. Your master's degree will afford you a number of opportunities to reach even higher.