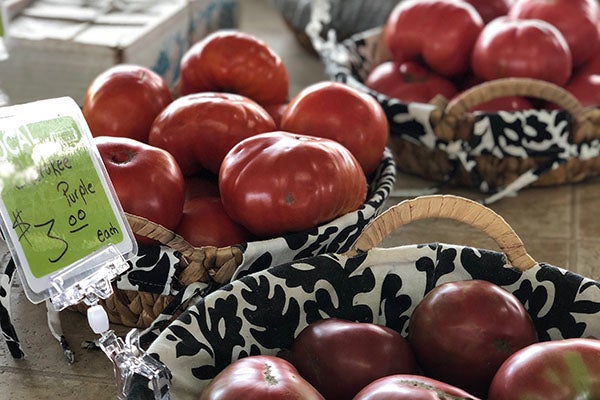 Program Overview
Program Overview
Help others adopt a healthier lifestyle through diet and nutrition. Our accredited undergraduate dietetics program is designed to provide a high-quality education with a Christian perspective.
Take courses from a variety of disciplines to gain a holistic, practical knowledge of dietetics. Learn about where food comes from, how its preparation affects its nutritional value and how it is processed by the human body. Apply your skills in community service and engagement.
Study under passionate faculty who are dedicated to your growth and success. Our program is known for its ability to prepare graduates for graduate study and careers in nutrition and dietetics. Once you earn your degree, you could go on to join 100 percent of your peers who were placed into jobs in the field or accepted into graduate programs following completion of the program.
Admission Requirements
Admission Requirements
Before being admitted to the dietetics program, a student must be admitted to Lipscomb University and meet the same criteria for admission to Lipscomb as all other students. In addition, a separate admission process is required for students to be admitted to the dietetics program. Applicants seeking admission by transfer must meet all the standards required by the university. The application deadline is the Friday of the third week of the semester prior to expected entrance into the program. Applicants will be notified of the status of their application by email prior to preregistration.
Students interested in pursuing an ACEND Verification statement from the Lipscomb University DPD will be required to complete an application process. It is the student's responsibility to collect and prepare all forms, applications and credentials; and to submit them to the DPD director. Fulfillment of specific requirements does not ensure admission into the program.
Students must have completed ALL of the following requirements to be eligible to submit an admission application:
Applicants must have completed at least 21 hours of prerequisite coursework. Each course may be repeated one time. The specific courses are:

NUTR 1011 Professional Orientation
NUTR 2613 Principles of Nutrition
NUTR 1213 Basic Foods
CM 1013 Intro to Chemistry, CM 1023 Intro to Organic Chemistry
BY 2434, 2444 Anatomy and Physiology I and II

A student must earn a "B" or higher in the 7 hours of NUTR courses
A student must earn a "C" or higher in the 14 hours of chemistry and biology courses
Must have a minimum cumulative GPA of 3.0 at the time of admission to the DPD program
A student must maintain a "C" average in any specific course required for the dietetics degree
Complete the application.

Attach unofficial transcripts of all university coursework; official transcripts must be received by the Lipscomb University Records office prior to admission to the program.
Return the completed application to Autumn Marshall, Chair of the Department of Nutrition and Kinesiology.
For questions related to the admission process for entry into the DPD program, please contact Autumn Marshall.
Courses
Courses
Specific courses required:
AC 2503 - Financial Accounting
BY 2424 - Introductory Microbiology
BY 2434 - Anatomy and Physiology I
BY 2444 - Anatomy and Physiology II
CM 1013 - Introduction to Chemistry
CM 1023 - Introduction to Chemistry-Organic
CM 1034 - Introduction to Chemistry-Biochemistry
EX 4113 - Exercise Physiology
MG 3503 - Leading and Managing People
MG 4453 - Human Resource Management
MA 2183 - Elementary Statistics
NUTR 1011 - Professional Orientation
NUTR 1213 - Basic Foods
NUTR 2613 - Principles of Nutrition
NUTR 3213 - Food Science and Production
NUTR 3223 - Nutrition Education and Health Promotion
NUTR 3603 - Community Nutrition
NUTR 3643 - Maternal and Child Nutrition
NUTR 3653 - Nutrition in Aging
NUTR 3703 - Sports Nutrition
NUTR 4093 - Senior Seminar
NUTR 4213 - Food Systems Management I
NUTR 4223 - Food Systems Management II
NUTR 4232 - Quantity Food Production, Safety, and Sanitation
NUTR 4503 - Medical Nutrition Therapy I
NUTR 4513 - Medical Nutrition Therapy II
NUTR 4613 - Nutritional Biochemistry
NUTR 4623 - Clinical Nutrition Documentation
PS 1113 - Introduction to Psychology

Note:
This major meets all competencies required by the Academy of Nutrition and Dietetics for eligibility to apply for a dietetic internship. A minor in distributive science is built into this program.
All courses required for this major must be completed with a grade of "C" or higher or be repeated.
12:1
Student to faculty ratio
Service learning
We provide you the opportunity to enhance your academic understanding by applying what you've learned in class to service projects that benefit our community. Before graduation, you'll participate in at least two SALT (Serving and Learning Together) projects.
Job placement
With a top-tier university education on your resume, you'll be in high demand, whether you choose to launch your career or begin graduate school. Most of our programs have a placement rate of at least 90 percent within six months of graduation.
Expert faculty, small class sizes
Learn from award-winning, experienced faculty who actually care about you. Our small class sizes allow us to get to know you personally. We lead an approachable community within our respective programs. Our faculty connections are the experts on their subject matter, too.
100%
Dietetic internship acceptance rate
Career Paths
Dietitians and Nutritionists
Dietitians and nutritionists are experts in the use of food and nutrition to promote health and manage disease. They advise people on what to eat in order to lead a healthy lifestyle or achieve a specific health-related goal.
Health Educators and Community Health Workers
Health educators teach people about behaviors that promote wellness. They develop and implement strategies to improve the health of individuals and communities. Community health workers collect data and discuss health concerns with members of specific populations or communities..
Medical and Health Services Managers
Medical and health services managers, also called healthcare executives or healthcare administrators, plan, direct, and coordinate medical and health services. They might manage an entire facility, a specific clinical area or department, or a medical practice for a group of physicians. Medical and health services managers must direct changes that conform to changes in healthcare laws, regulations, and technology.