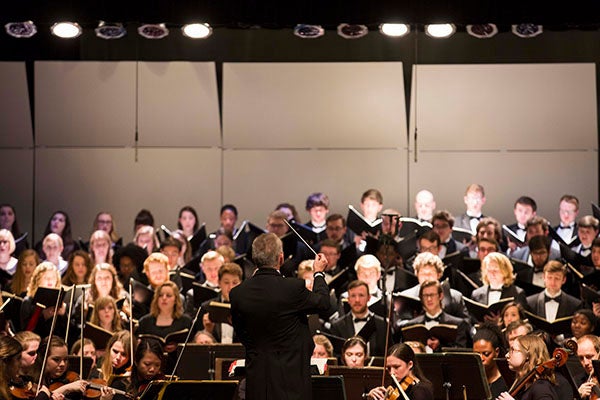 Job placement
With a top-tier university education on your resume, you'll be in high demand, whether you choose to launch your career or begin graduate school. Most of our programs have a placement rate of at least 90 percent within six months of graduation.
Expert faculty, small class sizes
Learn from award-winning, experienced faculty who actually care about you. Our small class sizes allow us to get to know you personally. We lead an approachable community within our respective programs. Our faculty connections are the experts on their subject matter, too.
Nashville
A big city. An even bigger opportunity. We consider Nashville an extension of our classroom, and as a leading city in many industries, that means you'll gain experience and insight you won't find anywhere else.
Ben Blasko

Director of Instrumental Studies

As a conductor, Benjamen Blasko has been invited to conduct performances and lead master classes across the U.S. He is a founding member of the Agora Brass Ensemble, made up...

Learn More

Jerome Reed

Professor

Jerome A. Reed is the Patricia and Rodes Hart Professor of Piano at Lipscomb University. He has performed extensively in the U.S., Europe, Asia, and South America, appearing in such...

Learn More

Brown Bannister

Director of the School of Music

Brown Bannister brings nearly four decades of industry experience to his work as Director of the School of Music. Best known as a successful mentor and producer for top Christian...

Learn More

Randy Gill

Assistant Dean of the College of Entertainment and the Arts

Gill has a career in higher education, music and worship ministry that spans more than 40 years. For 13 years, Gill was associate professor of music and associate director of...

Learn More

Donna King

Assistant Professor

Donna King, assistant professor of music, came to Lipscomb University as a piano instructor in 1987 and began full-time teaching in 1999. She teaches music history and music literature courses,...

Learn More

Thomas Harbin

Adjunct Faculty

Thomas Harbin serves as an adjunct professor of piano in the commercial and classical departments at Lipscomb. He has been a member of the Belmont piano faculty since 2016 and...

Learn More

Bill Delvaux

Adjunct Faculty

Bill Delvaux is the Director of Landmark Journey Ministries, organized in 2012. He brings a rich background of 30+ years of pastoral ministry and classroom experience into his teaching, writing,...

Learn More

Steve Taylor

Assistant Professor of Film & Creative Media

Steve Taylor is a filmmaker, writer, producer and recording artist who earned his "Renaissance Man" stripes (Prism Magazine) from a body of work that's garnered him multiple Grammy, Billboard, Telly,...

Learn More

Matt Billingslea

As the drummer for Grammy winning international superstar Taylor Swift, Matt Billingslea has traveled with The Red Tour and The 1989 Tour, performing for sold-out crowds in stadiums and arenas...

Learn More
Career Paths
Musicians and Singers
Musicians and singers play instruments or sing for live audiences and in recording studios.
High School Teachers
High school teachers help prepare students for life after graduation. They teach academic lessons and various skills that students will need to attend college and to enter the job market.
Kindergarten and Elementary School Teachers
Kindergarten and elementary school teachers instruct young students in basic subjects, such as math and reading, in order to prepare them for future schooling.
---
Middle School Teachers
Middle school teachers educate students, typically in sixth through eighth grades. They help students build on the fundamentals they learned in elementary school and prepare them for the more difficult curriculum they will face in high school.
Conductors and Composers
Conductors lead orchestras and other musical groups during performances and recording sessions. Composers write and arrange original music in a variety of musical styles.